As sure as there will be snow in the winter and music festivals in the summer, there will be a fashion brand crossing the culturally inappropriate line with its products.
Free People is under fire for its recently-launched Festival Shop, which features several items that critics say appropriate indigenous culture.
Products listed include garments and accessories that are specific to indigenous peoples, including $111 "medicine pouches", $96 rain sticks, $68 beaded chokers, $182 "spirit animals" essential oils, $353 feathered headdresses and $280 ear cuffs.
People on social media were quick to call out the controversy of these items, as well as the fact that the models donning them were mostly blond and white.
One user tweeted: "Damn, Free People, back at it again with the Native American-inspired 'festival' clothes" along with screenshots of other users lamenting the store's issues with cultural appropriation in the past.
The brand is owned by Urban Outfitters Inc. (URBN), which Buzzfeed reported is currently embroiled in a lawsuit put forth by the Navajo Nation in 2012.
Bohemian-inspired clothing has long featured flowing, fringed, feathered and beaded garments that appear inspired by indigenous clothing. But the inspiration toes the line of cultural appropriation when spiritual symbols wind up being copied without fully understanding the history and meanings of the items.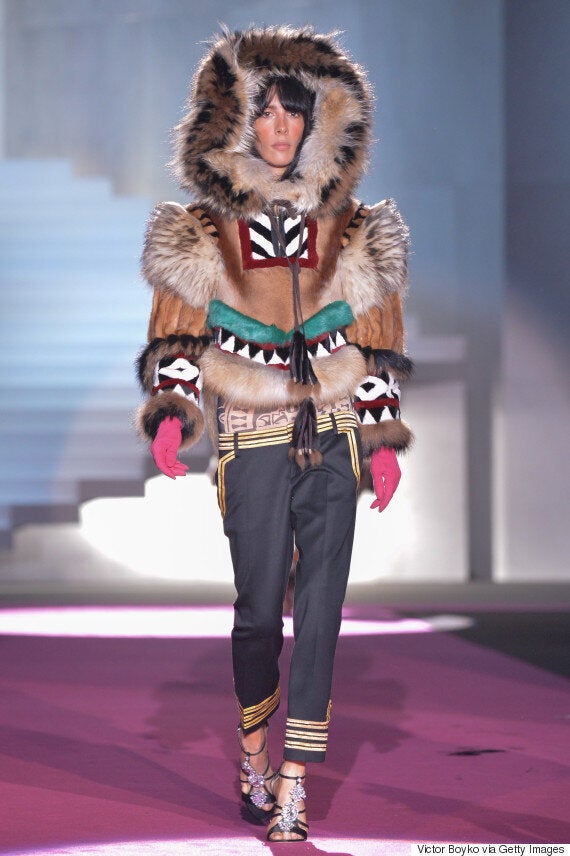 A model walks the runway wearing the controversial line .dsquaw by Canadian brand DSquared2 for Milan Fashion Week on March 2, 2015.
HuffPost Canada Style has reached out to Free People's owner, Urban Outfitters Inc. for comment and will update if we hear back.
Popular in the Community