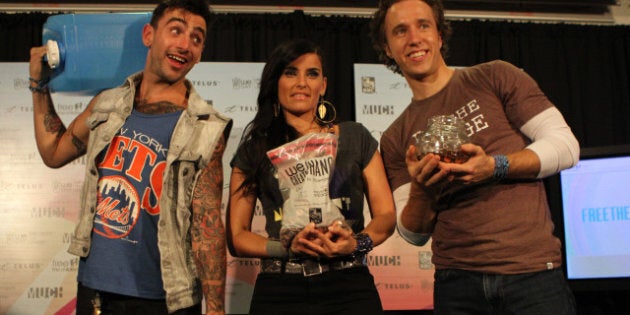 A penny saved is a penny earned, but 25 dollars in pennies could mean a permanent source of safe drinking water. That's the message behind one of Free The Children's newest campaigns, 'We Create Change'. The penny drive is hoping to be the largest of its kind in Canada, with the goal of buying enough water to provide for 100,000 people in need.
It's an initiative geared towards students for social change but also a way of paying respect to Canada's copper coin, says Craig Kielburger, one of the founders of Free The Children.
"There is nothing more impactful I can see the penny doing," Kielburger told the crowd at We Day in Toronto, where the initiative was announced. He added that "young people are so often dismissed as being powerless. We will make massive change with the smallest amount possible — the penny. And as Canada is phasing out the penny, we wanted to give it an extraordinary send-off."
Canada's federal government announced back in March that the Mint was phasing out the penny since it was costing them more to keep the coin in circulation than the penny was bringing in. But for Jacob Hoggard, lead singer of the Canadian rock group Hedley, you can't put a price tag on the childhood memories he's had with the penny.
"I personally cherish the memories of competitively rolling pennies with my sister, and the kid's penny collection at my childhood church, which helped me pay for the community piano I learned to play on," wrote Hoggard in a letter titled "A Grand Farewell to the Penny 1858 - 2012" that was part of a media package for We Day.
Participating schools and students looking to put their pennies to good use can do so through the charity's penny bags that, when filled, will equal $25 (the bags will delivered to their classes, or individuals can sign up on Free the Children's site). The bags can then be dropped off at Royal Bank of Canada branches, which has partnered with Free The Children for the campaign, between November 1 to December 21, as well as upcoming dates in the spring.