Home is where the heart is, and for one Canadian couple, it's also where the boat docks.
Wayne Adams and Catherine King live on a massive float home made of 12 platforms in Cypress Bay, just northeast of Tofino, B.C. The couple appropriately named their vibrant creation "Freedom Cove."
The abode is completely off-grid, off-land, and off-the-chain as far as float homes go. Built in 1992, the property includes five greenhouses, a dance floor, an art gallery, a lighthouse tower for guests, a generator shed, and a studio where King and Adams live.
Oh, and they've painted most of the buildings turquoise and magenta.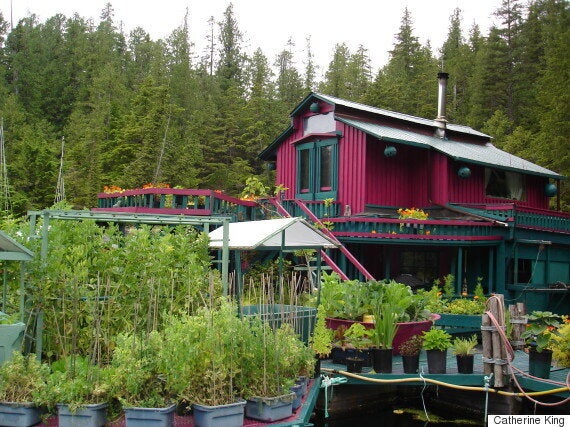 The couple don't own a fridge or freezer, eating what King grows in her half-acre garden and what Adams catches fresh from the ocean. Their drinking water comes from a nearby waterfall in the summer, and from rainwater in the winter.
The structure used to be powered by 14 solar panels, but Adams and King recently had to convert to a small Honda generator when the panels broke down. Adams says the generator gives them about 3,000 watts of power, which is enough to keep the lights on for 12 hours.
"We have both done so many things in our lives and we've had hard times, so we were well prepared for how different the lifestyle would be out here," Adams, 66, says. "It fits us."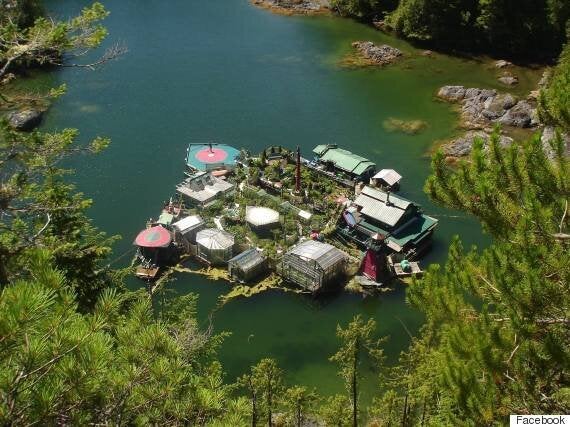 Both artists, King and Adams used to live in the the heart of tiny Tofino. They finally chose to build their dream float home when opportunity literally fell at their feet.
"One winter, a storm blew a whole bunch of trees down," Adams explains to The Huffington Post B.C. in a Skype interview. "We gathered all the wood up, took it to the fellow who owned it, but he said keep it. So we thought, time to start on the home."
Using that lumber, they began building in the summer of 1991. The following February, they towed the million-pound masterpiece into the cove using old fish-farm technology to keep it afloat.
Adams and King, who have two children, have lived there year-round ever since.
Story continues after slideshow: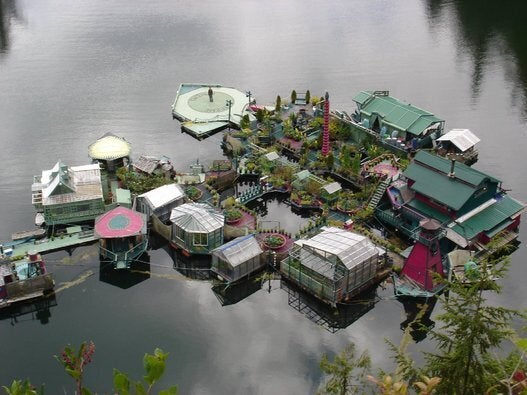 Freedom Cove Float Home, Tofino, B.C.
"Living in the wilderness is constant inspiration," King, 59, adds. "It's so incredible to wake up every morning and see all of this."
The pair say they pass the time indulging in their artistic passions — he as a carver, she as a painter, dancer, writer and musician. From June to September, they also welcome Freedom Cove tours with the hope that visitors learn about a way of life that doesn't exist anywhere else.
"This whole home is for the kids in our family to come and see what you can't learn in school anymore," Adams explains. "When I was young, this is what you learned in school: skills. To share this with the community and young minds, that is the teaching here on the west coast."
As for the city life, Adams and King say they're content to just keep floating on.
"This is how I will live for the rest of my life," King says.


Popular in the Community