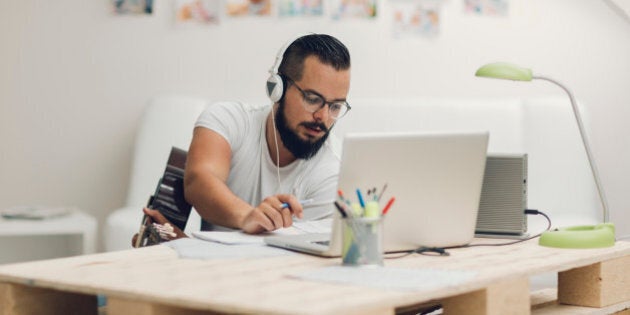 I remember when my freelance writing career started to blossom. After showing family and friends my articles, they were impressed that I turned a hobby into a profession. While most of my peers were happy for my success, there were some that thought the reality of a writer is like a struggling painter. According to Statistics Canada, in 2016 about 1.9 million Canadians were self-employed. Most freelance jobs that are changing the way companies hire employees are in graphic design, health care, education, and writing.
Being a successful freelancer is a confidence booster, but some people ask me, "are you actually getting paid to write?" My eyebrows cave in, and I realize at times that even though there are successful freelancers out there on YouTube and television, many still believe that the writer's life is simply a hobby that brings minimal success.
The first thing that comes to mind is freelancers spend most of their lives struggling. The truth is, if you do things in a certain way, you can travel the world, collaborate with C-suite professionals on projects, and help others during your career.
I have experienced the many perks of freelance writing that includes setting my work hours, choosing which companies I want to write for and negotiating compensation. It sounds like a dream come true, but I need to be transparent because, in freelancing, only the strong get ahead in this business. You need to accept being rejected most of the time and market yourself every day even if you are uninspired, sick or fatigued. It requires a massive amount of creativity, spending time alone at home working and being fiscally responsible because you must pay your work-related taxes every year.
Whether you are reading this article because you are curious, you are moonlighting while working a full-time job or need inspiration, here are the top freelance jobs you should consider.
Who doesn't want to run a recruitment business from home? You might be unemployed as an HR professional, or the four corners of your cubicle make you feel uninspired. It can be cost effective to hire employees to search for candidates and help you close deals with employers that are clients. Leasing an office is not a requirement for this line of work. All you need is Wi-Fi, a reliable computer, and creativity.
To remain a successful recruiter, you must spend hours marketing your services with hopes that a job seeker will submit their resume for your services.
I always tell my friends that are graphic designers, if the economy decides to tank, you can never be out of work. Some industries are waiting for freelance graphic designers to knock on their door. These industries are in advertising and publishing. The trend of 3-D design jobs has increased since 2014. If you specialize in corporate branding, you can work with almost any company on the planet if you have a portfolio.
The way to get ahead in this field is to diversify your portfolio in one or two niches.
Most consultants decided to walk away from the comfort of working for a company to pitch their services to organizations with the hopes that they will have a thriving business working from home. Did you know the top consultants make $100 an hour? According to a study by the Financial Times, "Nine out of 10 current independent consultants claim they are somewhat or very satisfied with their lot, and eight out of 10 of the whole group believe independent consulting will continue to grow in future."
It is surprising how many companies around the world would prefer to hire a freelancer vs. an in-house employee. It saves them money on paying out benefits, vacation, and bonuses. Whether your writing skills are impressive or you are a subject matter expert, the decades of working in your field might pay off if you can turn your thoughts into words. Most writers either get paid by the hour or by assignment and the tax benefits are beneficial.
The best advice I can give is to try pitching your work to companies for a few months and see what happens. You have nothing to lose but experience and potentially freelance work to gain. Remember that you need the backbone to withstand the downsides of working on your own.
The only motivating factor that has helped me to keep freelancing is I am passionate about what I do and want to help people feel the same in their career. Your motivation must be a priority, or anything will discourage you to stop freelancing.
I will leave you with one last thought, "choose a job you love, and you will never have to work a day in your life." ~ Confucius
Follow HuffPost Canada Blogs on Facebook
Popular in the Community