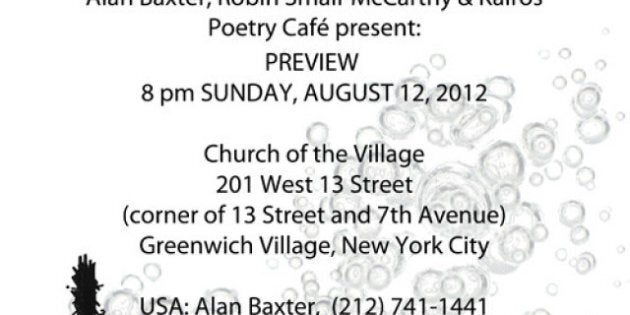 Dawna Wightman's one woman show, "Life as a Pomegranate," has been picked to run for six weeks beginning at the end of September at The Producer's Club on West 44th Avenue.
Look out New York, because little Dawna Wightman packs a mean acting punch.
"Hopefully the world is ready for real and raw," says Wightman.
The story unfolds along Queen Street East. Sitting in a café with her friend, Brigitte, they wondered how she would mount her play. Suddenly, as Wightman was peering out the window, she got an idea.
They headed across the street.
She walked into the Essentia Mattress store and told the manager, Paul Branch her story. Branch said, "You can have the play here!"
So, she wrote a mattress into the script, and her one woman show was on its way to becoming a reality.
Inspired by the journals of Anais Nin, Wightman says she would go "numb for days," reminiscing about the French-Cuban author's memoirs. Fairly new to Toronto, the natural born entertainer with an infectious giggle always had a passion for acting that much greater than her fears.
Although she had plenty of voice and commercial work, she was tired of waiting for the agency phone call for a bigger part. She knew instinctively that what she needed to do was write a story that would rock women to live their biggest dreams.
Wightman quit her marketing job, and wrote the script for her play in one week.
It's based on her life from the 1970s to present day. She had enough material to fill three shows, but she settled on the first installment, the one headed this weekend to the mecca of North American theatre. From St. Lambert, Quebec to Bellville, Toronto and the thin places in-between, Dawna Joy Wightman headed for the Big Apple; dreams really do come true.
Her character, Rosy Fudge, is an unconventional woman who takes her rightful spot in the world against all odds, despite the doubts of many people around her, even, at times, herself, "That nasty naysayer looking back at me in the mirror."
Wightman was determined to defy her greatest critic, though. Talking late into the night with her husband, they tried to figure out how to put the play on, but with growing teenagers, braces, university and everything else to pay for, there was no extra cash to mount a play, even at a mattress store on Queen Street.
That was when life began to imitate her art. Now all she needed was a director.
Through a friend's introduction, Wightman got a call from Stratford actor and co-artistic director of The Quickening Theatre, Ginette Mohr, who agreed to direct the show.
They held a focus group in Wightman's home to determine the demographics. Despite her prediction that it would appeal only to women, it turned out men loved it just as much. The focus groups continued as they tested the marketability of the play with a three-night preview at Lazy Daisy's Café in Toronto's Little India.
The news was grand. The play sold out.
Standing ovations all three nights, "People were coming up to me after the show thanking me, some had tears in their eyes, they were hugging me and kissing me, it was surreal." Just like her character Rosy, Wightman was claiming her rightful place in the world: acting on the stage.
With this new burst of inspiration from the incredible reception Wightman still had the problem of raising money to put the show on right. Without her day job income, she didn't have much to spare. Her actor's union told her that big banks fund playwrights.
So she set off to see her bank manager.
In a meeting with him, though, Wightman says, "I began to feel sick when he told me I should have a bake sale and, 'go sell my little heart out.'"
Someone should have told that bank manager a thing or two about the power of a woman's passion and creativity. Dawna had a bake sale all right -- in front of the bank. Telling everybody who stopped by about her dream, and what the manager had told her. In less than two hours she sold all of her baked goods and raised over $500.00. The project snowballed further as stylists from Hair Addiction chipped in, David Mesiha composed the soundscape, and Mira's Vintage Boutique donated the costume.
In the end, Wightman mounted the production with a team of more than one hundred supporters.
Life as a Pomegranate had its first nine-night run in Toronto in June, 2012. Seven nights sold out. Wightman is the first to admit her nagging insecurities, she's an actor after all, but she's clever, and she holds on to what drives her, "You actually can have it all: family, friends, health, money, the career of your dreams. But you have to hang on and take action and never stop taking action. Tenacity should be your favorite word," she said.
Tenacity isn't only her favorite word, it's her modus operandi. The stars in the universe are once again aligning for Wightman.
Popular in the Community