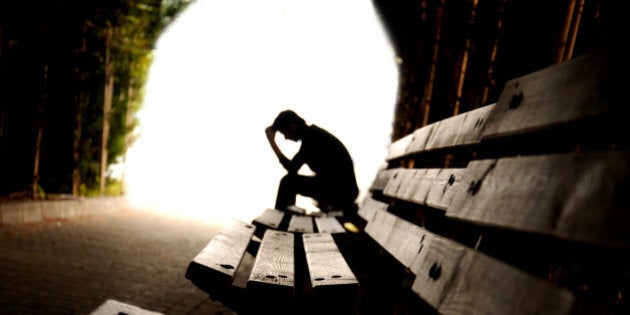 Joshua Beharry attempted to end his own life one day on the Oak Street Bridge in Vancouver, British Columbia. Five years later, he is a mental health advocate who blogs and promotes a cutting edge mental health resource for men called headsupguys.ca. He detailed his suicide attempt in a video on the site to encourage other men to seek help.
He took time to discuss his experience with me.
How does it feel to talk about what you have been through?
I started off a couple years ago doing public speeches to high school and college students. It was a good way for me to understand what happened and how to explain it to other people. It became too much to keep going over though. I felt like it kept me from moving on. I took a break but found I still wanted to share my experiences some way. When I do it once a month or less, it doesn't bother me too much.
I started writing to create one place where I could get everything out - my website. I do so much mental health promotion through the week that I've slowed down since I've been working here and focusing on getting the word out about headsupguys.ca.
Doing the video was hard, writing it out, going over it for a week. It was difficult to get through. I made sure I was getting enough exercise and sleep that week, acknowledging it would be stressful.
What do you find most meaningful about your activism?
It gives me the sense that something great has come out of these experiences. Some people feel better off afterwards, that they have become a stronger person. I don't think that. I'm not better off but I can make use of my experiences to make sure other people don't have to go through the same things.
How do you feel about bridges now? Have you had issues with PTSD from the incident?
The bridge isn't far from where I live and I have to drive over it all the time. It was a bit awkward at first and I wouldn't be able to cross it without thinking about it. It's not as big a deal now, but I wouldn't walk over it. If I'm up anywhere high though it reminds me of what happened.
What does your self-care plan look like these days?
Everything I can manage. I take anti-depressants and sleeping pills. I see a psychiatrist once a month. I focus on healthy living through food, socializing, and exercise. If I'm going through a rough patch and I'm not feeling like going out, I will make more of an effort, knowing I will feel better after and try to go to at least half of the event. For physical activity and to deal with some remaining issues with back pain I do yoga twice a week. I do a lot of hiking with my brother as well.
I saw your photography on Broken Light. How has art contributed to your recovery?
Photography has helped. I need to be doing something artistic. It helps me focus on the moment. It's a practical way to apply mindfulness, focusing on the light and taking the photo. When I'm trying to practice mindfulness, I find focusing on breathing and muscle relaxation doesn't take enough mental energy. Photography pulls my attention back to the present and away from whatever I'm worrying or stressing about.
How has depression and recovery impacted your relationships?
It gets in the way. It affects my confidence; I can be shy of approaching people I haven't met before. I get tired easier, so if my friends go out, I may not be able to stay out as long. Also, especially when I wasn't doing well, I would be much more reserved and quiet and not able to fully engage with friends. Things are a lot better now, but there's room for improvement.
How were mental illnesses viewed in your family?
My mom taught psychiatric nursing for years, so she knew more about depression than I did, but even she was surprised by how low I got and how terrible it was. I wasn't subject to external stigma. It was mostly internal, worrying about letting other people down. My parents have been supportive of my advocacy, even though it has meant talking about personal things. They help me edit, write and encourage my interests.
Your brother mobilized efforts to save you. How did that impact your relationship with him?
We are closer than we used to be, but we were always friends. We go out of our way to spend time together a bit more now and we have a stronger bond.
How have people responded to the video?
I've received good feedback; people think it's powerful. Most of my friends know my story, but some didn't know and were surprised. People thank me and tell me what it means to them. I've gotten to the point where most people I know are familiar with my story because I've done a number of interviews.
How does it feel to be considered a mental health advocate?
It sounds good. I like it. People reach out and it's nice to know I've helped people in doing this.
It takes a lot of courage to come out the other side of such a scary experience, and more courage still to talk about it, helping people find their own way to safety. Joshua Beharry's authenticity in discussing his personal struggles makes him an effective, relatable mental health advocate.
Popular in the Community