Blood. Greed. And beaver pelts? No, this isn't the making of a Beaverton headline but rather, the backdrop for "Frontier," Discovery Canada's first scripted series.
The show's set in colonial Canada at the height of the fur-trading industry and a time where relationships between European settlers and Canada's First Nations were tested.
And while the show takes place in the 1700s, executive producer and star Alan Hawco, says the series would have become very different were it not for the Canadians' recent efforts to reconcile with indigenous communities.
"I do believe we've avoided it... twenty years ago it'd be a white person's show. It'd be the trials and tribulations of the Europeans," Hawco told the Huffington Post Canada.
Hawco plays Douglas Brown, a businessman with the Low River Company, a Montreal-based group organizarion up against The Hudson's Bay Company. He stars along side Jason Momoa's Declan Harp and Jessica Matten's Sokanon, two hunter and trappers with a competing fur-trading company.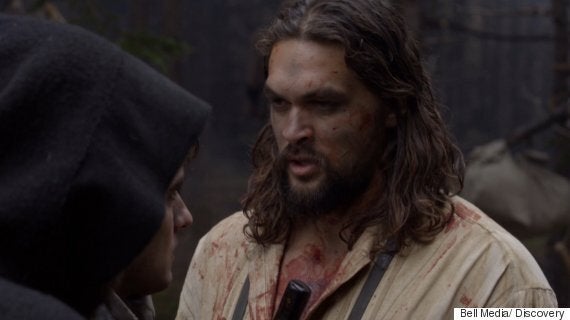 Hawco stresses "Frontier" is a dramatic historical fiction but acknowledges the show he stars in is based off a history of colonialism.
"There's a bigger issue here in terms of what we did as a settlers and as a people by essentially invading a land. That's the biggest part of it for me. Probably why we've stayed away from it because it's tricky material."
You can watch the full interview with him below:
"Frontier" premiers Sunday, Nov. 6 at 9 p.m. ET on Discovery