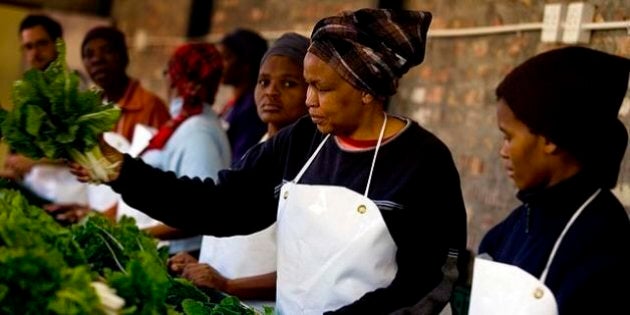 Goal 8: Promoting sustained, inclusive and sustainable economic growth, full and productive employment and decent work for all
The United Nation's new Sustainable Development Goals (SDGs) are a sweeping set of goals that all member countries have resolved to meet by 2030.
Goal 8 recognizes the importance of labour rights and access to decent work for all, while also emphasizing sustained -- and sustainable -- economic growth.
As Alnoor Ladha and Thomas Pogge have written, "we cannot fix deeply entrenched social problems with the same logic that created them in the first place... More growth in the absence of structural change is only going to worsen the lives of the world's majority."
Few make the connection between preserving and sustaining our global environmental commons and meeting basic human needs by growing our common wealth: through an expansion of collective public goods and services. Yet, the only way we can sustainably improve the standard of living for all is by expanding and improving the collective public goods and services that we share, instead of through ever-rising individual private consumption driven by profit-driven production. This requires stronger commitments towards basic social protections, including income security and social services.
That said, Goal 8 does include important targets on "full and productive employment," "decent work for all," "equal pay for work of equal value" and to "substantially reduce the proportion of youth not in employment, education or training" by 2020. It also includes the commitment for all nations to "protect labour rights and promote safe and secure working environments for all workers, including migrant workers, in particular women migrants, and those in precarious employment" and to implement the Global Jobs Pact of the International Labour Organization (ILO).
These are all unequivocally positive commitments. While labour rights in Canada are protected to some degree by our own Charter of Rights and by ILO conventions we've signed, this commitment provides further international support, especially after efforts in recent years to erode these rights.
The commitment to decent work for all is important not just because it means we should all be able to earn a living income with a decent job, but also because it promotes social inclusion and allows everyone to contribute productively to society with dignity.
But to make these commitments meaningful, we need clear definitions of what we mean by "full employment" and "decent work" and, most importantly, our governments must put a priority on policies to achieve these and other SDG commitments.
This means abandoning misguided monetary and fiscal policies that have been used to prevent full employment, including those expressly used to keep unemployment high so wages don't rise. It means our governments should abandon fiscal austerity measures which have resulted in rising unemployment and slow wage growth.
It also means introducing programs to create jobs, and in particular jobs which help achieve the SDGs -- both basic needs and environmental sustainability. In particular, this means jobs in health, education and social services and "green jobs" such as in public transit, retrofits, renewable energy and environmental protection and remediation. Many of these will be in the public sector.
Finally, full employment doesn't mean everyone should have to work full-time to gain a living wage. On the contrary, with rising productivity, one way we can achieve full employment is to reduce the work week, with commensurate increases in wages and in the "social wage" -- the value of free universal public services.
On the surface, the SDGs may appear to be a mishmash of barely coherent objectives, including some that appear trite or wishful thinking. That doesn't mean that there isn't some connection between the major goals or that they aren't achievable. But it does mean that to achieve these important goals, we'll need to break out of our narrow ideological frames and introduce policies that put people and the preservation of the planet ahead of profits.
Toby Sanger is the economist for the Canadian Union of Public Employees. Twitter @toby_sanger.
The views expressed in this blog are those of the authours, and do not necessarily reflect the positions of CCIC or its members.