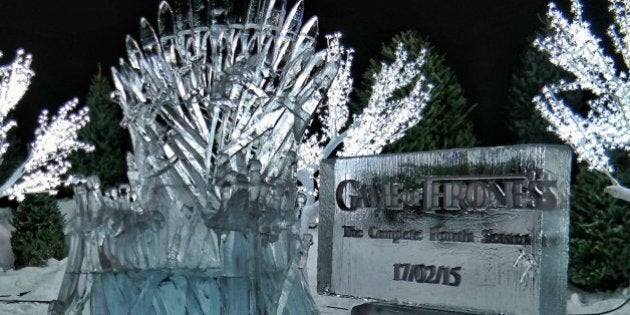 While "Game Of Thrones" fans continue to wait for winter to come to Westeros, it's already arrived in Quebec City (does it ever leave?), where the "Ice Throne," a frozen replica of the show's iconic Iron Throne, was officially unveiled during the city's annual Winter Carnival.
Taking sculptor Marc Lepire and his team over 12 hours and more than two-and-a-half tons of ice to build, the imposing eight-foot-tall sculpture is one of the centerpieces of this year's carnival, which is one of the largest winter festivals in the world and runs through February 15, 2015. And fans who've always dreamed of sitting atop the Iron Throne will have their chance (without even having to off anyone at a wedding) the last weekend of the Carnival, when the sculpture will be open to visitors looking for a new profile picture.
It's all in celebration of the February 17 Blu-ray/DVD release of Season 4 of "Game Of Thrones," which, in addition to the usual audio commentaries and deleted scenes, also features a 30-minute documentary about the making of Episode 9's epic Battle For The Wall and a special roundtable discussion with a select few of the fan-favourite cast members whose characters got killed off in Season 4 (presumably because there wasn't a room big enough to fit all the rest).
To kick off the Blu-ray/DVD launch, HBO Home Entertainment also held a special event at Quebec's Hotel de Glace, which is celebrating its 15th anniversary in 2015. There, the massive ice hotel -- the only one of its kind in North America -- had its "ice chapel" fully tricked out for the announcement event. Its frozen pews covered in furs, the chapel was lined with props and banners bearing the names of the four first families of Westeros. And while no cast members were able to make the trip, the creepy White Walker baby with its ice-blue eyes did make a special appearance.
It was fitting to have the event held in the snow-covered wonderland, considering so much of the show's fourth season is focused on the North. "Until you've come here in person, you really can't appreciate just how spectacular it is," said Brian Blazik, VP of HBO Home Entertainment for Canada and Latin America.
Even the weather cooperated, with a light snow shower coming down the whole evening, before a group of journalists (myself included) were invited to spend the night in one of the ice hotel's 44 individually-designed rooms, all held at a balmy -5 degrees Celsius. Which, despite the subzero temperatures and 20 minutes' worth of (very) necessary safety instructions, is a whole lot more fun than getting enlisted in the Night's Watch.
But it's not just Quebec City that's getting in on the "Game of Thrones" fun: HBO unveiled a giant interactive map of Westeros in Toronto's Union Station earlier this month, doing a full takeover of the commuter hub. "It'll be a real interactive experience for people coming through Union Station," explained Blazik.
And as "Game Of Thrones" enters its heavily-anticipated fifth season, fans' appetite for all things "Thrones" is showing no signs of cooling off -- the series broke ratings records in Season 4, topping "The Sopranos" to become HBO's most popular show in the network's history on its way to 19 Emmy nominations. But before you settle in with a warm drink and the new Blu-ray, if you're looking to enjoy the Ice Throne and the closest thing North America has to the Wall, you'd better do it soon. Because unlike in Westeros, winter here only lasts a few months -- or so they say.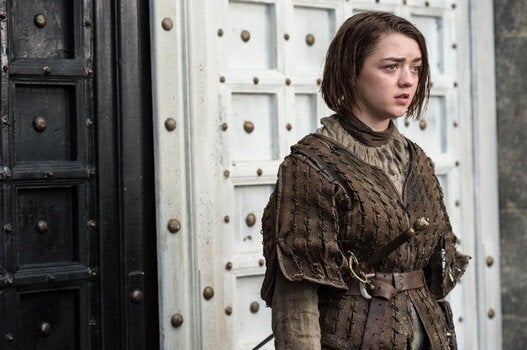 "Game of Thrones" Season 5