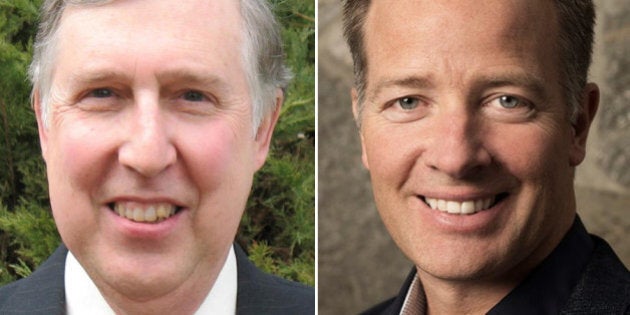 OTTAWA — The Green and Liberal candidates in the B.C. riding of Kelowna–Lake Country have formed an unorthodox alliance that could see a Grit MP sitting in two party caucuses.
Gary Adams won a contested nomination Thursday evening to represent the Greens. But a notice on the riding association's Facebook said: "Adams will immediately step down to co-operate with Liberal candidate Stephen Fuhr in an effort to unseat Ron Cannan and the Conservatives."
Negotiations between Fuhr and the Greens have been going on for three months, the Liberal candidate told The Huffington Post Canada. Fuhr said he had agreed to a memorandum of understanding (MoU) in which he pledged to — if elected — keep in close contact with the Green riding association, as well as the Green party leadership in Ottawa.
"If that means meeting at the Tim Hortons around the corner from Parliament Hill with Green leadership, then I will do that," he told HuffPost on Friday, adding that decisions about attendance at both party caucuses hadn't been made yet.
Fuhr also pledged to support "moderate" proportional representation in electoral reform discussions with the Liberals and to push for an "evidence-based" approach to targets on climate change. Liberal Leader Justin Trudeau has not committed to any national emissions-reduction targets. He promised last month to reform the electoral system but didn't say what system the Liberal government would eventually propose.
"Everything in the MoU is something I can do, and it is completely consistent with Liberal policy drop so far, and there is nothing there that I can't deliver on," Fuhr said.
"Refusing to participate in a coalition government with the Conservative party?," he read off the MoU. "There is no danger that is ever going to happen."
The Green-Liberal co-operation plan, however, has angered some local Greens.
Angela Nagy, the riding's former chief executive officer and sitting board member, for example, is hoping the national office will put a stop to the Fuhr-Adams agreement.
"This deal is not done," she told HuffPost.
Nagy acknowledged that Adams was transparent about his plan to withdraw as the official Green candidate and that the majority of the 45 Green members who attended Thursday's meeting were aware of it.
But she believes the riding association had no authority to sign such an agreement with Fuhr and that it should be rejected on the grounds that it doesn't respect a party resolution that the Greens will run candidates in every riding.
"The Green party has worked long and hard, and its members have worked long and hard, to establish a political party that represents the values of its members, and those values cannot be represented by another party," she told HuffPost.
"Just caving now, particularly in this riding, which is not even considered a swing riding — Ron Cannan wins with over 50 per cent of the vote — it's not even a strategic riding in which to have this kind of a deal!"
Green Party spokesman Julian Morelli said he hadn't seen the agreement but suspects it will go to the national office for review.
He wouldn't comment on whether May or the Greens' federal council might nix it.
"I don't know, is the short answer. I know that we are a party that respects grassroot democracy and that local members are looking at this from a grassroots riding perspective," he said.
Morelli stressed that, "from the national level, we are in no agreement with the Liberals or the NDP on some grand strategy. There is no grand strategy here."
Dan Ryder, a professor of philosophy at the Kelowna campus of the University of British Columbia and a Green party member, told HuffPost he came up with the idea of reaching out to other opposition parties to defeat the Tory incumbent.
The NDP riding association was interested but ran into resistance at their national level, he said. The Liberals, on the other hand, were quite receptive. Neither the NDP nor the Liberal party in Ottawa would comment Friday.
Ryder knows some Green members aren't thrilled with the idea of door-knocking for a Liberal candidate or not having a Green candidate on the ballot. But without the per-vote-subsidy — approximately $2 that was given to all political parties for every one vote they received but which was eliminated by the Conservatives — there is no financial penalty to making such deals. A one-time alliance to try to get rid of the current electoral system is a more important priority, he said.
"Steve is a great candidate," he said. And although the Liberal party as a whole has not made a commitment to proportional representation, Ryder said, "Steve has indeed made that commitment."
"We are very clear this is not Green party support for the Liberal platform; this is a one off co-operation effort to achieve those common goals," he said.
An alliance with the Greens and Liberals is possible because the Green party has a no-whip vote policy in the House of Commons and Trudeau has a "low-whip policy," Fuhr explained.
Trudeau promised to allow his MPs to vote freely on any matter that does not involve the Grits' campaign platform, confidence matters such as the budget, and issues involving Charter rights, such as abortion.
Fuhr called negotiations between him and the Greens in Kelowna–Lake Country riding "100 per cent grassroots." "[Green Party leader] Elizabeth May had little to do with this, other than the fact she was aware it was happening," he said. Similarly, Trudeau's office was kept in the loop.
A retired military fighter pilot who describes himself as a blue Liberal, Fuhr said the Greens support puts him in "striking distance" of winning the Tory riding.
Conservative MP Ron Cannan has held Kelowna–Lake Country seat since 2006. In the 1990s, it was held by a Reform MP.
Cannan won 57.4 per cent of the vote in the 2011 election with 34,566 ballots. The NDP candidate received 13,322 votes, or 22.1 per cent, of support. The Liberal won 7,069 votes, or 11.7 per cent, and the Greens were last with 5,265 votes, or 8.7 per cent.
"Does a Green coalition, or co-operation, with us, does it help? You bet. It gets me a lot closer."
Still, Fuhr knows Green support won't do much if he can't convince many Conservative voters to vote for him.
"I feel — because I was one of those guys — that progressive and fiscal conservatives, as they awaken to how badly Stephen Harper has handled himself on pretty much any measurable scale, they can't support the guy anymore.
"They have given him 10 years. And he's proven that he can't do it, and another four more years is not going to change anything."
Fuhr said he also believes the Green-Liberal alliance will help attract NDP voters for whom defeating Harper is the top priority.
As far as he knows, Fuhr said, this is the first agreement like it in federal politics between the Liberals and Greens. Ryder said he hopes other Green riding associations will follow suit.
In 2008, then Liberal leader Stéphane Dion agreed not to run a candidate against May when she tried, unsuccessfully, to beat Conservative cabinet minister Peter MacKay in Central Nova.
Correction: An earlier version of this article identified Stephen Fuhr as a Liberal MP in the headline. This version has been updated.

Correction: An earlier version of this article incorrectly identified the Liberal and NDP returns from the last election. The NDP candidate came in second place and the Liberal candidate was third. This version has been updated to correct the error.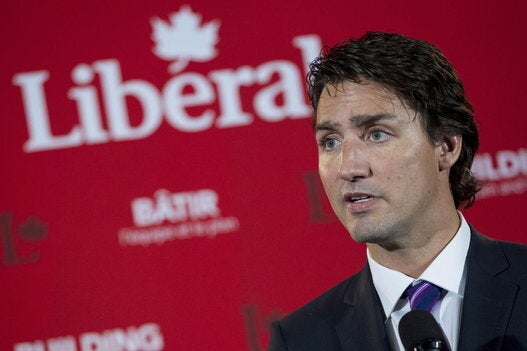 What Liberals Would Change About Bill C-51