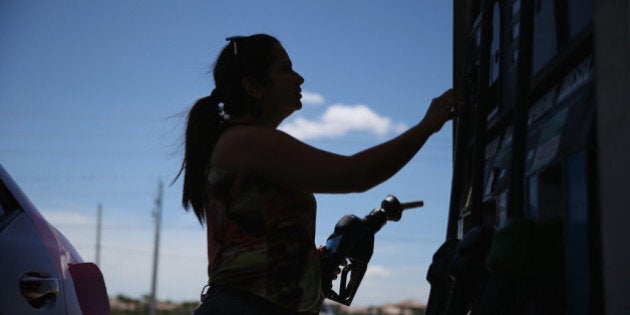 Gas prices in Canada have been rising, even as oil prices have been falling, but Canadians are still a little better off at the pumps than they were a year ago, new research shows.
The average price of gas across Canada has risen by 24 per cent since the start of the year, according to data from MJ Ervin & Associates, cited in the Globe and Mail.
But West Texas Intermediate — the benchmark for North American oil — has fallen by some 29 per cent just since the start of June, to around $44 U.S., from around $62 U.S.
Analysts say the main reason why gas prices are rising is the falling loonie. Canadian retail gas prices are based on refineries' sales prices, and those are set in U.S. dollars. As the loonie has fallen, the prices Canadian gas stations pay to refiners have been rising.
That's the semi-official explanation, anyway. In reality, retailers often charge "what the market can bear," i.e., what you're willing to pay.
BMO economist Doug Porter published this chart, showing a divergence in oil and gas prices unlike anything seen in at least a decade.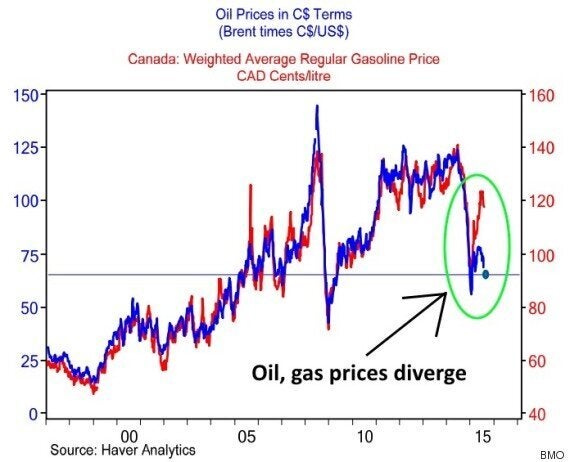 But new data from debt counselling service Consolidated Credit shows Canadians are at least paying less this year than last, when oil was above $100 U.S. per barrel.
"Canadian drivers are saving an average of $8 each time they fill up a 50-litre fuel tank (found in a Honda Civic)," Consolidated Credit says.
"If you're hitting the road a lot this summer, the savings will add up – particularly if you drive a gas-guzzler."
Toronto gas prices are 16 cents per litre lower this summer than they were last, at an average of $1.21, while Montreal and Vancouver drivers are saving 13 cents a litre, and paying $1.30 and $1.34, respectively.
That's a little bit of good news for Canada, because lower gas prices were supposed to help consumers hold up the economy as trouble spread in the oil patch. But with gas prices continuing to climb towards last summer's rates, that good news could be minor.
Consolidated Credit published this infographic showing gas prices this year and last, for select Canadian cities.