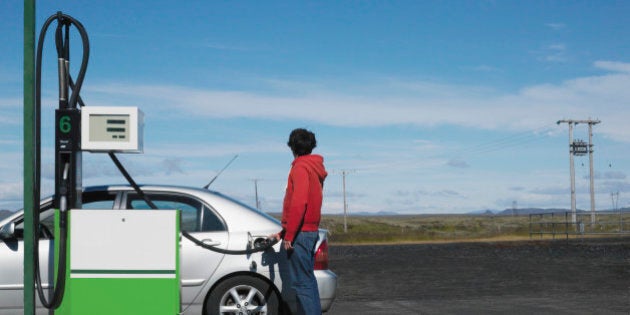 Canadians have long paid more for gas than Americans, but the difference today is the greatest it's ever been, according to a report from National Bank of Canada.
Rising gas prices have acted as an unofficial "tax hike" on consumers, depressing spending in the rest of the economy, National Bank senior economist Krishen Rangasamy wrote in a client note Thursday.
The share of Canadian retail spending going to gasoline is near an all-time high, above 13 per cent, and the percentage has been climbing, albeit unevenly, for the past few years.
In the U.S,. meanwhile, the percentage of retail spending going to gas been in decline for some four years, and consumers there spend only about 10.5 per cent of their retail dollars on gas.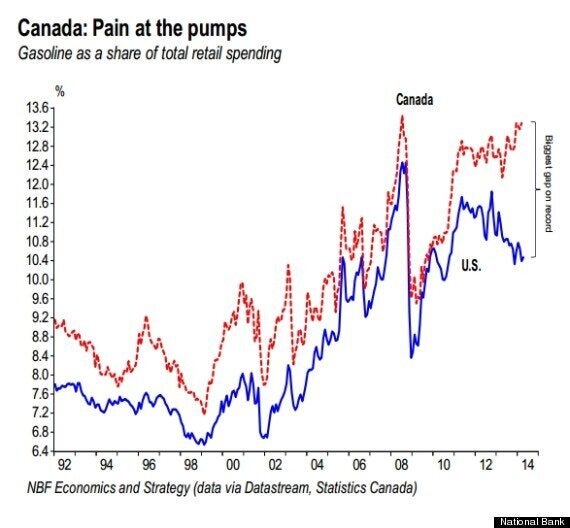 Those rising fuel costs north of the border are straining consumers, Rangasamy writes, helping to explain this week's lacklustre retail numbers, which showed sales dropping 0.1 per cent in March, despite analysts' calls for a roughly 0.4 per cent hike.
Retail sales are also being held back by a relatively weak job market. The National Bank report notes that "almost no new private sector or full time jobs were created in the six months to April."
Meanwhile, the U.S. has been benefiting from its shale oil boom, which has kept gas price hikes south of the border to a moderate 10 per cent this year, BMO's Guatieri noted.
The National Bank report did see one bright spot on the horizon for gas prices: Enbridge's controversial Line 9 pipeline reversal, which will see western Canadian oil shipped to refineries in the east.
Refineries in eastern Canada are buying oil from overseas sources at prices higher than those for western Canadian oil, National Bank writes, and when the Line 9 reversal is complete, those refineries will have access to cheaper western Canadian oil. That could help bring gas prices down.
The pipeline is currently the target of protests in Ontario.