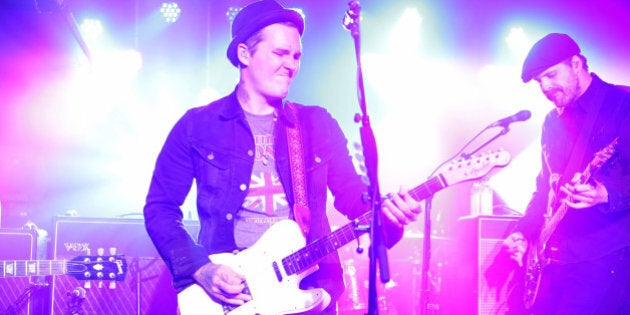 When The Gaslight Anthem's last album "Handwritten" was released, the New York Times crowned vocalist-guitarist Brian Fallon "the true heir to Springsteen," a compliment that quickly soured.
After a NYC gig last year during which apparent Springsteen fans called out for covers, Fallon took to the band's blog to post a message to his fans, entitled: "Tonight You Have Broken My Heart." He had become increasingly frustrated, perhaps even haunted, by these looming expectations:
"Don't come to see Bruce, he won't be there. Don't come to hear a cover, it probably won't happen. Don't come to yell at me when I'm trying to share something with the audience to reach out to them about something I feel is moving me."
By the end of the last tour, Fallon says he remembers the band stood around, asking themselves: "Are we going to do another record or should we even bother if we're going to do the same thing?"
Rather than quit, these four childhood friends from New Brunswick, a Jersey college town with its own rich history of underground bands in the shadow of the New York skyline, decided to study bands that went through a significant shift in sound, dropping references to U2's acclaimed "Achtung Baby" and Pearl Jam's polarizing "No Code."
"Get Hurt" isn't such a radical shift, but their anthemic blue-collar rock is now met with grittier lyrics over harmonies and simplified instrumentation. It's also a break-up record -- written in the wake of his divorce to wife of ten years Hollie -- and their first to be entirely written in first person.
Those emotional depths will be plumbed nightly when they soon embark on a North American run with Against Me!, the same band that welcomed them as openers on Gaslight Anthem's first major American tour.
Before heading on the road, Fallon spoke to HuffPost Canada Music about the new album, Springsteen's advice, being religious and the dangers of drugs and doctors when dealing with a personal crisis.
Against Me! headlined your first major tour. What do you remember from those days and nights together?
"I just remember being like, 'Wow. They're on a bus' and they have a following that comes to see them every night, like a thousand kids or more every night. A different life. They really, really did it. Playing rock shows every night, having fun and obviously making a living out of it. I remember thinking that is the ticket right there, that is the goal. So I was paying attention to what they were doing and especially a lot of the things that they'd say along the way. They gave a lot of great advice."
Any conversations that you shared stand out to you?
I think that every time that I go out with someone there's moments. Bruce, for instance, he probably bestowed upon us the largest knowledge gulp that you could take in a short period of time. It was a common thread among everybody that was and is bigger than us, they all try to say to take it as it goes and enjoy the moments as they pass because they pass so quickly.
Are you starting to feel a responsibility to be passing on that wisdom yourself now?
[LAUGHS] No. I don't feel very wise right now.
In between the last record and now -- you have the divorce, the band wanting to break-up and then, there are these lyrics on "Stay Vicious" that read: "I have pills for this, tabs for that..." When did those words come together for you?
I've never been a drug guy. I've never even drank much. If we were hanging out, I'd have couple of beers and that's about it. I've never had real hard liquor or anything and I definitely don't even smoke pot. It just bothers me, it dries my throat out. It seems though, whenever you're going through anything: you lose your job, you get depressed, you get divorced, you have somebody die or whatever. Everybody is so anxious to tell you: a) what's wrong with you and b) what you should take to fix it.
Sometimes it is doctors telling you that you need this or you need that and you have anxiety or this disorder and you're like, 'Alright, how do you know? You've known me for five minutes.' And then you have people who are like, 'You should take these or take a couple of these and they'll cool you down.' You're like, wait a minute, I've essentially been offered a pharmacy worth of things to apparently fix my life.
I think the answer to that question came and I rarely talk specifically about what songs are about, but in this case I feel that it is justified. In "Stay Vicious." And then in "Rollin' And Tumblin" I pretty much answer the question and say, "what if I take all of these things that various people say I should take?" And then what happens when I smash into the wall and freak out and figure out that my problems are not solved because I didn't go through the natural steps of growing and kind of dealing with it. What are you going to do? Are you going to sit there and cry me a river? Great, that's going to do a lot of help.
It's not going to do me any good and I gotta go through whatever it is and I feel like everybody has got to go through it. That's not to say that people can't take medication for people that have problems, I think that medication can help people a lot. I never saw cocaine help anybody, though. I never became a part of that world. I don't really like it and I don't really support it at all. So those kind of things, they kind of turn me off, that onset of people saying do this and do that. I'm a big fan of not telling other people what to do. I just don't think that is a good idea.
Because what gives someone the power to do that?
What gives you the knowledge, more so. Less that what gives you the power. I don't think that any of us have the power to tell another person what to do and then much less so, what gives people think they have the insight to tell people what to do? You could suggest things that works for you, but I think that it is really tough to just say, hey man I know what you should do. I think that is pretty weak."
Your mother works in a hospital and raised you in a religious home, your lyrics on this album reflect more religious allusions to God, heaven and praying. Was that conscious choice?
No, again I have to say that people genuinely benefit from medication so I'm not opposed to medication and I'm not opposed to religion, either. For me, I'm a religious guy, but again bouncing back and forth to what we are talking about, I think some people really benefit by medication. In my case specifically, I didn't feel that a five-minute conversation with a doctor is the answer. You've been to a doctor, they tell you that you got this or you got that and they just try things. Then you realize, wait a minute they don't even know what's wrong with me.
As far as religion goes, that's just a personal choice and that goes along hand in hand with telling people what to believe. You can tell them what you think, but that's it at the end of the day. You can't tell somebody that you need this and that's it.
09/14 Ottawa, ON - Ottawa Folk Festival
09/18 Montreal, QC - Metropolis
09/19 Toronto, ON - Sound Academy
"Get Hurt" is now available via Island Records.
Popular in the Community