When Chris Farias asked for the "GAYEST cake" his local bakery could make, in celebration of his engagement, he had no idea just how gay a cake could be.
Hamilton's Cake and Loaf Bakery delivered a stunning unicorn cake to Farias, and you just have to look at the photos to appreciate its magnificence.
Farias, 36, posted the pics of the gorgeous cake on Facebook on Dec. 13.
"In celebrating my engagement to Jared Lenover (It's been a year... 8 months 'till the big day!!) I wanted to get him a cake to celebrate (he loves cake...as do I!). So I called my local bakery, Cake and Loaf Bakery, and requested the GAYEST cake they could make. Without hesitation, and with much excitement, they said "We'll do it!!!," Farias wrote in his post.
He continued: "This is what I got. I am in tears right now I'm so happy. Being part of the LGBTQ+ community isn't easy for many. And that's an huge understatement. But I am proud of who I am, and how far WE have come. I am proud to be a gay Canadian who can order a cake and not get turned down because of who I love. I love this country, and I love my community."
Farias is the vice president and creative director of Kitestring, a Hamilton-based branding services organization. Nine years ago, Farias met his fiancé, Jared Lenover, 40, through a dating app. Fast forward to 2016, and the two got engaged. "I wasn't ever planning on getting married but I loved Jared very, very, much," Farias told HuffPost Canada. After being diagnosed with obsessive-compulsive disorder, Farias found himself requiring round-the-clock care and support that only his partner was willing to take on.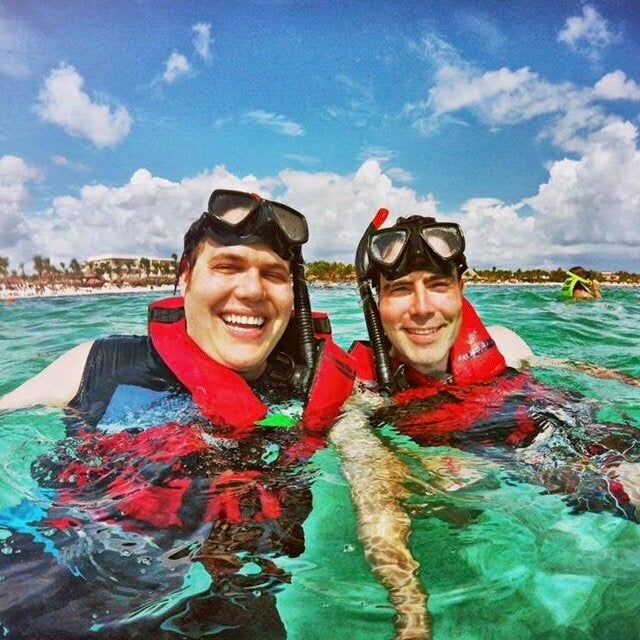 "[Lenover] helped me big time. He was the best and that's when I realized how important he was," Farias said. One day Farias was shopping in Toronto when he came across a wedding ring that he thought was perfect for Lenover. "He's an engineer and a science geek and the ring is made out of what spaceships are made of [carbonite]. It's indestructible," Farias said. Thrilled but also anxious, Farias took to Facebook to propose to his partner.
"I said I'll be home in 45 minutes and began driving back to Hamilton," Farias said. Lenover excitedly accepted the proposal when Farias got home, and they set a wedding date for Aug. 8, 2018, exactly ten years to the day the couple met.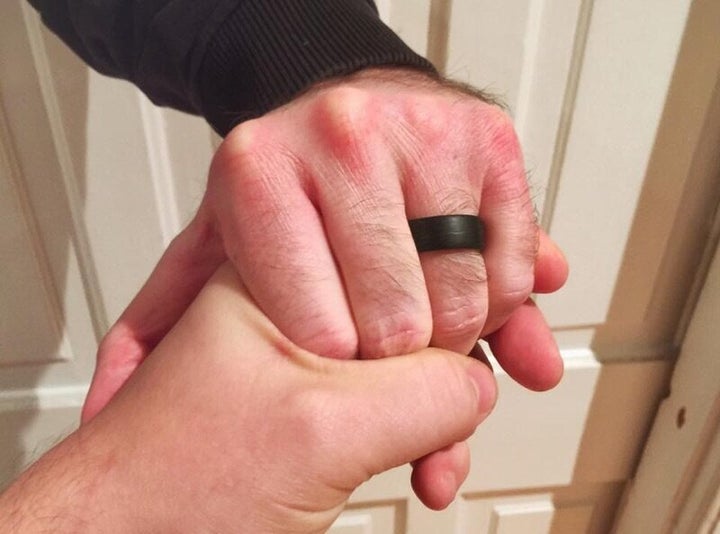 These stories of discrimination and homophobia inspired Farias' vision for his cake. "With everything going on in the world, not many people get to have these cakes made. We're proud to be gay and I wanted [the cake] to be the gayest cake ever," Farias said.
Quinn Pallister, 22, was the baker behind the single-tier round vanilla buttercream cake, that has now been shared over 2,000 times, with almost 3,000 likes. Pallister, who has been in the baking industry for six years, wanted to create a cake that reflected Farias' and Lenover's personalities and the LGBTQ community.
"[Farias] put it in my hands. He has such a big personality and talking to him made me think of someone bright and happy," Pallister told HuffPost Canada.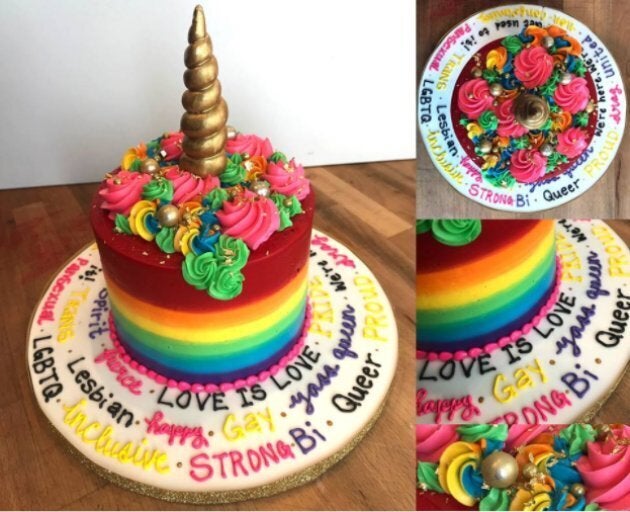 The baker also had a personal connection to the cake: Pallister's mother married her wife last year.
"They've been together for 11 years. I didn't get to make their cake for their wedding, but this was an extension of that. It was me trying my best to represent them and I did it through cake," Pallister said.
The response to her creation has been nothing short of positive, Pallister said. "It makes my heart so warm for Chris. The whole point was setting an example for people in the States. I'm so happy Chris' story got shared. That is what Canada should stand for," she added.
For Farias, there is always room for improvement. "Canada has a huge and important role in being an example for inclusion. I'm really proud to be Canadian. I am discriminated against but I can't imagine living anywhere else," he said.
Popular in the Community