Prepare yourself to feel old: it's been 25 years since "A League of Their Own" was first in theatres.
That's right — you've been saying this for an entire quarter-century:
And star Geena Davis, 61, can hardly believe it either.
"I went through this last year because it was the 25th anniversary of 'Thelma and Louise,' and it was, 'no, it can't be!'," she tells the Huffington Post Canada over the phone. "At the time I never thought about how movies last a long time. Now movies last forever, and so I have the same number of girls and young women recognize me from that movie and tell me they played sports because of that movie as I did when it first came out."
Davis admits she never played sports herself growing up because her ever-growing limbs (she was 6'0" by the time she was 18) made her feel gangly and uncoordinated, but she more than made up for it once she hit adulthood. Besides learning how to play baseball for "League," she took up archery at age 41, at one point becoming the 13th best archer in the U.S. and coming 24th out of 300 women trying out for the Olympics in 1999.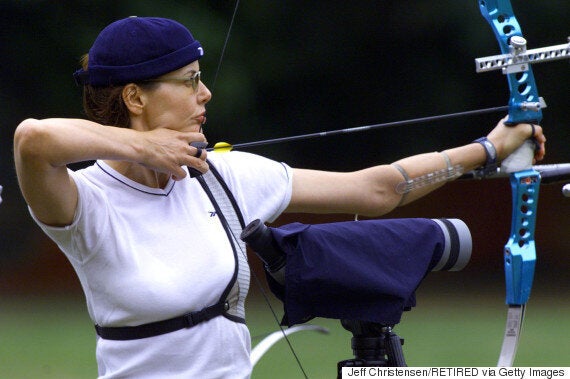 Geena Davis takes aim at a target as she tries out for a spot on the U.S. Olympic archery team, August 21, 1999.
The Oscar winner, whose influence has now spanned a couple of generations in roles from "Beetlejuice" to "Grey's Anatomy," has made an equally strong name for herself in trying to level the playing field (sorry, sorry) for women in Hollywood with the Geena Davis Institute on Gender in Media.
The organization works to challenge gender stereotypes and biases in entertainment and the media by pushing for stronger female characters and highlighting imbalances wherever they're found, especially as they pertain to children 11 and under. And while Davis' role in "League" may have helped girls get into more sports, she's been impressed to see how its influence spread in a number of ways.
"There's the [girl power] aspect of it, there's being a teammate and camaraderie and underdogs and all that," she says. "But what's wonderful too is that boys love the movie too. Quite a number of moms tell me, 'That's my son's favourite movie.'"
But she thinks that's also all the more reason why Hollywood needs to get its act together and diversify what it's producing.
"We've got to show boys and girls that women do equally interesting and important things, and are, by the way, half the population."
"Very few films are actually gender balanced, which is important to realize, and that's why I'm doing all this," she explains. "We've got to show boys and girls that women do equally interesting and important things, and are, by the way, half the population."
Answering a question in Forbes on how she thinks creators can actively make a difference, Davis noted, "I say, whatever you are already going to make, go through and change the names of some of the characters to female and voila! You have probably fixed your gender imbalance and created some characters who likely challenge gender stereotypes because they were written for male characters."
As for why so many movies and shows are geared towards men, she believes it's a tired, outdated way of thinking that's due for a change.
"I think it's unconscious bias, but Hollywood for so long lived under this assumption which turns out to be wrong that, 'Oh we have to cater to men and especially teenage boys as the audience, and God forbid we show them anything they don't really identify with,'" she explains. "But the fact is, they're no longer the biggest audience. Really, women and girls are the biggest audiences.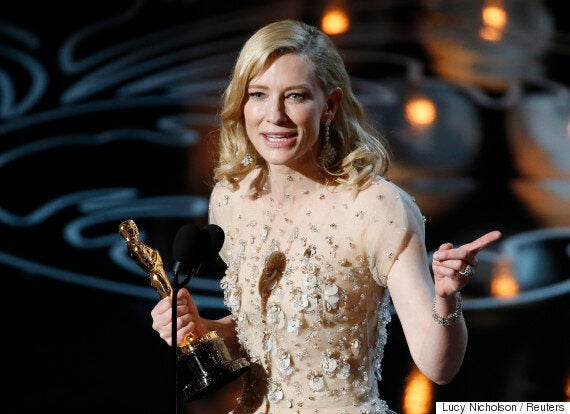 Cate Blanchett speaks on stage after she won best actress for her work in 'Blue Jasmine" at the 86th Academy Awards in Hollywood, California March 2, 2014.
During her 2014 Oscar acceptance speech for "Blue Jasmine," a film decidedly centred around a woman's personal life, Cate Blanchett echoed the same feelings. Speaking to the audience, she thanked them for proving wrong "those in the industry who are still foolishly clinging to the idea that female films with women at the centre are niche experiences. They are not. Audiences want to see them, and in fact they earn money. The world is round, people!"
As for Davis, it's a sentiment that's informed every role she's played right from the beginning.
"I was not attracted to [the femme fatale] kinds of parts because I'd feel like, 'Well, she doesn't get to do anything. And I want to play characters that do stuff.' So I ended up in unusual movies like 'Beetlejuice' and 'Earth Girls Are Easy' just because I was really looking for acting challenges.
"It wasn't until after the one-two punch of 'Thelma and Louise' and 'League of Their Own' that I said, 'Wow, I am really going to make choices thinking about what women in the audience are going to think about my character.' Not to play role models, but to show women in charge of their own fate. That I would rather play baseball than be the girlfriend of the man playing baseball, and that's the operating principle that's pushed me ever since."
"[I realized] I would rather play baseball than be the girlfriend of the man playing baseball, and that's the operating principle that's pushed me ever since."
Davis hasn't, incidentally, put those baseball skills that inspired so many girls to waste. Each year at the Bentonville Film Festival (BFF), an event spotlighting women and diverse voices in entertainment which she co-founded in 2015, an annual "League of Their Own" reunion softball game is held. In addition to the Peaches (Rosie O'Donnell has attended the past two years), other celebrities and locals join in. The festival runs from May 2 to May 7, 2017.
"And so this year we're making a really big deal out of it, because of the anniversary of course, and it should be great fun," she says with excitement.
And as for Madonna's attendance?
"She hasn't [come yet] — we have our fingers crossed for this year!"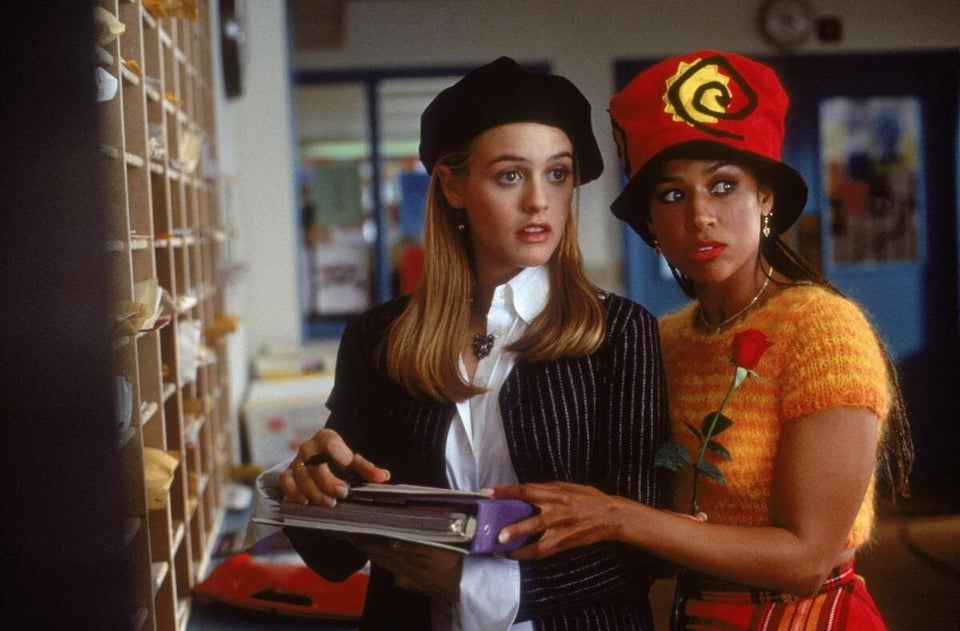 Best Female Duos In Movies