If you actively follow menswear, it may seem that there's a new men's fashion week every few days or so -- and for the past month, there basically has been.
With Europe having just wrapped major menswear events in Milan, London and Paris, the spotlight is now on the inaugural edition of New York Fashion Week: Men's (July 13 – 16). Huge industry players showing include Ralph Lauren, Michael Kors and Tommy Hilfiger, alongside fashion kid favourites Public School, Rag & Bone and Alexandre Plokhov. The star power is practically blinding.
The difference between men's fashion weeks and their more established female counterparts is that much of what you see on the boys' catwalks won't be on the rack come next season, even in fast fashion knock-offs. If you flip through mainstream men's magazines for trends, you won't be seeing much of it either. What's the deal?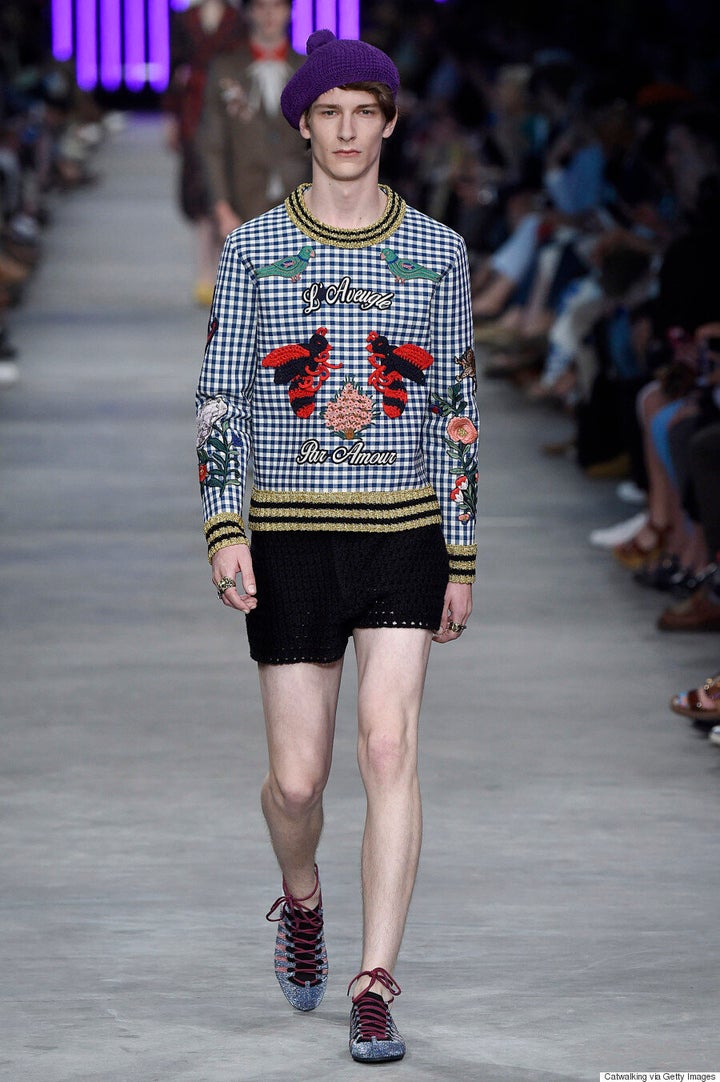 A large part of it is it's simply too gender bending. More androgynous menswear, while wildly popular among fashionistas and niche, high-end designers, simply does not translate into sales. Even though androgyny has appeared year after year as a major stylistic influence, it has been slow to trickle down to mass production.
"It's hard to seamlessly translate a runway look into a retail store," says Willis Chan, a member of menswear collective ante meridiem, who are nominated for the Emerging Menswear Designer Award (EMDA) at the upcoming Toronto Men's Fashion Week (TOM*). "However, interest in androgyny seems to be increasing and I believe it takes one step at a time to reach the point where the general mass breaks down the barrier of what is masculine and feminine, and just wears clothing that they feel comfortable in."
Well, gender bending has tough competition. Menswear, for all its monetary and fashion week gains, has traditionally been resistant to change -- particularly given how restrictive men's options for the office are.
"The suit is the foundation of any business wardrobe, making the wearer feel more confident and powerful," says Tom Kearnan, director of merchandise at Indochino. "A simple, well-tailored suit makes any man look sophisticated. He will appear taller, his posture will improve and his overall profile will be elevated."
Given that Indochino, a Vancouver-based men's custom suiting company just opened it Toronto flagship (143 King Street East), it appears as though the blazer/pants combo isn't going anywhere fast. Menswear has traditionally been limited by the fact that most lads who have the money to spend on fashion also spend the majority of their lives at the office. Women, by comparison, only began entering the workforce in greater numbers in the latter half of the 20th century, allowing the variety in their fashions to flourish.
Interestingly, androgyny re-entered the menswear scene in droves largely following the 2008 economic collapse. As women increasingly are attaining higher levels of education and professional status than men, LGBT rights continue to gain international traction, and antiquated gender roles are being thrown to the wind, fashion has come to reflect this. Increasingly, men are taking jobs in more creative fields or are abstaining from work altogether in favour of raising families. Fashion is a cultural thermometer and, as we see a growing plurality of masculinities in real life and women become more powerful, this is reflected on the runway.
So when will we see designs that ignore gender binaries reach the masses? They already have in many parts of the Far East, particularly in fashion powerhouse South Korea. As social media has made style a globalized affair, it shouldn't be long before more mainstream North American menswear comes to reflect this as well. As it is, more avante garde men's clothing has a near-cult following in most of the continent's major cities.
"Edgy menswear sells quite well at present to a limited but avid clientele," says Jon Barrett, lead stylist at Nordstrom Rideau Centre. "Many of the same gentlemen who used to swear to me they'd never mix athletics and tailoring are now currently pairing sport coats with cuffed pants."
He continues: "Give it a year or so and those same gentlemen will be wearing a long shirt under a slouchy bomber while scrutinizing the asymmetry of the hemlines of their next purchase. All in good time."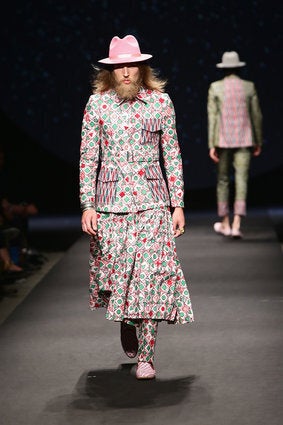 Highlights From Europe's Men's Fashion Week
Popular in the Community