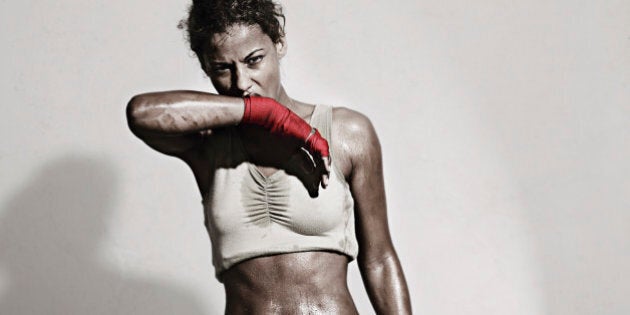 We live in a world where women are judged by their looks and encouraged to reach an unattainable standard of beauty and perfection. We don't need a textbook to tell us this, we see it on billboards, magazines, in the news media and on social media.
Dove wants to change all that and wants women to celebrate their own unique beauty by challenging the status quo, encouraging women to fight gender discrimination and by demanding that media do a better job of reporting on women's lives without trivializing their contributions. The brand is drawing attention to the issue with a billboard in Toronto's Yonge-Dundas Square, that will aggregate these types of comments. Social media has a huge role to play in all of this and so they're asking for people to use the hashtag #MyBeautyMySay to share their stories where they'll be showcased on dove.ca/haveyoursay.
Here are five ways we can change the way women feel about their bodies as told through activists and community members who endeavor to change the conversation one social post at a time.
Insist that people focus on what women are doing, not how they look
Call out people who judge you on your looks and not your talent. Nightly Show writer and "MTV Decoded" host Franchesca Ramsey showed us how to do just that when she tweeted, "Sad when someone tries to invalidate my opinion by insulting my looks. So cheap." She's drawing attention to occasions when people have called her ugly as a way to insult her opinions instead of tackling the opinions themselves.
Take the opportunity to call attention to the issue in thoughtful ways. It's our job as women to support each other and be agents of change. Take the lead from people like Ramsey and prove to the world we're more than just our looks.
A woman's beauty should be celebrated on her own terms, not those of others
Nine in 10 Canadian women admit to having opted out of important activities, such as attending social engagements, when they didn't feel good about the way they looked.
Medical student Iman Durrani, tweeted, "beauty is not flawless. It shines through your flaws." It's a strong reminder that beauty is skin deep.
It's the same message from the #LoveYourLines campaign, an Instagram account and hashtag that encourages women to share images of their stretch marks to prove that an "imperfect" body is just as beautiful. Learn to accept your own imperfections.
Call out the media's sexist reporting and unfair focus on women's looks
Those who don't think females in the public eye are held at different standards than men, haven't been following the 2016 Olympic Games.
To that end, female athletes are facing unfair criticism too. In one instance, the Daily Mail wrote about American swimmer Dana Vollmer's post-baby body and weight gain despite the fact she had just won two Olympic medals.
Dove is aggregating these examples at www.dovehaveyoursay.ca where readers are encouraged to scroll through these quotes and change the story.
Be an ally to help people understand what women deal with on a daily basis and why it keeps so many of them out of the public eye.
Women are shamed and shunned because of their wrinkles, while older men are often called "silver foxes." As a result of this double standard, older women aren't represented in movies, television and some advertising. If they do make an appearance it's rarely as a sex symbol.
Laurie Mahoney recently tweeted this with the #MyBeautyMySay hashtag:
"Beauty on your own terms! #mybeautymysay No matter what your age, let's not give in to someone else's expectations..."
Donna, a homemaker and ballet dancer tweeted this advice to her followers: "I would say 'don't listen to [the] naysayers! This is your life, fly high and seize every day.' I am 51 years young."
Learn to love you number and encourage others to do the same.
Reject the unfair and shallow expectations men aren't saddled with, and do it with grace and a healthy sense of humour
Youth mobilizer and speaker Kelly Lovell tweeted this advice to her followers, "The most beautiful face is one that smiles with confidence."
The most tongue-in-cheek advice probably came from motivational speaker and health and wellness promoter, Brittney Marie who posted a funny meme stating, "Not having a thigh gap saved my phone from falling in the toilet."
Address the discrimination head on and with grace.
Fighting gender discrimination and improving the relationship we have with our bodies is something we need to do together. As women, we need to support each other and speak up for ourselves. The Dove Self-Esteem Project (DSEP) helps us do just that. It's an online resource committed to helping build the self esteem of young girls so that they become confident women. Learn more at selfesteem.dove.ca and join the conversation by sharing your personal story, using the hashtag #MyBeautyMySay.