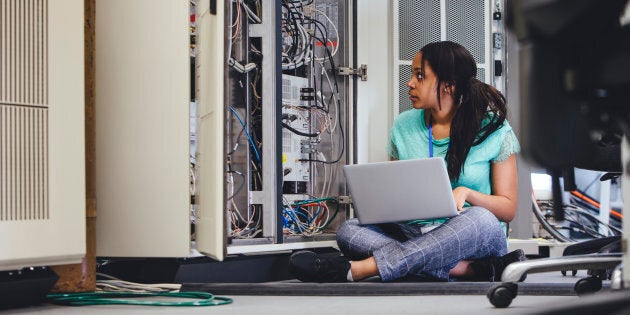 The rise of the digital economy has become a phenomenon that industries in today's world are banking on for growth. The Indian Budget 2017 showcases a set of progressive ideas that lay a solid foundation for its digital economy, an industry that has reached a value of almost three trillion dollars in the last 20 years.
With the advent of mobile based technologies, it is astounding how low female labor force participation remains. As per the NSS data, for women aged 25-54 labor force participation has deteriorated to 26-28 per cent in urban areas, and has substantially fallen from 57 per cent to 44 per cent in rural areas, over the last two decades. This points to the fact that women are far less likely than men to have a job or to be looking for one, which has become a primary reason for the stagnated growth in India.
The key benefits of the introduction of digitization in India is that it will give women the opportunity to work remotely, cater to mobility restrictions, and provide them with a means to earn a living. This opens a plethora of opportunities for women in India as it offers a cost-effective channel for delivering services to increase employment.
India produces about 1.5 million engineering graduates every year, but only 30 per cent of India's tech force consists of women. Why is this gap so large? The reason has been traced to the lack of female interest in computer sciences over the years, and the leadership-ambition gap that causes women to drop out of the tech workforce. Women in the tech world continue to be highly underrepresented in leadership and senior positions. The lack of employment diversity in India's high tech industries is a result of the persistent pressures for Indian women to conform to traditional, cultural and social restraints such as early marriage, which puts limits on their work opportunities.
Furthermore, this under-representation and stigma surrounding women's participation in high-tech industries causes women to feel unsafe and unaccepted in male dominated fields. In an effort to combat these issues there are Indian laws which allow women to report crimes committed at their workplace, but fear becomes a barrier. The feeling of not belonging to a community establishes a sense of insecurity and fear in young women. However, there do exist communities that are trying to bring women in tech together to preach gender equality and bring about innovation. India Girls in Tech, WE Headstart Foundation, Sheroes, and Grace Hopper are some examples of groups working towards making this uphill climb easier.
All leaders in the social, economic and political strata need to understand that increasing female labour force participation in India will generate growth, stabilize communities and lead to a whole new era of social innovation.
We, as responsible and educated global citizens, need to spread awareness through campaigns conducted in schools and colleges where women like Kirthiga Reddy (MD of Facebook India), Roshni Nadar Malhotra (CEO of HCL Corp) and Vanitha Narayan (MD of IBM India), and their stories of achievement are showcased to jumpstart female youth in India. We need to urge them to participate in the digital revolution and inspire the largest economic and social change of this century.
By Anannya Parekh, G(irls)20 Delegate, India