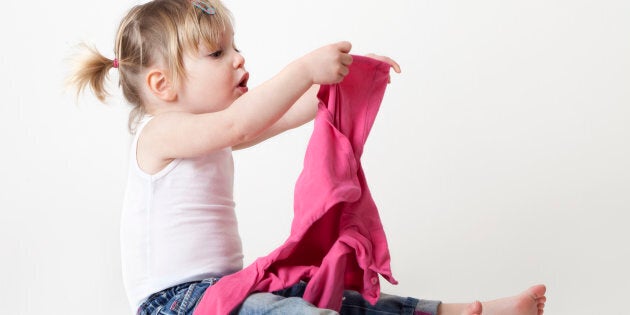 Girls' shorts that barely cover their bums. Toddler tops so fitted that their bellies hang out. Little boy T-shirts splashed with messages about breaking hearts, being a stud, and flexing their muscles.
The issues some parents have with the gendered "boys" and "girls" kids clothing sold in most stores go far beyond avoiding the stereotypical blue and pink — they range from practical issues such as fit, to problematic messages about gender.
"Some boy shirts are talking about their muscles or their masculinity, and that's not a definition of masculinity just because he 'flexed so hard his sleeves fell off' or he's a 'little heartbreaker.' Who's to say what he's going to be when he's older?" Ottawa mom Jaymee Edwards, 31, told HuffPost Canada in a phone interview.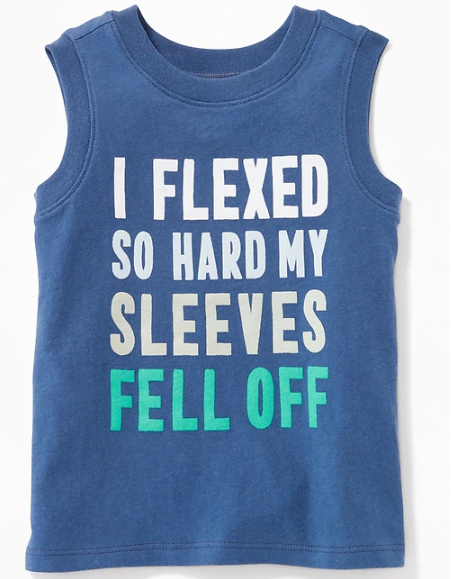 Edwards, who has a 22-month-old boy and is pregnant with her second child, said she has to go out of her way to find clothes for her son that are plain colours, without writing, and that it can get expensive in certain stores.
"It's like, can you afford to pay $40 for a T-shirt vs a $10 shirt (with writing on it)?"
Gendered marketing to kids reinforces harmful stereotypes
Clothing is just part of a recent outcry over gendered marketing to kids, with experts stating that marketing these items to "boys" or "girls" reinforces harmful stereotypes. Everything from toys to training pants have come under scrutiny.
While some companies such as Primary only sell gender-neutral clothing without logos or slogans, and other companies such as Target have added gender-neutral clothing lines, the options for parents looking to avoid stereotypical "boy" and "girl" clothes are still slim.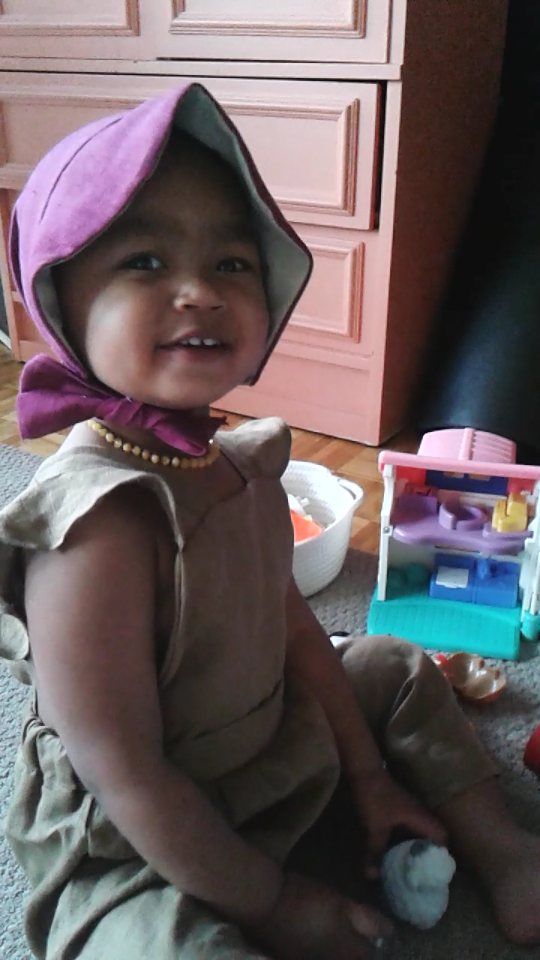 That's why Francine Levesque makes her daughter's clothes herself. The Ottawa mom to Nyah, 2, didn't like the options for girls found in most stores, she told HuffPost Canada in a phone interview. It was all too cutesy, or gaudy, referred to princesses, and the fit was an issue, Levesque said.
"The clothes are made, strangely to me, as if they're supposed to have little adult bodies," Levesque said, referring to skinny jeans for toddlers and other overly-fitted items.
The clothing she makes for Nyah is looser, with more fabric so that she can move around with more ease. Everything has a drop crotch, utilizes elastic, and is more modest than what is typically sold in stores, Levesque said.
"I wanted really beautiful, old-world clothes for her made with natural materials, and I had to make it myself because none of the design ideas I had were out there, or if they were they were from Zara or something and super expensive," said Levesque, who is launching her own line of children's clothing called bebs + tods.
"I want her own style and personality to come through, instead of having something that has writing on it like 'I'm cute' or 'I'm awesome'. I don't prescribe to that."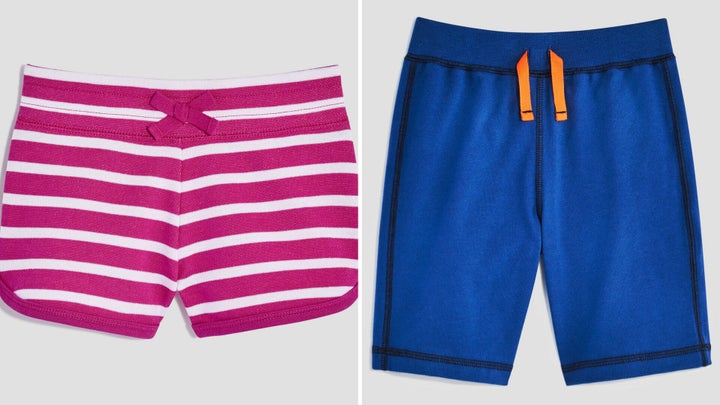 "I am shocked at how short girls' tops and shorts are — I find myself buying 12 month shirts for my petite size girl (fits six month clothing) just for the length so her torso doesn't show 24/7," Ottawa mom Breanne Merklinger, who has a two-year-old boy and a seven-month-old girl, wrote to HuffPost Canada.
"AND what is with the booty shorts?!," Merklinger added. "I've kept most of my son's shorts so she can wear them in the years to come since I'd like her butt to be covered while climbing a play structure."
But steering away from gendered clothing can also be a matter of responsibility, especially when it comes to messages such as "princess" and "stud," some parents say.
"It feels like I'm already choosing his identity," Edwards said.
"There are pictures and videos he's going to look back on, and no matter what he's going to think I'm ridiculous for whatever clothes I put him in because it could be 20 or 30 years later and it won't be in style, but it's like, you don't want to set up your kid for a certain role."