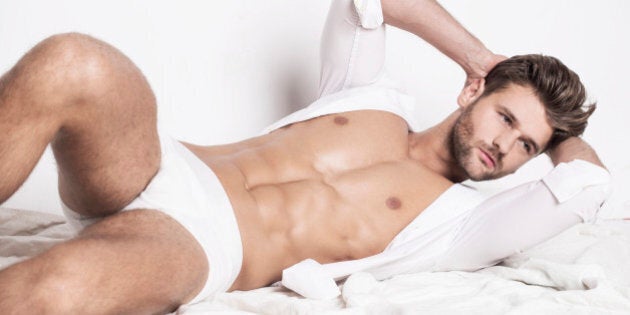 Every piece of clothing begins as a natural fibre or synthetic filament. Each of these are spun into thread and then woven into fabric. Fabric is not living and it has no gender, but what I find curious is that a piece of fabric which starts as a cotton boll, for instance, should have rigid social and gender prescriptions around it, and yet it does.
Like colour (pink and blue) and individual pieces of clothing (skirts or pants), fabric too has gender assignments, and deviation away from these expectations causes all sorts of upsets. Some fabrics have traditional associations with males or females -- i.e. leather, denim, or oil cloth vs. lace or satin. This is because of antiquated gender expectations that assumes men are tough and women are delicate.
However, these associations have been challenged since the second half of the last century because many people understand that when it comes to gender, we don't exist as one or the other, but rather on a spectrum.
We must loosen the knots of gender expression through clothing and fabric and allow men to be who they naturally are.
Knits (stretchy fabrics) have been long associated with casual wear for women. Knits, as opposed to static woven fabrics that don't stretch, are very comfortable because knits stretch and hug the body as we move. Men traditionally have not been able to experience the comfort and smooth texture of knits outside of sportswear, but things are changing.
For example, Kapow Meggings out of the U.K. has rolled out a fun line of men's bottoms which breaches gender-prescribed garments and fabrics by introducing the world to men's leggings, or meggings, as they're known. Their tight-fitting garments are made of soft, non-fading, high stretch polyester-Spandex mix that moves and breathes with us, meaning that the comfortable knit has elastic shape retention and will not slouch. Stretched-out knits (i.e. baggy knees) look sad and sloppy, and are not recommended for any gender.
Kapow is cool because they address gender concerns from men interested in wearing the traditional women's garment, and supports men's clothing choices: "B-but aren't leggings for girls?" their website asks. "Hell no, son! Human beings are built for self-expression, and we're here to give risk-takers and heartbreakers the conversation starters they were born for."
Self-expression is what it's about; it's what drives us as individual humans. But true self-expression must have freedom without gendered boundaries. To allow men true freedom, freedom of their senses, we must loosen the knots of gender expression through clothing and fabric and allow men to be who they naturally are.
Thinner, finer, "delicate" fabrics have been traditionally associated with women -- silks, satins and lace are often used for women's lingerie, designed to make women feel "pretty and feminine." By and large, men have not been given the opportunity to savour these lovely fabrics against their skin.
Musicians are often the first people to challenge gender norms and expectations with their clothing -- androgynous visions of Robert Plant's satin shirts, David Bowie's body suits and Prince's lace cuffs are emblazoned in our memories. Over time, these sartorial choices have woven their way into our modern clothing choices and widened men's garments and fabric options. That's good news for gents who want to explore fabrics, previously taboo for their gender.
U.K. menswear designer, J.W. Anderson, challenges gender clothing prescriptions in his designs and "offers a modern interpretation of masculinity and femininity by creating thought-provoking silhouettes through a conscious cross-pollination between menswear and womenswear elements," his website explains.
If women can, why can't men?
In the U.S., Body Aware Inc. sells -- wait for it -- men's lace, silk, satin, and even velvet underwear. Their charming line is available in different cuts from briefs to body suits to thongs for men who appreciate the soft feel of fabrics like stretch lace and shimmering satin, no matter what their size or gender expression. Forward-thinking brands like these are especially liberating for men who can, possibly for the first time, experience a full range of sensual fabrics previously reserved for women. This is progress!
It's men's turn to explore the far reaches of the garment and textile universe, satisfy their drive to visually express themselves and challenge gender norms that keep their potential unrealized. If women can, why can't men? If we're as serious about embracing a tolerant, genderless society, why keep old-fashioned gender segregation alive when we could have amazing sensual experiences of self-expression through fabric -- possibly the last gendered clothing frontier?
Follow HuffPost Canada Blogs on Facebook