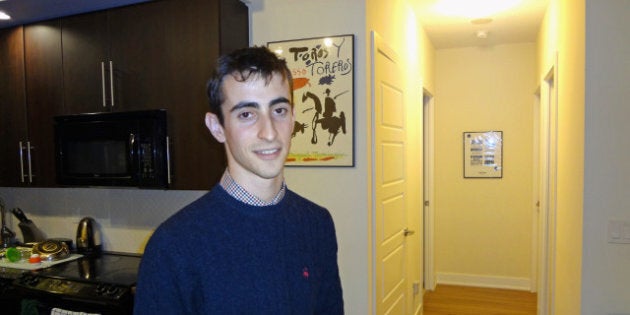 Sociologists couldn't do better than Bram Warshafsky, 23, as a model for the attitude shift toward home ownership that they have long predicted for his generation.
Raised in a four-bedroom house in an upper-middle-class neighbourhood in midtown Toronto, Warshafsky, the second of four boys, appreciated having enough space in the backyard to play catch. But after he finished his commerce degree at Queen's University in 2010, moved back in with his parents and landed a job with Johnson & Johnson's marketing division, he couldn't justify a jump into the real estate market. He has since become what he describes as a "passionate renter."
Sitting at the dining room table in the two-bedroom condo that he and a friend have rented near the central Bloor-Yonge intersection since January, Warshafsky, a tall, lanky young man with an easy smile and a confident handshake, insists that this is not a temporary state of mind. With no student debt and a salary that puts him in the top-fifth of income earners, he could save for a down payment. But he has heard the predictions that house prices are headed for a correction, and quite frankly, he has better things to do than fret about the housing market.
"I work really hard Monday to Friday, so on Saturday and Sunday I'd rather spend my time being active, catching up with friends and family," he said between sips of green tea on a wet evening in October. "In my downtime, I'd rather just watch reruns of Seinfeld than try to understand whether a deal is a good deal, and where the market's going."
It's hard for him to imagine how he'll feel when he settles down, but he doesn't see a problem with raising kids in a rented condo, where won't have to worry about fixing the oven or mowing the lawn. His parents' friends probably would be impressed if he bought a condo or a house. But that will never be a strong enough incentive to give up living in a convenient location with a spacious balcony overlooking the city lights ("Great for parties," he said) and the freedom to pick up and move if a better opportunity comes along.
Loosely defined as those aged 18 to 30, the millennial generation (or "Gen Y" as it is also called), is expected to embody a fundamental shift in consumer buying patterns and attitudes. The first cohort of digital natives, they are billed by some sociologists as the most financially savvy, highly educated generation in history, who prioritize connectivity over property; experiences over goods. Whereas their predecessors were buried under mountains of mortgage debt, this group supposedly has what it takes to withstand the allure of home ownership unless it is truly right for them.
But if Warshafsky seems emblematic of millennials, that is only partly true. While there are cultural reasons that this group postpones major life decisions, a growing body of evidence suggests that when it comes to home ownership, economic realities are more powerful determinants.
Although Canada fared better in the downturn than many other industrialized nations, young people were hardest hit. Youth employment remains 250,000 jobs below the prerecession high, and in 2012, summer jobs were at the lowest level since 1977, "making it almost impossible to save for tuition, pay down debt or afford housing," the latest Vital Signs report observed.
Average house prices, meanwhile, have surged, more than doubling in a decade to nearly $363,000 in 2011, according to the Canadian Real Estate Association. The market is expected to cool in the coming months, but the recent decrease in the maximum amortization time on government-backed mortgages to 25 years will be most profoundly felt by first-time buyers.
Add that to record levels of student debt, and for many young people, affordability is the barrier to home ownership.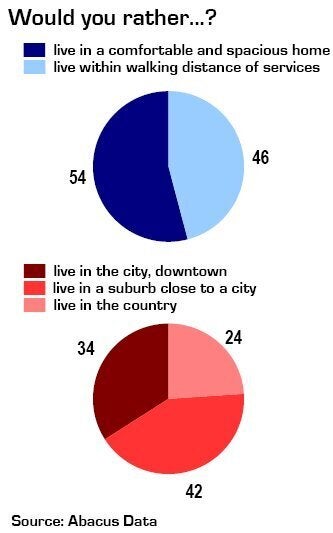 But the dream of owning a home is still very much alive, according to a poll done exclusively for HuffPost Canada.
Of respondents who were renting, or living with family or friends, 85 per cent said home ownership was "very" or "somewhat" important to them and 76 per cent said they wanted to own a house or condo before the age of 31.
Asked what stood in their way, respondents overwhelmingly cited high housing prices, with 76 per cent ranking it first or second among a list of possible barriers that included high down payments, personal debt, ability to get a mortgage and market instability.
"What we're seeing, it's really pure economics," said CIBC World Markets deputy chief economist Benjamin Tal, who predicts that more young people will be be forced to rent in the coming years.
"The change [in affordability] is so dramatic, you can't really attribute it to a change in … the psyche," he said. "Those changes are very slow. It's not all of a sudden people wake up and say, 'Oh, we want to be free.' It doesn't work that way."
Story Continues Under Gallery..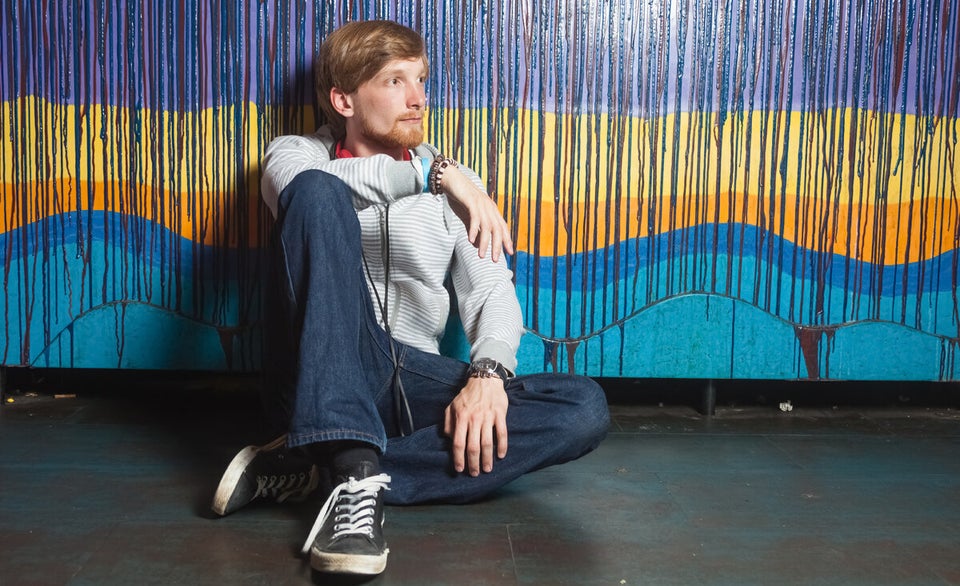 The Canadian Millennial: Survey Says
If a generation of renters — or "Gen Rent" as they have recently been dubbed — has emerged, only a small minority are the unencumbered, enlightened young adults that academics envisioned. For many others, their attitudes toward home ownership are tinged with frustration and the realization that it will take them much longer to climb the rungs of adulthood that seemed so easy for their boomer parents. It's part of the legacy of an uneven recovery that is poised to dramatically redefine traditional views of the middle class.
A lack of up-to-date, national statistics makes it difficult to gauge how the recession affected home ownership rates among young adults across Canada. But we do know that before the downturn, the dream of owning a home had reached a fever pitch.
Despite the fact that spending on shelter increased significantly more for owner households than it did for renters from 2001 to 2006, more than two-thirds of Canadians owned their home in 2006, according to census data. More than half of those aged 25 to 34 and 21 per cent of those under 25 owned their own homes, the highest rates in decades for these groups.
"Whether it is because buying a home is seen as a good investment, a form of forced savings or as a source of satisfaction in being truly 'at home,' becoming a homeowner is important for the vast majority of young adults," said analyst Martin Turcotte, who described home ownership as "one of the main transitions to adult life."
But while more young people jumped into the real estate market in 2006, others were shut out. Pinpointing household income as "the major determining factor" of home ownership, the GSS noted that increased income inequality between different sets of couples could be creating "growing inequality of their chances of owning their own home." (Known as "educational homogamy," the increasing tendency of both partners to have similar levels of education is one of the many factors contributing to Canada's growing rich-poor divide.)
Having a temporary job, living in a city with particularly high house prices (such as Vancouver or Toronto) or being a recent immigrant were other factors that diminished the probability of home ownership.
The downturn has brought these divisions, simmering at the height of the boom, to a vigorous boil.
While several big mortgage lenders told The Huffington Post that they have seen an increase in first-time homebuyers in the past year, particularly in the condo market, Farhaneh Haque, director of mortgage advice for TD Bank, said "more and more" boomers are inquiring about how to help their children with down payments.
"A bigger minority than in the past are at the upper end, and they're the ones that have the money to bid up prices," said David Hulchanski, the Dr. Chow Yei Ching Chair in Housing at the University of Toronto.
"The vast majority today are at the bottom end, and they are not going to be able to buy a halfway decent house in big cities like Toronto, period."
Although there are many Canadians who are perfectly content to rent, a lack of regulation protecting renters and a preponderance of poor quality, aging units means it can be difficult (and pricey) to secure a place that feels like home.
The result, Hulchanski said, is a significant gap between the expectations and capabilities of a generation of young adults.
"We have Canadians who view themselves as middle class. They are middle class in values, attitudes," he said. "They want that lifestyle, but they're not middle income."
Every couple of months, when Courtney Lockhart's husband goes out with his buddies on a Friday or Saturday night, she pours herself a glass of wine, settles into the couch and pulls up the Ottawa real estate listings on her laptop. The ritual begins with the practical. She goes in turn to the Royal LePage, Century 21 and MLS sites for Ottawa and fills out the necessary search fields. Two bedrooms. One bathroom. Maximum price: $250,000.
Lockhart, 27, used to tell everyone who would listen that they were going to stay in this apartment, a spacious place in an older high-rise in Ottawa's west end, until they moved into their dream house.
But after getting her B.A. in 2008, she was stuck for three years at her "student job," doing market research at a call centre. The pay was OK, but she rarely got full-time hours, and she and her husband, a grocery store receiver she married last year, began to rely on credit cards.
By the time she landed a "real" job as an administrator at an insurance company last August, their student loans and credit-card debt had reached $20,000.
Curled up next to her cat, a blond-haired Angora named Buster, Lockhart mentally crosses her fingers and waits for the search results to filter through. But they are always the same: run-down places, condos full of white particle board, properties that don't even look like the sellers bothered to clean them before taking the pictures. Still, she takes notes, jotting down prices and locations, specifics that might better prepare her for what to expect.
After about half an hour, she clears the search fields. This time, she plugs in what she really wants. Three bedrooms. Two bathrooms. Good neighbourhood. Maximum price: $400,000. Immediately, she feels lighter, like she's flipping through the pages of a fashion magazine.
She is drawn to "sitcom houses," properties she thinks could have been used in the establishing shots for TV shows like "Full House" or "Family Matters." She can't get her head around how she and her husband will ever save up for a down payment on a place big enough to host family dinners and raise kids.
"I keep saying, 'In five years we'll buy a house.' But the five years keeps moving," she said. "It's frustrating. I don't like feeling like I'm not accomplishing anything."
Nowhere is the goal of home ownership more thoroughly ingrained than in the United States, where, even in the aftermath of the housing crisis, young people remain focused on that traditional marker of adulthood. According to a report published this summer by the Joint Center for Housing Studies at Harvard University, even in areas hardest hit by the housing crash, 95 per cent of 20-somethings said they expect to own a home at some point in the future.
"The housing bust in the U.S. has not really diminished people's desire to own a home," researcher Christopher Herbert told HuffPost.
"We didn't see any substantial difference between young folks and other generations. I think there's a tendency to want to see a big turn, but a lot of these cultural norms are really powerful," he said.
"People in the U.S. during the boom were buying homes too quickly. People who were in their mid-20s were saying, 'I'd better get in now because house prices are going up and my friends are making a mint,'" he said. "What we're seeing now is more of a return to normalcy."
The forces shaping housing decisions in Canada, where prices have climbed fairly steadily, are different, but experts on this side of the border agree that there is a silver lining to the evolution of "Gen Rent."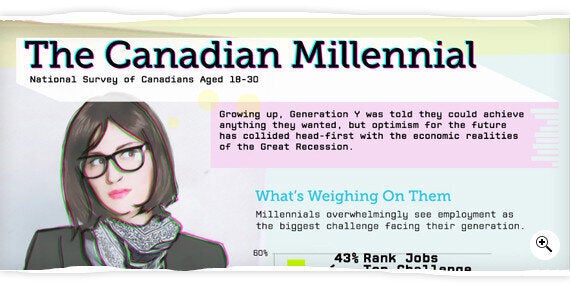 Moshe Milevsky, an associate professor of finance at York University's Schulich School of Business, has made the case for years that young people in Canada are better off renting than buying — an argument he said is especially applicable to well-educated millennials.
As he explained, young people already have a risky, undiversified asset on their balance sheet for which they have borrowed heavily: their university and college degrees.
"I don't think it makes sense to double up on that riskiness and go out and buy another concentrated, undiversified, highly leveraged asset called a house," he said.
Just how soon attitudes and cultural values will catch up to financial realities remains to be seen. In the meantime, Warshafsky has some advice for those struggling to break into the housing market.
"I think in my parents' generation, you couldn't make a bad real estate investment. But a lot has changed. Now the market is just so uncertain," he said. "Just wait. See what happens."