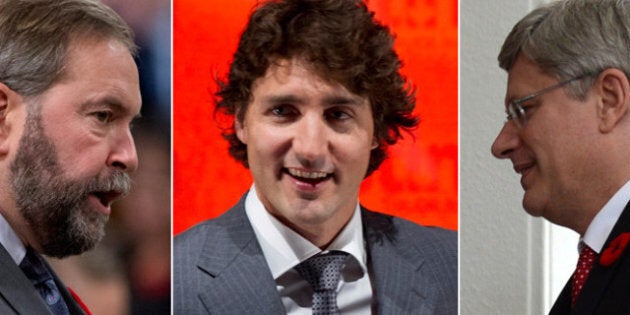 While opinion in the country as a whole is divided among the three major political parties, millennials have a clear preference for the NDP.
Abacus Data's exclusive poll for The Huffington Post Canada on the views of Canadian millennials suggests that 36 per cent of decided voters would vote for the NDP. That puts Thomas Mulcair's party nine points ahead of the governing Conservatives in that age bracket, although the New Democrats trail the Tories in surveys of the entire voting population.
At 27 per cent among millennials, the Conservatives barely edge out the Liberals, who would get 24 per cent of the millennial vote.
The Greens have seven per cent support among millennials, and the Bloc Québécois six per cent. One-in-five respondents to the poll said they were undecided.
"Right now, the NDP has a healthy lead among Canadian millennials with the Tories and Liberals fighting for second," said Abacus' David Coletto, adding the whole picture could change if Justin Trudeau becomes leader of the federal Liberal Party.
"I think Trudeau has enormous potential to engage and connect with Canadian millennials. But he has to be genuine and offer concrete policies that will help us (millennials), otherwise he will be seen like every other politician in Ottawa," he said.
The survey, conducted online between Oct. 23 and 25, surveyed 1,004 Canadians between the ages of 18 and 30.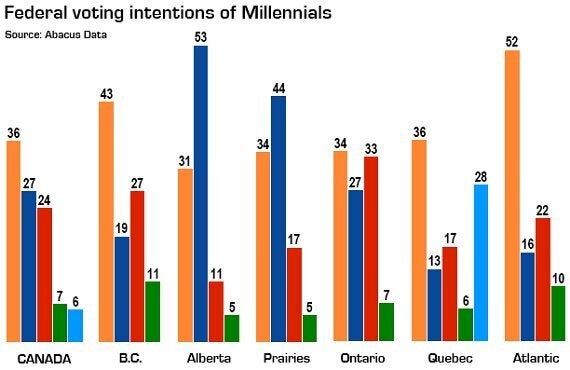 It shows no major differences between millennials based on gender, age or employment status. One notable difference among millennial voters was between native-born Canadians and immigrants.
Among native-born Canadians, the New Democrats maintained their edge over the Tories, but immigrants were more likely to vote for the Liberals, favouring them 33 to 28 per cent over the NDP.
This is not greatly at odds with how older immigrants vote. The Liberals tend to do better among first-generation immigrants than they do among people born in Canada.
There was also a marked difference based on whether millennials attend religious services. Those who do so once a week overwhelmingly supported the Conservatives, at 66 per cent to 21 per cent for the New Democrats. Those who attend religious services a few times a year and those who never attend religious services were more divided, with the New Democrats at 33 per cent, the Liberals about 30 per cent and the Conservatives about 26 per cent.
Regionally, the New Democrats lead in every part of the country except Alberta and the Prairies. They held wide leads in British Columbia (43 per cent to the Liberals' 27 per cent) and Atlantic Canada (52 per cent to 22 per cent). They also edged out the Bloc Québécois in Quebec with 36 to 28 per cent support and the Liberals in Ontario (34 to 33 per cent). The Conservatives were in front with 53 per cent in Alberta and 44 per cent in the Prairies — not dissimilar to the numbers the Tories put up in these three provinces among all age groups.
How do millennial voting intentions compare to those of their parents? Abacus's most recent national poll put the Conservatives' support among Canadians aged 45 to 59 at 37 per cent, 12 percentage points better than the New Democrats' 25 per cent. With such a disparity between the two generations, it is perhaps not surprising that 51 per cent of millennials said their views on politics and government were somewhat different than their parents' and that 26 per cent said they were very different.
It's important to note that parents of millennials are also more likely to vote than their children. A dismal 38.8 per cent of voters aged 18-24 cast a ballot in the last federal election, compared to the overall Canadian turnout of 61.1 per cent. Interestingly, 74 per cent of millennials polled for HuffPost said regular voting in elections is "very important" to being a good citizen.
"We have a generation who have chosen to remain ill-informed and unengaged," said Coletto. "The political class in Ottawa rarely engages with our generation on issues we care about. Who will make it easier to buy a house? Who will help us pay down our student debts? Who will engage with us on our terms and in our language? Stephen Harper or Tom Mulcair? Not likely."
Political views can change as people get older, so these numbers among millennials may not bode as well for the NDP's future as it would appear at first glance. Instead, they represent a clear demonstration of why it is essential for the New Democrats to get the number of millennials who vote as high as possible come 2015.
"If I was advising the NDP," said Coletto, "I'd get all those young millennial MPs and start sending them across Canada to meet with students and other millennials."
Éric Grenier taps The Pulse of federal and regional politics for Huffington Post Canada readers twice weekly, mostly Tuesdays and Fridays. Grenier is the author of ThreeHundredEight.com, covering Canadian politics, polls, and electoral projections.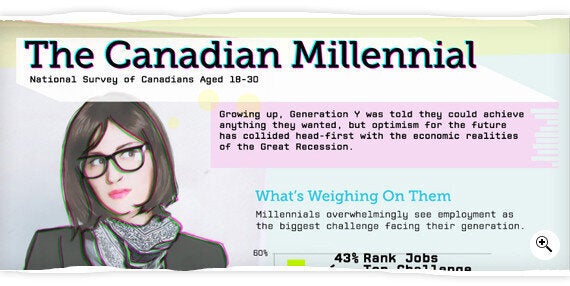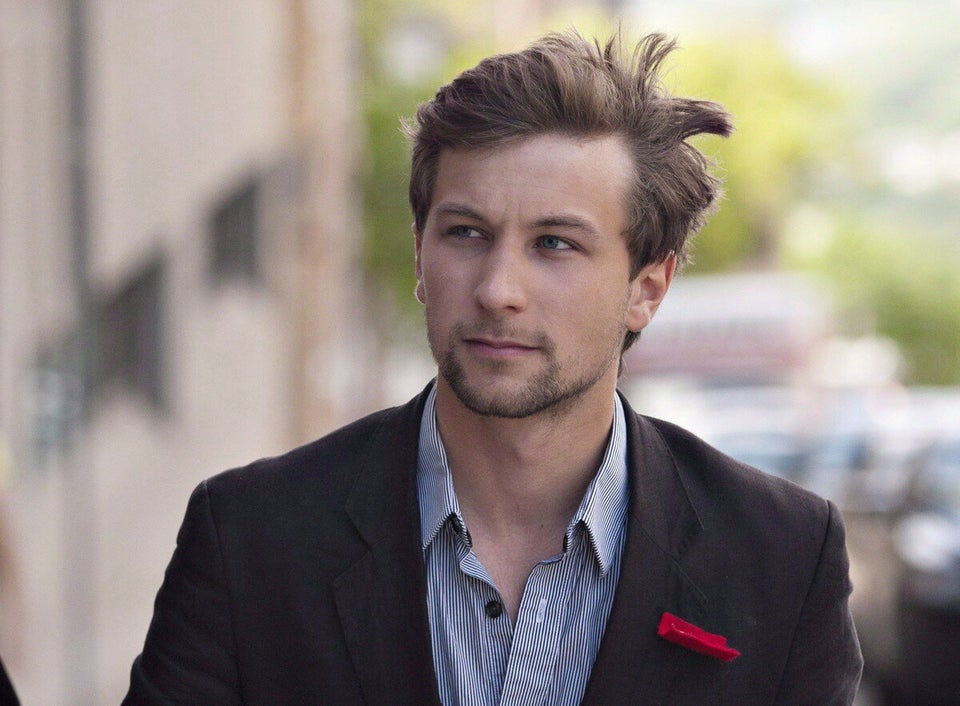 Influential Millennials
Popular in the Community