Becky Mildon was 19 when she decided to get a skeleton key tattooed on her forearm. It symbolized the importance of trust and how much she had come to value that quality after going through a tough time in her life. But now, only at 22 years old, she is having it removed.
"I want to showcase parts of my life in a different way that's not so permanent," said Mildon, who now feels she has grown out of her artwork.
Even though some millennials such as Mildon are losing their tattoos, many continue to get them.
More people are getting inked, and the generation leading the pack is millennials – the 18-to-29 year olds – in a trend that is keeping tattoo shops busy across North America.
"I'd say it's even higher," said Laurie Ballantyne. Working at Yonge Street Tattoos in Toronto, Ballantyne says that once first-timers get used to the pain and the process of getting a tattoo, it is not long before they come back to get a second.
"Once they get over their initial fear, they come back to get another one pretty fast," she said.
Tattoo artists agree that the media have played a huge role in helping tattoos go mainstream, with popular shows such as "Miami Ink," "NY Ink," and "Ink Master."
In 2007, the hit reality show "LA Ink," premiered with a viewership of 2.9 million for its first episode, according to BuddyTV. At the time, it was also the highest-rated series premiere for TLC for adults between the ages of 18 and 34. That age demographic made up 1.5 million of the total viewer count. "LA Ink" – starring Kat Von D. – was a spin off of TLC's other hit show "Miami Ink."
"It's made people more comfortable to step into a shop and realize it's not so scary," said Pauline Zahalan, owner of Yonge Street Tattoos.
Zahalan adds that stars of these shows have become somewhat of celebrities themselves, which many young adults like to emulate.
PHOTOS: See the tattoos from these millennials. Story continues below slideshow..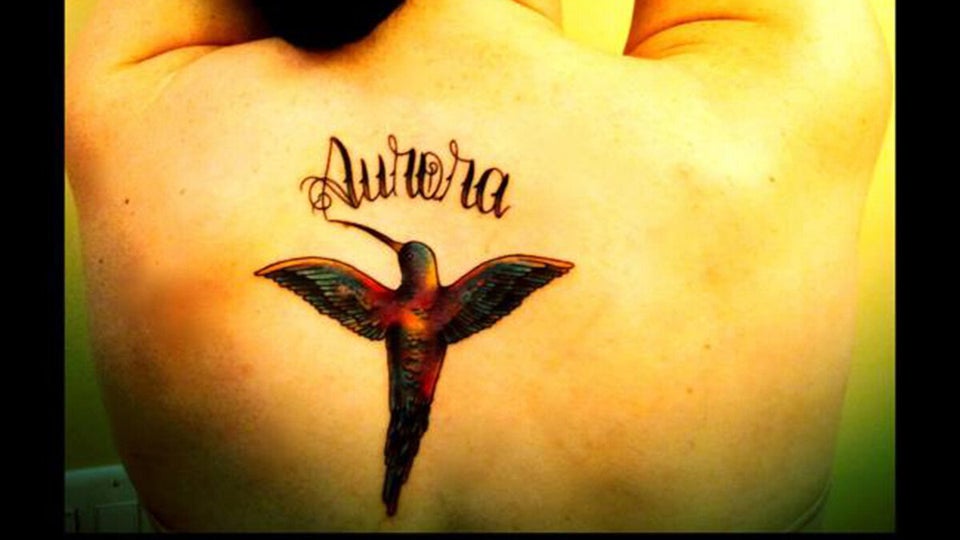 Tattoos Tips
Tattoo artist Tara Zep from New Tribe Tattoos and Piercings says the power of celebrity has helped popularize tattoos.
"I do a lot of celebrity copycat tattoos," she said.
Copycat tattoos are popular, she says, among women between the ages of 18 and 25. She says young women love to get tattoos that are identical, or at least similar, to tattoos worn by such celebrities as Rihanna, Angelina Jolie and Megan Fox.
Another trend popularized by the media (and which is showing no signs of stopping) is meaningful tattoos.
"I feel like people think they need to have meaning in their tattoos," said Zahalan, who adds that having meaning should not be a prerequisite to getting inked.
She says nine out of 10 people who go into her shop will get a meaningful tattoo.
"I don't even need to ask why they're getting that tattoo. It's like they want to tell you," she said.
Although she has nothing against it, Zahalan says people need to understand that falling in love with a certain picture or design is a perfectly good reason to get inked.
According to Stacy Bader, manager of Lucky 13 Tattoos, the media have also helped the public become more educated.
"People are doing their research now," Bader said.
More from Asking Y, HuffPost Canada's special project on the Millennial Generation:
She recalls that just a couple years ago, people rarely asked to see an artist's portfolio or about the shop's sterilization practices.
Today, they don't stop asking questions.
"People apologize for asking me sanitary questions, but I think it's a good thing that they are. People should be asking," she said.
Tattooing may have gone mainstream, but the stigma that exists for people with tattoos hasn't disappeared, tattoo artists say.
"People still make assumptions" Zahalan said. "It upsets me that [having tattoos] gives people an automatic opinion of me."
She recalls that once, while she was shopping, somebody walked up to her and told her, "You're so pretty, why would you do that to yourself?" They were referring to sleeve tattoos that adorn her arms.
After experiences such as these, Zahalan says sometimes she wears long sleeves to cover up her tattoos to avoid these situations.
Bader said one of her clients got kicked out of a Yorkville, Toronto, store because of her visible tattoos. For the most part, however, Toronto seems largely accepting of people with tattoos, she said.
"Personally, I don't care about what people think in the first place. But older people will give me a look," she said.
Bader admits that tattoos are a "love it or hate it" type of thing and recognizes that people from different generations will have a different reaction.
Although tattoos are incredibly popular among millennials, tattoo artists have seen people of all ages come into their shop to get inked.
In the same Harris Poll, 12 per cent of 40-to-49-year-olds and six per cent of 50-to-64-year-olds revealed that they have a tattoo. They may seem like small numbers, but shops have been noticing their presence a lot more the past couple of years.
"It's an acceptable thing now; they're more comfortable with having one," Zep said.
Zep says she has been seeing a lot of middle-aged women going in for their first tattoo. Bader says tattoos are attracting people of all ages and occupations, something that did not happen years ago.
Although the number of people getting a tattoo has jumped within the last couple of years, the opposite is also happening.
According to the Patient's Guide, tattoo removal has climbed 32 per cent from 2011 to 2012. This raises the question, if tattoos are so popular, why are people are getting them removed?
Forty per cent of those people surveyed said that they were removing their tattoos for employment reasons.
The competitive job market and limited job opportunities have led people to remove their tattoos to make themselves more "employable," said Chantal Ward, who works at Clarity MedSpa in Toronto, where they do tattoo removal.
In a survey done by Careerbuilder.com, visible tattoos were one of the top three reasons employers would not hire or promote someone. This was followed by piercings and bad breath.
Ward says tattoo stigma still exists within the professional world, but she is optimistic that things will change.
Although employability is one of the main reasons for tattoo removal, it is not the only one. Ward says reasons for getting tattoos removed are "all over the map" and that some reasons may surprise you.
"They come from all walks of life. From the CEO with the tattoo that nobody knows about, to the grunge rocker, all the way to the guy who got totally hammered and made a mistake," said Ward on the type of clients she sees.
Even more interesting, Ward says, is that in the past two months she has been seeing a lot of fully tatted clients who want to get their tattoos removed or faded for replacement with a new one.
Ward says a majority of Clarity Medspa's clients are in their late 20s and early 30s.
Prices on tattoo removal depend on the size of the tattoo, number of sessions needed for complete removal and the clinic chosen. Prices can range from $100 to $300 per session.
"There has been a huge evolution in tattoo removal technology," Ward said. Today, clients are less likely to experience scarring and bleeding and can see great results in three or four sessions.
Ward warned, however, that clinics offering cheaper deals may sometimes be using older technology that can result in greater chances of scarring. She urges anyone who plans to get their tattoo removed to do their research.
Popular in the Community