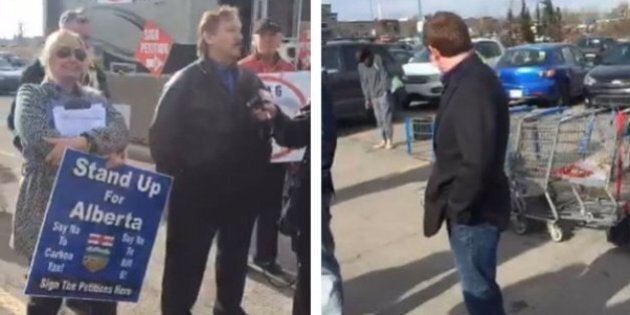 A movement calling itself Albertans First Plebiscite Warriors has a plan to overthrow the provincial NDP. And, according to an announcement made by the group today, that revolution will come from the inside.
At 1:00 p.m., Albertans First held a press conference, consisting of about eight supporters rallied around a fifth-wheel trailer in a Walmart parking lot, just outside Westbrook Mall in southwest Calgary. The brief event was livestreamed on Periscope.
Group leader George Clark told gathered reporters that his new plan was to convince 500,000 Albertans who want to remove Alberta Premier Rachel Notley from power to join the NDP. Yes, you read that correctly.
The group was set to hold an event on March 8, but Clark abruptly changed his mind early Friday morning, posting "KUDATAH right now? Today?" on Facebook.
At Walmart, Clark read a statement and answered questions from press. He also provided an opportunity for attendees to sign his petition in the parking lot.
Clark provided more context for his actions in a Facebook post following the rally.
The Albertans First group has been making headlines ever since Clark claimed that he had a plan to take control of the Alberta government in January.
Clark gained followers for his cause by posting diatribes on Facebook about the NDP. His concerns include fears that immigrants or temporary foreign workers will take jobs from other Albertans, the province's increased use of wind power and farmers' rights.
One supporter, Trevor Marr, told gathered reporters on Friday the event had to be moved up due to "loss of life" in Alberta. He did not elaborate.
"Alberta is being ignored by the government and the only way in, according to our own premier, is to be a member of her party," Clark said, shortly before being interrupted by the rattle of shopping carts going through the parking lot.
Livestream viewers weighed in with their thoughts.
The move also has members of the NDP feeling a bit perplexed.
Clark said his group will present their petitions to the premier and lieutenant governor as members of the Alberta NDP on March 8. And, if the premier and lieutenant governor don't respond by hosting a plebiscite, he'll bypass them and contact the Queen.
If you're still confused, here are some handy recaps from Twitter.
It's unclear exactly how many supporters Albertans First has — Clark has yet to release how many have signed the petitions, and the organization takes place through scattered Facebook groups and pages — but as of Friday morning Clark's GoFundMe has over $25,000 in donations.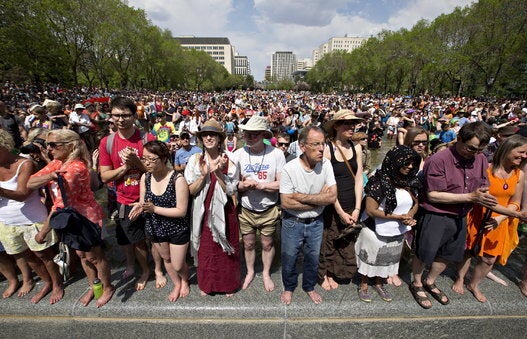 Rachel Notley Sworn In As Alberta's Premier
Popular in the Community