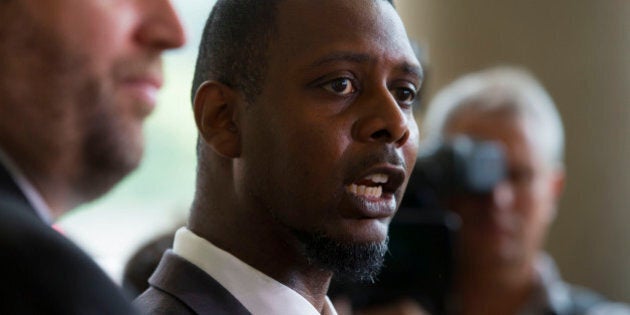 I hope he gets the nomination and wins the upcoming provincial byelection. He is an exceptional candidate and will bring much substance to Queen's Park and needed renewal to our politics. I hope members of the Liberal party will embrace him, support him and use him for good in society.
The soon-to-be Osgoode Hall Law School graduate -- and at only 42, the father of a 21-year-old -- has been a fixture for better ideals within Toronto for a very long time. A former political candidate, he has run municipally, provincially and federally for the Greens -- almost always barely did well, like most Green candidates, to get his deposit back.
I knew him as a noted producer of hip-hop artists in Scarborough and of progressive political campaigns. He has become an important voice among us and has become a truly inspiring political candidate to come from Scarborough in such a long time.
As a black man and an activist, he knows and understands that members of the African-Canadian community are over-represented in the criminal justice system. Last year, he presented a constitutional challenge over racial profiling against the Toronto Police after discovering that the Toronto Police held 50 pages of personal data on him, and for the mostpart reflected information based on perceptions rather than reality.
He once reflected in the Toronto Star how being accepted to law school was "a blessing, a huge pivotal point for me," and how he hasn't yet decided "if he'll use his education to practice law or politics."
Well, thankfully, only weeks out of law school, Singh has decided politics can be a good way to bring the positive change he wants to see in our society. In reflection of that society, he once said, again in the Toronto Star, how "the system is structured in a way that is leaving a lot of people out who don't have education and money." He continued, "My real goal is social change and broad policy change."
He has the foundation and the experience to be a formidable voice in government. From chairing the Caribana Arts Group -- that heroically fought to preserve the legacy of the unique cultural extravaganza in Toronto -- to being a founder of Osgoode's Society Against Institutional Injustice, he has made long-lasting impression on many of us.
I hope he wins. He has to win.
He is up against a slew of candidates, including the likable career politician, Rathika Sitsabaiesan; frequent fringe mayoral candidate Dewitt Lee; and Piragal Thiru, the well-connected partisan Tamil community activist and vice president of the party.
Scarborough-Rouge River Liberals will choose their candidate on June 5.
Follow HuffPost Canada Blogs on Facebook