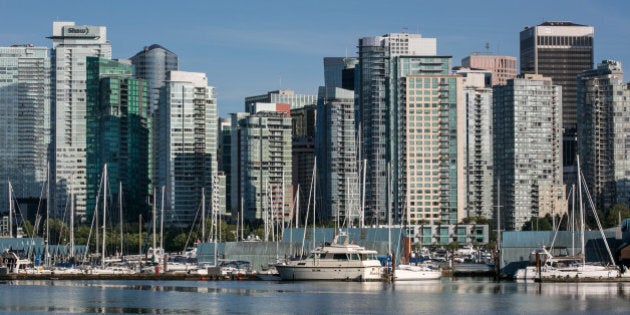 My advice on real estate in Vancouver bears repeating. Get out.
If you've made a windfall profit, take it and run. If you're leveraged up to the pits and speculating on big gains, bail. If you're within a few years of retirement with most of your net worth in four walls, suck it out. If you cannot afford to see your equity peeled back by a third or more, and stay that way for years, then retreat. If you listened to Mom and bought a condo with diddly down, get out. If you're a Westside gazillionaire, and want to stay that way, sell. If you just bought a shack for $2.8 million, well, too late.
The evidence of a substantial decline in the months ahead seems overwhelming.
Sales of detached homes have withered. Remember this chart from a few days ago?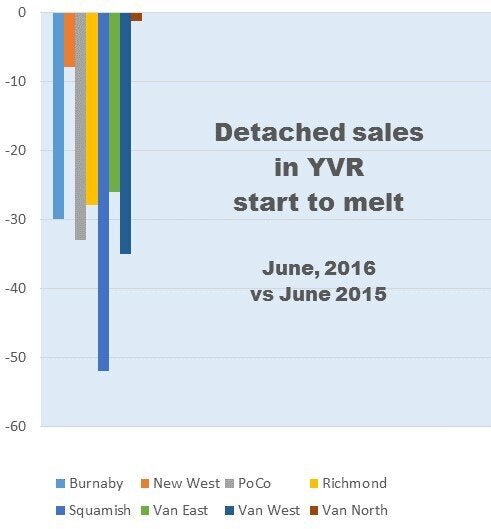 Sales across Delusia fell by almost 8 per cent from May to June. And beyond that, look at these toppling numbers for the various regions tracked by the local real estate board: Burnaby -30 per cent, New West -8 per cent, Poco -33 per cent, Richmond -28 per cent, Squamish -52 per cent, Van East -26 per cent, Van West -35 per cent, Van North -1.2 per cent, Whistler -41 per cent. Does that look healthy to you?
The evidence of a substantial decline in the months ahead seems overwhelming.
At the same time, multiple bid situations are becoming increasingly rare. Months ago every property was being fought over by a dozen or more desperate parties. Now a seller's lucky to get competing bids in any number.
And look at the sales-to-listings ratio. This is a barometer of market health, measuring supply and demand, which is now flashing yellow. It's dropped to the lowest level in more than three years, after peaking in March. Back in the spring a house had a 73 per cent chance of being sold in any one month, while now it has declined to 59 per cent. In East Van the number has withered from an 86 per cent sales-to-listings ratio a year ago down to just 49 per cent now. In the other end of town, from 82 per cent to 46 per cent in the same time frame.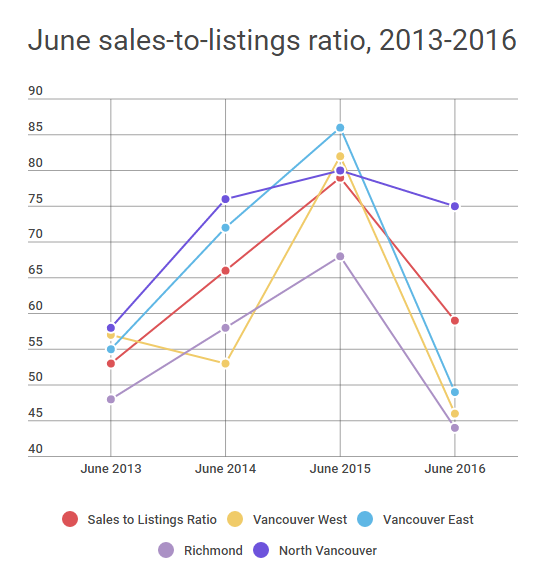 Chart courtesy of GlobalBC
Beyond these realtor-generated stats, house-horny, real estate-engorged YVRers should worry about a few other things. Like those foreign-ownership numbers everyone dissed the other day. Critics howled that a 3.3 per cent barbarian level was misleading since the damage (from planeloads of Chinese billionaires) had already been done before the counting began. If true, what will sustain a market where the average family makes $70,000 and the average SFD is priced at $1.7 million?
Your city is an accident waiting to happen. Get out.
Speaking of unaffordability, RBC's latest survey alone should have had homeowners dialing realtors begging to get listed. When more than 100 per cent of take-home income is required to just carry a house you already 25 per cent paid for, your city is an accident waiting to happen. Get out.
And how about the latest national employment report on Friday? Forty thousand more lost full-time jobs, replaced by part-time positions, with 30,000 fewer manufacturing positions and so many newly unemployed, laid-off, punted people claiming to be 'self-employed'. With a disproportionate amount of its provincial GDP dependent on real estate, B.C. is as much at risk as its jewel city.
Economies do not create bubbles. Only people can do that.
Mostly, we should fear human nature. We move in emotional, unthinking herds with trending attitudes that inevitably lead to excess, loss and regret. Economies do not create bubbles. Only people can do that.
Young Ned wrote me yesterday from Calgary. His words pose a fitting conclusion to this post which has a two-word message.
"I know an old couple currently living in Calgary. They've been close family friends forever, and as they're financially responsible, almost-retired folks I enjoy chatting with them about personal finances. This Christmas they visited family in Vancouver and ended up extending their stay an extra two weeks without explanation. When they were finally home, they happily announced that they had bought a condo in North Van to avoid being priced out of the market. The realtor even told them about how easy it was to commute from this location to downtown via water taxi. They should have no trouble selling that kind of rad lifestyle to any one of the desperate young professionals renting in the city, the realtor said.
"This couple didn't go to Vancouver with any intention to buy. There is only a slim chance they will retire in Van. They've taken a chunk out of their retirement savings and added a mortgage, and they genuinely can't explain why they did it. I stopped short of calling them 'part of the damn problem' because I value their friendship more than I value being a petulant ass... but some people are going to get hurt in this market. It's not just a rat race anymore, it's a race where the course is sprinkled with rat poison..."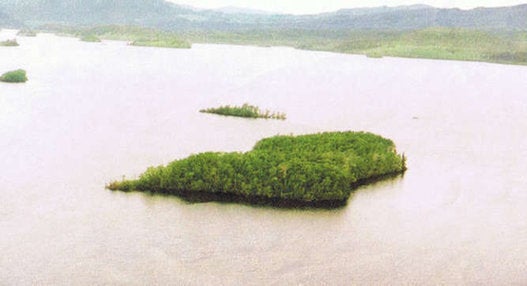 Canadian Islands That Cost Less Than A Vancouver Condo
Follow HuffPost Canada Blogs on Facebook
Popular in the Community