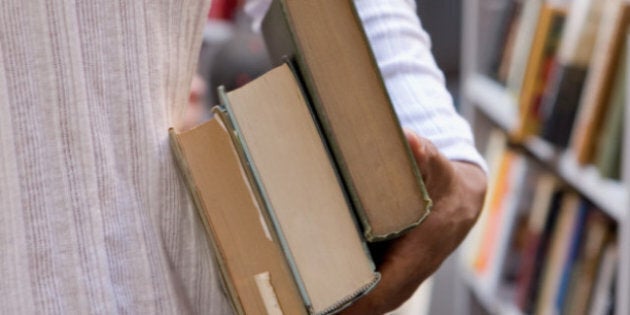 Today kicks off Banned Books Week: the Huffington Post Canada and Indigo have teamed up to bring our readers' attention to books that have been banned or challenged, both in North America and around the world. Starting tomorrow, we will feature one noteworthy book per day that has come under fire, either by a government or a community.
In our free society, attempts at censorship usually arise from offended religious or racial sensibilities. In recent times, the most notorious and explosive of these attempts occurred in 2005, when a Danish newspaper published cartoons depicting the Islamic prophet Muhammad; the cartoons had begun as illustrations for a book, but were rejected by the Danish publisher. Newspapers and magazines in more than 50 countries republished the cartoons in solidarity with the Danish newspaper, and in an effort to protest media self-censorship. Some 200 people were subsequently killed around the world in violent riots and protests by angered Muslims who called the images "blasphemous."
Even by 2009, publishers remained cowed: Yale University Press banned the images from a book about the controversy, entitled The Cartoons That Shook the World, by Danish-born professor Jytte Klausen. Despite objections from the author, Yale University Press further refrained from publishing "any other illustrations of the prophet that were to be included, specifically, a drawing for a children's book; an Ottoman print; and a sketch by the 19th-century artist Gustave Doré of Muhammad being tormented in Hell, an episode from Dante's Inferno that has been depicted by Botticelli, Blake, Rodin and Dalí."
Other challenges to censor books in North America may seem comparatively mild -- but they are persistent: The books cited for challenge or censorship most often can be found here, on the American Library Association's Top 100 Banned/Challenged novels of the 20th Century. It's a familiar roster of those classics which perennially rile someone, somewhere -- J.D. Salinger's Catcher in the Rye, Aldoux Huxley's Brave New World, and D.H. Lawrence's Lady Chatterley's Lover -- to more contemporary entries, such as Alice Walker's The Color Purple, and Toni Morrison's Beloved. However in June, a firestorm of controversy erupted when a Wall Street Journal reviewer condemned a recent spate of graphic and violent novels aimed at teenagers. The books' vivid depictions of sex (all types), molestation, incest, drug abuse, self-mutilation and prostitution were, the reviewer suggested, dark and often inappropriate for teens.
Should parents have the right to raise objections to what books their children are taught or are available in their school libraries? And should every book be exempt from challenge, no matter what its point of view or literary merit?
These are important questions to consider and discuss this week. For fodder, check out this guide to "Mapping Censorship," which places all American challenges to books on an inter-active map of the United States.
Meanwhile, you can join authors in a "Virtual Read Out" from banned books on YouTube.
Whatever your opinion, remember that in Canada you are free to read a book, judge it on its merits, and discuss it openly. That is not true in many countries around the world. Again and again throughout history, books have served as the inspiration and the engines for revolution against non-free regimes. We will be featuring some of those great works this week as well. Join books discussions on our Facebook page as well as at Indigo. But above all: read!
Popular in the Community