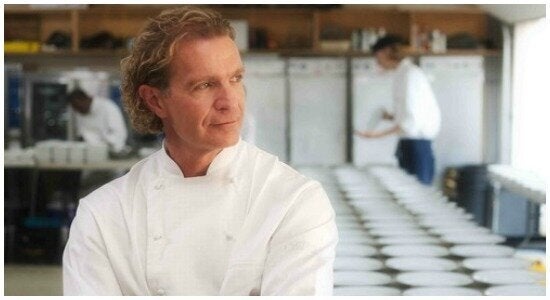 Chef Mark McEwan curates the November edition of the Chef's Box -- a monthly artisan food subscription from FoodiePages.ca. Below he shares his latest travels, top five recent meals and favourite local eats in Toronto!
Current location: Toronto
Day job: Managing, planning, organizing and menu construction.
Daily uniform: Jeans and a snappy sport coat haha.
I have a few: Bottles of wine...between the restaurants and home...just a "few."
In the kitchen, I swear by: Being organized, the perfect mise en place is crucial.
The taste I couldn't live without: A good white Burgundy.
Hidden talents: I am an endurance style stand up paddle boarder, sometimes I am out there for hours.
If my kitchen could talk, it would say: Eat at home once in a while and use me!
Last place I traveled: Vancouver with a great group of chefs Anthony Walsh, Normand Laprise, Vikram Vij, David Hawksworth, Kristian Eligh and Scott Jaeger.
Coolest street in Toronto: Yorkville -- during the summer you can spend a full day just walking up and down, grab a morning coffee at Zaza, shop, grab a good cigar, sushi at Asuka and all the great patios. People watching in that area is like a sport!
Most romantic thing I've done for a girl: After sitting and thinking about it...apparently I'm not too good at romantic gestures...I will work on it.
In life, what is most important to me is: Peace of mind.
I get nervous when: I lose control of situations.
The best farmers' market: It was the St. Jacob's Market -- a treasure, so many interesting items for sale.
The best burger: I have a major weakness for anything from Burger's Priest.
My motto: Don't $%(* up, do it right the first time.