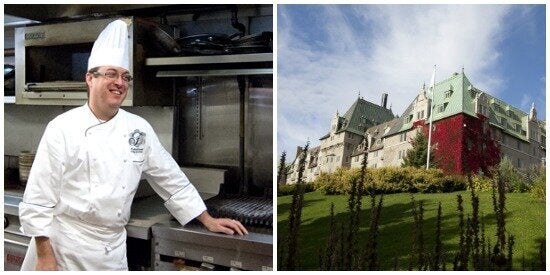 Patrick Turcot, Executive Chef at Fairmont Le Manoir Richelieu, uses the endless supply of regional ingredients from the Charlevoix region as his culinary inspiration. He works to deconstruct recipes, reinventing them with the products presenting the freshness and most intense flavours.
Chef Turcot curates the latest CHEF'S BOX food of the month club for FoodiePages.ca. Below he shares his latest travels (including a stop in Justin Bieber's hometown!) and top five favourite meals of all time.
Signature dish: Vanilla crusted pork tenderloin
Current location: La Malbaie (Charlevoix)
Daily uniform: Chef uniform
I have a few: Bottles of wine
In the kitchen, I swear by: My taste buds
The taste I couldn't live without: Truffle oil and foie gras
If my kitchen could talk, it would say: He is quiet but never stops changing
Latest splurge: A couple years ago - my BMW
Last place I traveled: Toronto with the family. We visited Canada's Wonderland and Justin Bieber's hometown for my daughter!
Best thing about Quebec: The interest for fine food and the European culture
Most romantic thing I've done for a girl: I proposed to my wife with the ring on a dinner plate.
In life, what is most important to me is: My wife and my 3 beautiful children
I get nervous when: When I am not organized and don't have free time for the emergency.
5) Mistura in Toronto with my friend Massimo Capra
My motto: Enjoy life and share your passion