OTTAWA — The ghost of Jack Layton watches over NDP Leader Thomas Mulcair and would-be MP Kantharatnam Shanthikumar in a new pamphlet the candidate is distributing in a Toronto-area riding.
Shanthikumar, who is better known by his last name and the initials K.M, is running in Scarborough—Rouge Park. He told The Huffington Post Canada that he placed the large faded image of Layton there as a tribute and to comfort voters.
The late NDP leader is "watching over every one of us," he said.
"He is watching over our activities and supporting us, and we haven't forgotten him," Shanthikumar explained.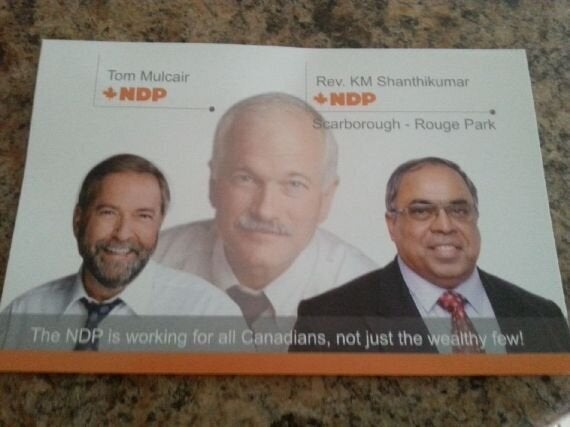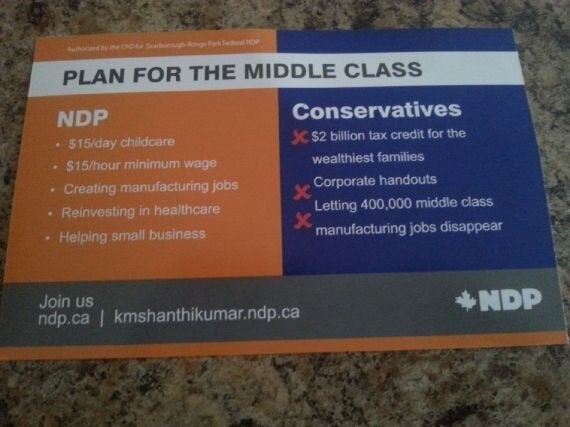 Handout distributed by Shanthikumar's campaign. Photo: HuffPost Canada.
People talk about Layton at the door, he said, but also of Mulcair, whom he described as a popular leader.
But Shanthikumar said "there is more respect" for Layton.
The Scarborough—Rouge Park candidate, who is also the riding association's president, said he designed the pamphlets himself and they were approved by NDP headquarters.
It's not the first time the NDP has used its popular former leader's image in advertisements. A recent ad seeking support for Quebec MP Alexandre Boulerice on Facebook, for example, features the outline of Layton holding his cane up in the air with the words "Don't let them tell you it can't be done."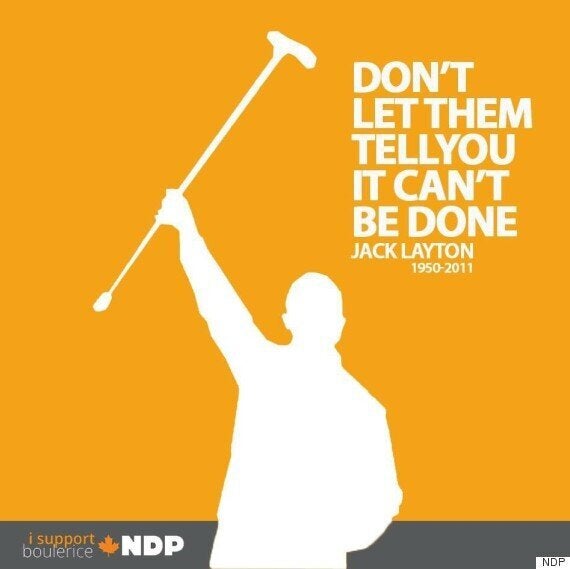 Image of Layton ad used to rouse support for Boulerice on Facebook.
The NDP also used Layton's picture this week alongside a photo of Alberta's new NDP premier-designate Rachel Notley. The ad stresses that the centre-left party is electable not just in Quebec and in Alberta but all across the country. The party also used Layton's images in videos and on social media on May 2 to mark four years since the last federal election, when the NDP's surge in Quebec made history.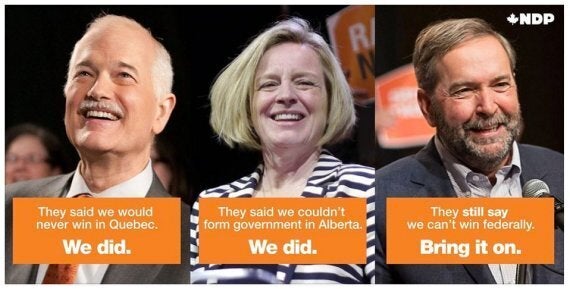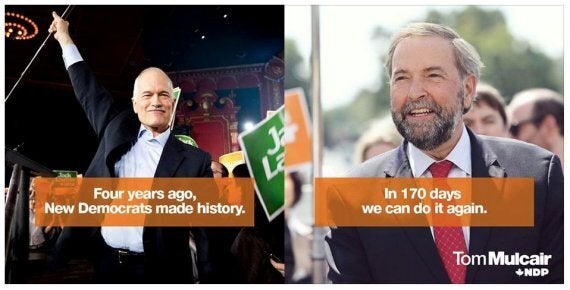 Screengrabs of NDP social media cards.
But the looming image of Layton that Shanthikumar is using is quite different.
He said he designed the pamphlets as a way of introducing himself to the community. A pastor at a Tamil Methodist church, Shanthikumar works as a communications manager at telecom company Allstream and coaches cricket for kids and teens.
He told HuffPost that Layton was the reason he got involved with the NDP. He describes taking part in demonstrations on Parliament Hill in 2009 denouncing the actions of the Sri Lankan government as genocide.
"We were standing out in the cold and no politician came out, and then Jack Layton came and stood with us, shoulder to shoulder. That really impressed me."
He said he is convinced the NDP will win the federal election on Oct. 19 and that he will become a member of Parliament.
His pamphlet includes contrasting points between the NDP and the Conservatives' plan for the middle class. He said he ignored the Liberals because "they are not competition at all, so why bother?"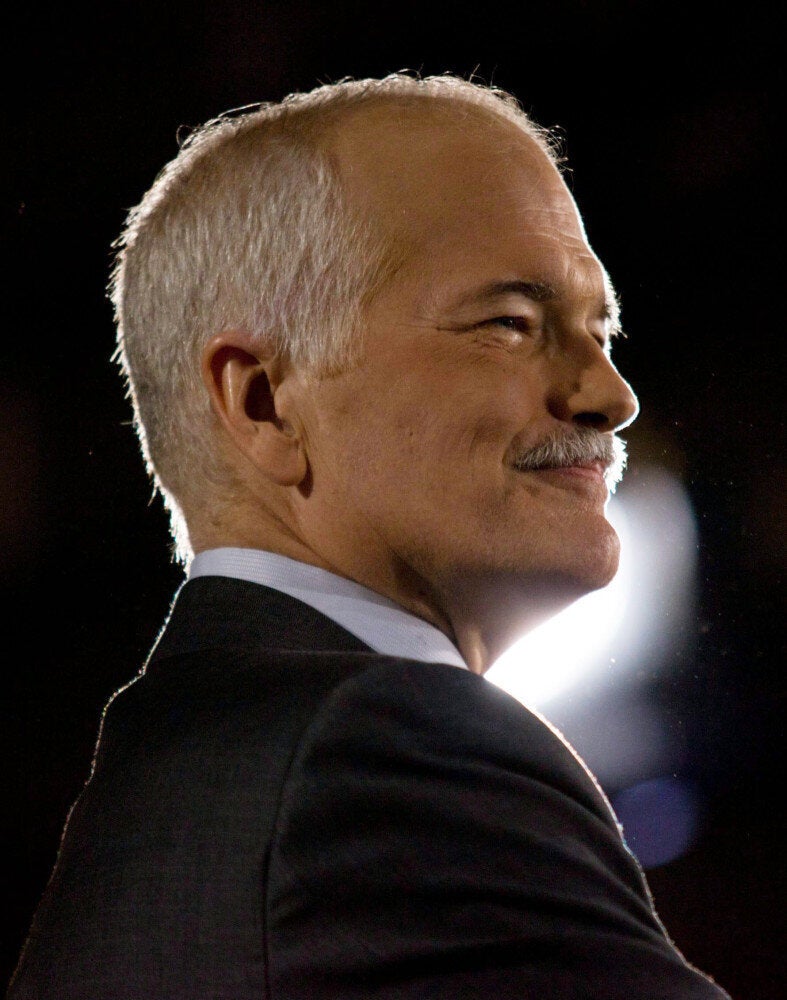 11 Surprising Facts About Jack Layton