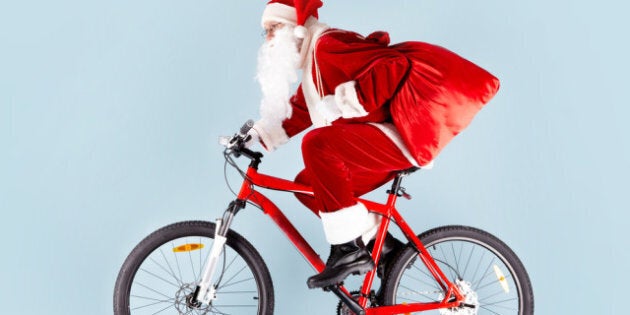 By Marissa Schroder, Publisher of Get Out There Magazine
The holidays are the perfect time to indulge the gear-loving cyclist in your life. This year think beyond a new set of tire levers or a set of performance socks and hook them up with some gear that'll have them longing for spring. Here are some of our top gift picks for the cyclist in your life.
Lust-Worthy Gifts For Cyclists
1. CAT5GEAR's Cyclist Case is perfect for gear junkies constantly searching for their gloves, tubes or booties before heading out the door. Stuff this case with all your essentials (including shoes – it's vented to allow the stink to get out) and keep it in your car for a quick drive to your favourite cycling destination. $59, www.cat5gear.ca
2. From a kid-friendly cowpoke to a trendy owl, DringDring's range of adorable painted bicycle bells can be matched to your favourite cyclist's style. Each bell is painted with eco-friendly paint and then baked to ensure it is weather-resistant. $24, www.dringdring.ca
3. Based on an 1896 design, Brooks England's Challenge Tool Bag is the perfect addition to a vintage commuter bike. Tote your riding essentials in classic British style. We love the Aged (shown) and Honey colours. $112, www.brookssaddles.com
4. Mountain Equipment Co-Op's Nineteen Seventy-One Bicycle is a fantastic entry-level bike for anyone looking for a multi-purpose ride that'll take you from bike commute to charity bike tour. We love that all MEC bikes come with a one-year service contract that gives you free tune-ups at any MEC store. $990, www.mec.ca
5. Freeriders heading out on the trails for an epic day of rock-hopping can fit everything they need in CamelBak's 2012 Asset hydration pack. With a 2L water reservoir, armor attachment and ample room to carry a full-face helmet, you'll be good to go hit the dirt for the day. $130, www.camelbak.com
6. Freshen up the look of your bike with Octto's Professional Smooth Gel Bar Tape. Choose from a wide range of colours to customize your ride and enjoy improved comfort thanks to Occto's Gelicone™ foam. Around $30, www.octto.com
7. Pearl Izumi's Launch Kicker mountain bike shorts combine freeride style with technical features such as a removable chamois, stretchy fabric for ease of movement and ample pockets for stashing your ride essentials. These shorts can easily transition from ride to post-ride get together at a local coffee shop. Around $130, www.pearlizumi.com
8. Parents will appreciate the versatility of Specialized's Small Fry Toddler Helmet which grows with your child and transitions from use inside a bike carrier to their own ride. Kids can wear the helmet comfortably inside the carrier and then on their own bike as they grow. $40, www.specialized.com
9. Take a ride on the wild side with Sugoi's Tatu arm warmers. These fleece-lined arm warmers offer both style and function with this fun sublimated tattoo-inspired graphic. An arm grip at the bicep help these warmers stay snugly in place. $45 (currently on sale for $27), www.sugoi.ca
10. Never worry about your bike getting the royal airline-treatment and arriving at your destination battered and bruised. Biknd's unique Helium Bike Case's inflatable padding provides ample protection for your ride. This lighter-weight case is a convenient alternative to traditional hard-shell cases for traveling. $599.95, www.biknd.com
Marissa Schroder is publisher of Get Out There Magazine, Canada's destination for endurance athletes and outdoor enthusiasts.