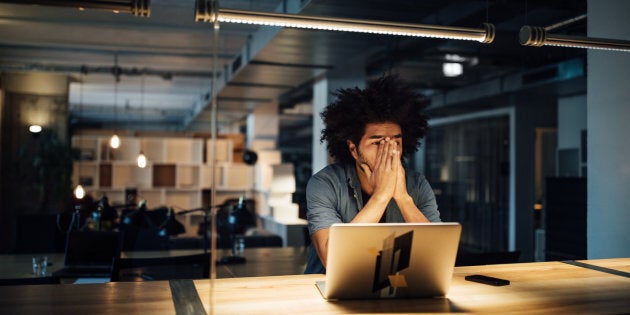 A new survey about millennial workers outlines the impact that the rise of precarious work is having on an entire generation, and it's not pretty.
"The Generation Effect: Millennials, employment precarity and the 21st century workplace" was conducted among 1,189 employed millennials in Hamilton, Ont. who are not attending school full-time. The survey says it does not claim its sample is representative of all millennials, but that it "provides a reasonable picture of what it is like to be a working millennial, and the contrast between those in secure employment and those in precarious employment."
The survey looked at precarious work's impact on millennials' community participation, health, quality of life, work and the workplace, and other factors. But the findings about mental health and the pervasiveness of the issue were "the most disturbing," according to the study.
Millennials have a high level of post-secondary education, but they've had to absorb higher costs because of that. Despite their education, only 44 per cent have found permanent, full-time employment, while 47 per cent are working at jobs with some degree of insecurity. One-third of millennials are on short-term contracts, freelancing, or working through temp agencies.
The study found a "close correlation" between mental health and the quality of employment, which suggests the changes to work in general are having a negative impact on millennials.
'Ups and a lot of downs'
Nearly three in 10 millennials reported being depressed or anxious often because of their work situation, and nearly half (46.7 per cent) reported the same feelings because of their work or work status. Almost four in 10 (38.7 per cent) of millennials in precarious work said they were angry about their work or work status.
Charlene Akuamoah, a freelance designer and wardrobe stylist, told HuffPost Canada her work situation "has its ups and a lot of downs."
Until last year, Akuamoah was working nine-to-five in a corporate job, where she wasn't happy navigating office politics and the different personalities she had to work with. And although she describes being able to choose what kind of work she does as her "silver lining," she said freelancing is at times "very scary."
"And I have days where I'm completely just down on myself, super sad, and just not leaving my house, and just being very doubtful and worried about my future," Akuamoah said.
It's OK for people to fight for what they're worth, it's OK for people to fight for the pay that they're worth.Alicia Raimundo, peer support worker
Alicia Raimundo works as an online peer support worker for Stella's Place, a youth mental health services centre in Toronto. She said the mental health space has also been affected by the gig economy and the rise of part-time, contract employment.
"It's a bit ironic too, because mental health talks about the mental health stress of precarious work, and then offers precarious work," she told HuffPost Canada.
Raimundo gave a TEDx talk on mental health when she was an undergraduate student at the University of Waterloo, which led to a lot of opportunities from mental health organizations. But, she said, few wanted to actually pay her for her work.
"That was the most frustrating thing, everyone wanted to talk to me, everyone wanted my expertise, but few of these people wanted to pay me, even though they were making money off the things that I was telling them, and fewer of those people wanted to have me on full-time permanent," she said.
Raimundo said if people feel like they deserve more than precarious work, then they're totally right.
"It's OK for people to fight for what they're worth, it's OK for people to fight for the pay that they're worth."