Celebs from all walks of life have been speaking out again President Donald Trump's latest executive order, which calls to ban refugees and immigrants from seven Muslim-majority countries. And model siblings Gigi and Bella Hadid were no exception.
Marching in New York's Battery Park on Sunday, the sisters, whose parents are both American immigrants, proudly held signs among a crowd of protesters that read, "We are all Hindus, Buddhists, Muslims, Atheists, Christians, Jews," with specific letters in bold to spell out "Humans."
Mom Yolanda Hadid posted a photo of her daughters to Instagram on Sunday with the caption, "That's right, we are one..... Open to all religion, all races and all countries #America #LoveTrumpsHate #WeAreHuman."
But this isn't the first time the 21-year-old has been vocal about Trump politics.
In response to the Women's March that took place after the current president's inauguration in January, the IMG model sent out a series of tweets in support of the worldwide rally.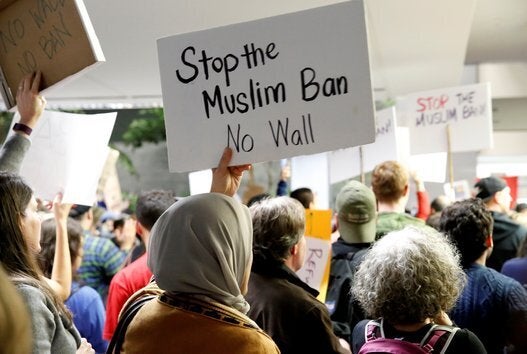 Trump Immigration Ban Sparks Protests