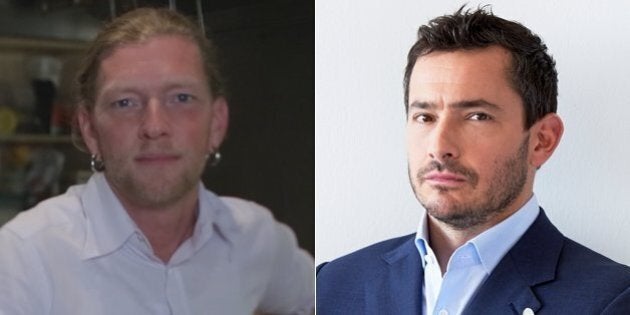 Giles Coren has eaten at the world's finest restaurants, but as a critic, nothing excites him more than discovering a hidden gem, a place that's doing everything right, but not getting the recognition it deserves. In each episode of W Network's Million Dollar Critic, he'll sample meals from five worthy North American restaurants and thrust one lucky winner into the limelight by giving it his million dollar review.
I have to hand it to Toronto: it's the only city in the world where my attempt to grab a quick hot dog has made the evening news. Admittedly, I was grabbing that hot dog outside City Hall in the company of Rob Ford, the world's most infamous serving mayor, but even the slavering press pack should take a lunch break.
In Toronto I found a vibrant, pulsating restaurant city, from the gourmet food trucks and sexy Mexican small plates of Agave Y Aguacate to the cocktails, deer tartare and kangaroo balls (meatballs, silly, not "balls" balls) of the Small Town Food company.
The best traditional cooking I had here was at Opus, where a troop of old-fashioned Tonys (there really were at least four guys working there called Tony) served me some wonderful lobster ceviche, truffled pierogi and roasted chicken, and some of the finest wines in the world from quite a mind-boggling cellar. But if you want a place that is in tune with the times in which we truly live (and I do), then you need to be at The Atlantic on Dundas, where Nathan Isberg propounds his philosophy of "eating from the bottom of the food chain."
It is not an instantly appealing idea. The words "eating" and "bottom" really should not appear in the same sentence at all. It just doesn't seem elegant. Doesn't seem right. There are fish we call "bottom-feeders," and we do not envy them.
But, alas for us, we have eaten everything at the top of food chain now. Or damn near everything. The whales and the tuna and the cod are for the most part gone. The big game has retreated to dark corners and protected enclaves. We have eaten the top off this planet, and in the meantime swelled our own population to almost unmanageable numbers. And as far as Nathan Isberg is concerned we are just going to have to bite the bullet now (or bite the roach) and feed from the bottom.
I'd heard his cooking was big on crickets and so approached The Atlantic with a little less than my usual gusto. I know edible insects are enjoyed by a great many people around the world, but then so is nipple piercing. I also know that futurologists say insect-eating is going to be the only way to produce protein for the population by, well, sometime around the end of next week. But I am a rich white man and, frankly, I will always be able to afford chicken. So what's in this for me?
Things started off fine. The Atlantic is a standard, shabby-chic hipster joint, with cool music and a good-looking, bearded guy cooking everything outback on a couple of burners and delivering it to table himself.
Within seconds Nathan had flung down a crisp Austrian riesling in front of me, declared there was no menu or pricing structure and dashed off like a terrier down a rabbit hole to stack plates, pour wine, sauté crickets...
First came a soup: lentils spiced with advieh (which, as you know, is a Persian spice mix roughly equivalent to a garam masala), scattered with crisped parsley and infused, quite sensationally, with geranium oil, bringing the scent of Mediterranean borders and warm seas to sludgy, late winter Toronto. Not so much a soup as a conjuring trick.
Then another aromatic rabbit from Nathan's magic hat: a salad of cruciferous vegetables dressed in Indian pickle with a papadam crumpled over it. Then a handful of plump gnuddi (no insects so far -- I was beginning to relax): ricotta dumplings, rich and salty and rolled in ash for extreme smoky flavours. Three out of three bull's-eyes so far. And no animal on earth yet troubled for its soul.
But then carnage: a black rice risotto with spruce tips and seedlings in which a dozen snails burrowed and delved, as they might on your compost heap back home. It was as if the molluscs themselves had been captured at their dinner of leaves and starch, and frozen for all time on this plate, like the victims of Vesuvius at Pompeii. They added bounce and chew to an otherwise sound but unremarkable rice dish.
Oh, and on top of the snails were the crickets, possibly dried, probably roasted (I am no expert when it comes to cricket preparation), salted and scattered, so that it seemed some biblical plague had come upon my dinner.
I will not ham up the horror or fake the expectation. I have eaten crickets before. But only as novelty bar snacks at irritating themed restaurants and silly people's dinner parties. Here they made perfect philosophical sense as an ingredient, and were no more offensive on the teeth and tongue than a dry-roasted peanut. They look terrifying if you hold one up and stare it right in the eye, but then so does a shrimp. Good taste and high nutritional value do not always come in beautiful packaging.
The mad, challenging, soulful, seriocomic Atlantic was without question the most brain-affecting restaurant I encountered in a joyful, food-filled week in Toronto. An eating place that will not be to everyone's taste, but one which might just save the world.
For more Giles, go to WNetwork.com. Million Dollar Critic airs Tuesday nights at 10 p.m. E/P on W Network.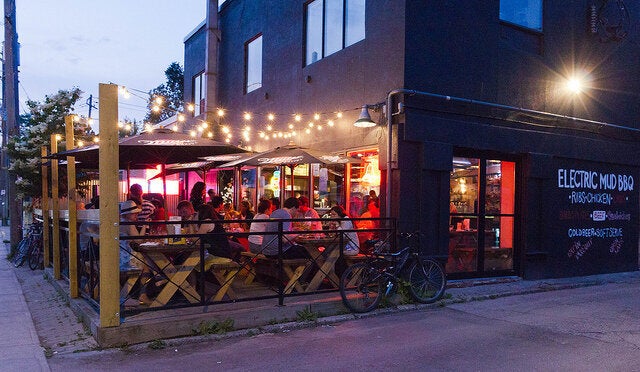 Best Toronto Restaurants (HuffPost Picks)
Popular in the Community