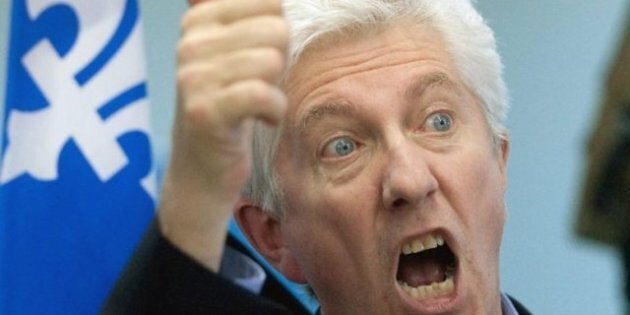 That it was one of Pierre-Karl Péladeau's newspapers, Le Journal de Montreal, which broke the news of Gilles Duceppe's new radio career, would not have come as a total surprise in Québec: Mr. Péladeau's television network, TVA, is a fierce competitor of Radio-Canada for the number one spot in the marketplace. However, outside Quebec, Mr. Péladeau is still playing in the minor leagues of broadcasting, and English-speaking Canadians are still getting used to the aggressiveness of his newspapers' campaigns against the CBC.
Outside Québec, Sun Media's strategy is to position itself as a conservative alternative to other media. So, here too, Ottawa's billion dollar subsidy to the pubic broadcaster makes an inviting target -- which cannot be said for Alberta's oil sands, the subject of a recent feature in Le Journal (where the term 'ethical oil' was not mentioned) but not in the Sun.
On the day it broke the Duceppe/Radio-Canada story in Québec, Mr. Peladeau's chain made a special effort to ensure that news of the relationship was made available in English by 6 a.m.. Coming in the wake of revelations concerning interim NDP leader Nycole Turmel's membership in the Bloc Quebecois, it quickly became the topic of the day in Ottawa and set off a furious reaction across Canada. Then, the Toronto Sun fanned the flames by erroneously reporting that Radio-Canada would be engaging the former Bloc leader on a retainer of between $50K-100K per year -- quite an order of magnitude different from the $300/per segment Mr. Duceppe says he was to receive.
In the end, as we know, Mr. Duceppe pulled out of the gig before beginning, leading to allegations of a double standard regarding other ex-politicians. On closer examination, however, it was easy enough for Radio-Canada to distinguish between his case and others. Still, the Duceppe kerfuffle did shine a spotlight on the increasing number of partisans who participate in the media as political commentators.
Ironically, since some of these commentators receive suggestions if not talking points from political parties and/or public office holders, this raises an issue that applies equally to Sun Media as to CBC/Radio-Canada.
Over the past couple of years, Commissioner of Lobbying Karen E. Shepherd has been looking beyond traditional sources of conflicts of interest (gifts, contributions, etc.) to the political activities of lobbyists. In particular, Ms. Shepherd has indicated that the risk of creating a real or apparent conflict of interest is proportionate to the degree to which a lobbyist's political activities advance the private interest of a public office holder, and the degree to which that lobbyist may interact with the public office holder as a consequence of their employment or undertaking.
Notably, while some lobbyists have threatened to challenge the Commissioner's guidance as an infringement of their Charter rights, most avoided playing any visible role in the recent federal election campaign. Their absence stood in stark contrast to previous federal elections, and to the role being played by lobbyists in Ontario in the lead-up to the October provincial election.
Recently, I asked Commissioner Shepherd whether her definition of "political activity" would include appearing as a political commentator on television. In response to my query, the Deputy Commissioner responded on her behalf in writing:
"The Commissioner is of the view that political commentators, whether they are lobbyists or not, who provide partisan opinions on political issues are performing a political activity. As with other types of political activities outlined in both the guidance and the subsequent clarification, participation on a public panel or in print media may in fact advance the private interest of a political party or an individual public office holder.

In cases where the information that is provided by the individual is based on their own views about the party's political platform or policies and is contrasted with the views of other participants on the panel who represent other parties' platform or policy... the activity would represent a low risk of creating a real conflict of interest or the appearance of a conflict of interest. However, if a public office holder or political party was to directly request that the individual appear as a spokesperson or write an article for print media, this would likely increase the risk of creating a real or apparent conflict of interest because it would advance the private interest of the party or the public office holder to a higher degree."