The Conservative candidate in the Montreal riding of Rosemont–La-Petite-Patrie, Gilles Guibord, was fired Thursday after sexist and racist comments he made that surfaced on the Internet.
Guibord made offensive remarks in the comments sections of several articles and columns, which were screen-captured and published on the blog "Some Random Political Blog."
"To be fair, it would be better to speak of a man's authority over woman, rather than superiority," he wrote in a post on Feb. 13, 2014.
"I think that relationships between men and women were not determined by religion but by relationships of strengths before religions. Man has always been stronger than a woman, the woman placed herself under his protection. Because of her pregnancies, the woman was often in a fragile or insecure state, so man assured her security," he went on.
"Do you think that in same-sex relationships, the power dynamics of one over the other do not exist?," he said.
In another post, Guibord writes that First Nations had refused to "integrate themselves into European culture."
He wrote in a 2010 post that it was "common sense" for Quebecers to want to ban the wearing of the burqa and the niqab "because this clothing denies equality to men and women" by placing restrictions on women.
Guibord has been deleted from the Conservative Party of Canada's website. But a previous biography noted that he had had strong ties to the separatist movement and had been involved for years with the Parti Québécois and the Bloc Québécois. He ran provincially for the Action démocratique du Québec and for l'Unité nationale.
When asked in July about his comments, The Canadian Press reported, the Conservative Party said it was not preoccupied by their candidate's past.
Guibord's official agent, Bertrane Royer, told The Huffington Post Quebec on Thursday that she had no comment to make about why Guibord was shown the door.
"That happened between him and the party," she said.
Conservative party spokesman Stephen Lecce said only: "Mr. Guibord is no longer a candidate."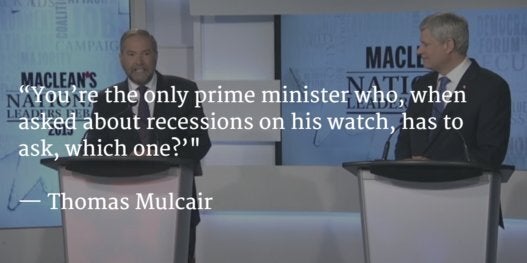 Best Quotes From Maclean's Canada Election Leaders' Debate
Popular in the Community