A gunman killed at least three people and injured at least 15 at the Gilroy Garlic Festival in Gilroy, Calif., law enforcement officials said.
An unidentified suspect was also shot and killed by officers, Gilroy Police Chief Scot Smithee said during a news conference Sunday night. A second individual may have been involved in some way, but appears to have escaped an ongoing manhunt.
The shooter appeared to cut through a fence to gain entry to the festival before opening fire, Smithee said. Authorities killed him "less than a minute" after he began firing on festivalgoers using some kind of a rifle.
"I have no idea what the motive is at this point," Smithee said, calling the attack a "nightmare."
'Tragic and senseless crime'
The Associated Press reported a 6-year-old boy was one among those killed, according to the child's father. "My son had his whole life to live and he was only 6," the father of Stephen Romero told NBC Bay Area. "That's all I can say."
Officials said the scene would be subject to an active investigation "for some time."
"I would ask for the thoughts and prayers for our community as our police officers continue to investigate this tragic and senseless crime," Gilroy Mayor Roland Velasco said during the news conference. "We plan on being out here all night."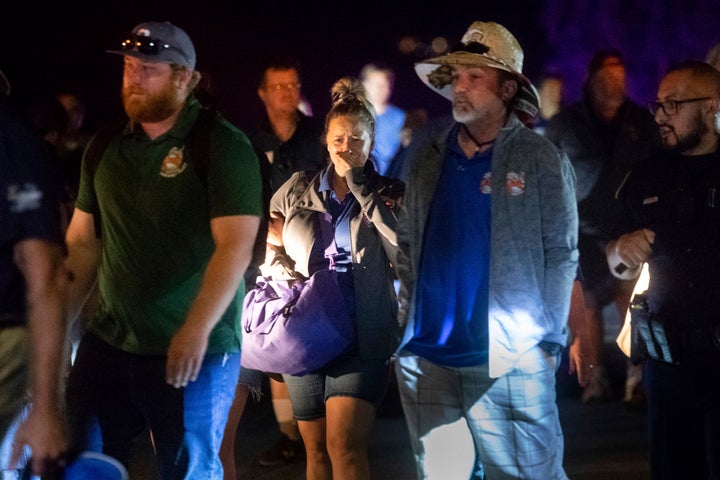 The shooting began around 5:40 p.m. local time, toward the end of the final day of the festival, officials said.
A band called TinMan had just begun its encore performance when the gunman opened fire, according to The Associated Press. Members of the band told the news outlet that they heard several gunshots and dove under the stage for protection.
The band's singer, Jack van Breen, said he heard someone shout: "Why are you doing this?"
"Because I'm really angry," came the reply.
Videos posted on social media showed festivalgoers running en masse toward the exits as loud pops rang out in the background.
One eyewitness told NBC Bay Area that he had been leaving the event when he felt a bullet fly past his head.
Miquita Price told the station she was with three family members at the festival when she heard shots.
"We hid under a utility truck," she said. "We used that for shelter."
She described running away from the scene with a handful of people, including one woman Price said had been "shot in the neck."
The injured were taken to multiple hospitals. A spokeswoman for Santa Clara Valley Medical Center, which received several victims, said their conditions ranged from fair to critical.
At least five of the wounded were treated and released, The Associated Press reported.
Gilroy, about 130 kilometres from San Francisco, is home to some 60,000 people. The garlic festival began in 1979 and draws nearly 100,000 people annually.
The three-day event is hosted by community volunteers and raises money for local schools, charities and non-profit organizations, according to the event's website.
Brian Bowe, executive director of the Gilroy Garlic Festival, described the event as a "family reunion" for the community and said he was heartbroken by the violence.
"Gilroy is an amazing community, a tight community; we are family," Bowe said during the news conference Sunday night. "We have the wonderful opportunity in this community to celebrate our family through our garlic festival.
"It is such a sad, horribly upsetting circumstance that this happened on the third and final day of this year's festival."
Gilroy police said in a statement that people looking for friends and family should head to the reunification center at parking lot B at Gavilan College. Eyewitnesses were also encouraged to contact authorities.
U.S. President Donald Trump tweeted about the attack Sunday evening, urging people to "be careful."
California Sen. Kamala Harris and California Gov. Gavin Newsom also commented on Twitter.
With files from Sanjana Karanth, Saba Hamedy and The Associated Press