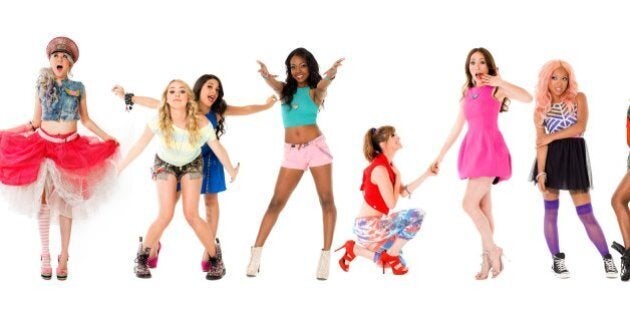 Just weeks ago JC Chasez shared with us his dreams of cruising down the red carpet with his all-female super-group Girl Radical.
Now the 11-piece pop outfit are about to take a step closer to the best red carpet in music – performing at one of Hollywood's hottest pre-Grammys party. The Jackie Boyz event will mark the first major public appearance by the group, who Chasez, 37, and producer/songwriter Jimmy Harry put together after being inspired by super-groups in Asia.
"As an artist you always want to make an impact and that was the first time in awhile I was genuinely turned on," says the *NSYNCer. "It was so fresh.
"The groups overseas don't celebrate individuality but we're letting each person represent themselves. We want to be a new kind of rock star – where you're allowed to celebrate your individualism while being unselfish enough to root for someone else."
Two of the members are Kota Wade [22yo on 23 Jan] and Alex Schneider, 26. Yes she's that Schneider – niece of comedian and actor Rob.
While Alex danced with the San Francisco Ballet for 15 years before giving up dance for music, New Mexico-born Kota dabbled in competitive ice-skating before turning her focus to music (coming first in American Idol Underground's song-writing contest and opening her own LA music venue AMPLYFi at 18).
It's a choice which is finally paying off for both girls, as they try to launch Girl Radical…
Alex, has Rob given you advice on the entertainment industry?
Alex: All the time. Fun fact – mom dated my uncle Rob first then she realized he had a way cuter brother! So she met my dad and they've been together since they were 15.
Both my father and uncle gave me the same advice growing up. They said, "If you can see yourself doing anything else, don't get into this industry because it's brutal. You have to live and breathe it and if you have a back-up plan, you'll never make it."
With an actor uncle and producer dad, was it natural to pursue showbiz?
Alex: I grew up in the industry so it was an easy choice. When you grow up around it, it's all you know so music, singing and acting were my first love.
Kota, you started writing songs at nine. What does a nine-year-old write about?
Kota: I was so dramatic! I had lyrics like, "I'll die without you." I started super-young, then when I was 14 I found an ad for the Hollywood Pop Academy and after doing that I knew I wanted to do music full force.
Were you fans of JC and *NSYNC?
Kota: My mum was a professional cheerleader and dancer and she taught choreography at my ice-skating rink. After lessons we would blare the music and she would teach us *NSYNC choreography! I had posters on the wall and my mom was as big a fan as me.
The first time I met JC I tried to play it cool. I was like, "Oh nice to meet you, what's up?" On the inside I was screaming.
Alex: I was a huge fan too. I was all about *NSYNC and Britney Spears and JC was my favorite. JT had the funny, curly hair but JC was super-hot.
Who are your other musical influences and idols?
Kota: My mum and I used to work out together to Spice Girls!
Alex: I grew up with country music, so I was obsessed. I went to Nashville and wrote there. I still have a country twang when I sing.
You now refer to him as "Dad", but how would you describe JC?
Kota: Patient, helpful and genuine
Alex: Dad's the coolest. He's more than a mentor, friend and Dad. He's just a gem of a human being and would do anything for anyone who needs help. If all this went away I knew he would still be there for us.
Is there anything surprising about him?
Alex: He's a huge, nerdy goofball. Hysterical. He's also a shy one!
What have you learned from working with him?
Alex: He gives us all the information that he learned from *NSYNC. If I'm not able to hit a certain note or I'm tired he'll give me little tips they learned from their vocal coaches.
Kota: He put together a goodie bag of all the things he has learned and experienced – like different throat remedies and cures to help you through singing and touring. There were four pages describing everything with instructions for each one!
What can a group like Girl Radical offer that smaller girl groups can't?
Alex: As much as we share the same passion, we are completely different girls. We all represent somebody different, so every girl out there can have someone they can relate to and identify with. And we're a super-group of cool dancers so it'll be fun to watch.
Kota: It's a spectacle. And we're different to the Japanese super-groups because they're all about uniformity. We're the opposite. We have so much freedom – I show up in my tutu and fairy-wings sometimes.
Alex: There's nothing they're telling us we have to do. They just support and guide us.
What was it like the first time you all met?
Alex: It was terrifying, yet the most exciting experience. We bonded immediately.
Drama is inevitable when you have that many young women together. How has that been in the last year?
Kota: Sure, there's friction every now and then, but there's probably less drama in our format because with a smaller group there's more chance of being an odd man out. With us, if three girls are hanging out no-one's left out because there are still eight other girls.
Alex: We have our moments when we get angry with each other, but we're sisters and at the end of the day we're not going to risk the group over a petty fight.
Hopefully that doesn't change as the group grows in popularity …
Kota: Like on the tour bus. Imagine!
Alex: And that time of the month ... we'll all be on the same cycle. Dad's going to have to be on a different bus!
What has been the most surreal moment so far?
Alex: At our first rehearsal, the music started playing and we were all lined up ready to learn our choreography. I remember looking around at everyone thinking, "This is what I've always wanted to do. It's the coolest thing in life."
Nothing will ever compare to that feeling … except maybe when we sell out Madison Square Garden or have our first Grammy performance!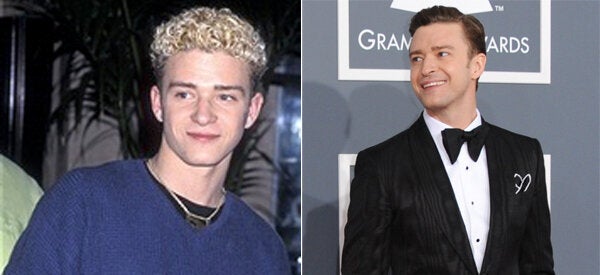 *NSYNC: Where Are they Now