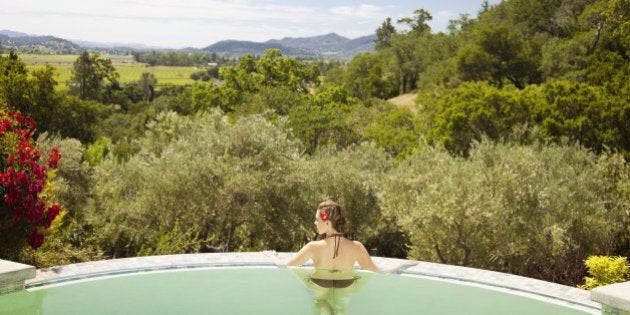 You only have to re-watch your favourite road trip movie to know that road trips are about many things but most of all the journey. The where, who, why and how play into the big what, that is, what each participant learns, feels and experiences. Recently, Girls' Flight Out embarked on a road trip in northern California. Here's the lowdown and the highlights. Of course, we invite all you virtual hitchhikers out there to hop on our video and come along for the ride.
Where: Napa Valley, San Francisco and Sonoma Valley in that order. We figured that although the two wine regions are neighbours and easily doable in a single ride, we'd sandwich the City in between for some urban antics, and to break things up so we could better recognize the differences between the valleys. Sort of like a major palate cleansing between tastings.
Who: As many of our Girls' Flight Out followers may know, I'm a Toronto-based writer and my daughter is a Brooklyn-based videographer. Several times a year we meet up at a cool destination to celebrate, collaborate and connect. Sharing a passion for travel is a good thing. Sharing a hotel room sometimes isn't ... but it adds to the what.
Why: For me, a culinary and travel writer, I'd never been to Napa or Sonoma, two of the top wine regions of the world. It was my job to go. Sam was pumped to explore San Francisco, especially Harvey Milk's hood, The Castro.
How: When we were offered a Lincoln Continental 2017 for the first leg of our trek, we snatched the keys. We reasoned a luxe trip deserves a luxe ride and, sure enough, the sedan's sleek exterior allowed us to pull up at posh venues in style; its state-of-the-art safety and navigational systems ensured no wrong turns; and the ever-so-comfy 30-way-adjustable seats' massage function proved to be ideal for waiting out traffic. Best of all, the interior was designed by a woman -- Detroit dynamo, Soo Kang. For a girls' getaway, how apropos is that?
What: The thing about road trips is you never know what's going to happen. The last night of our trip was the U.S. election night when we anticipated witnessing the election of the first-ever female President. It was not to be. Our shock was cushioned by the fact that we'd met so many wonderful women during our adventure from fellow travellers to movers-and-shakers to wine makers. We raised a glass to that.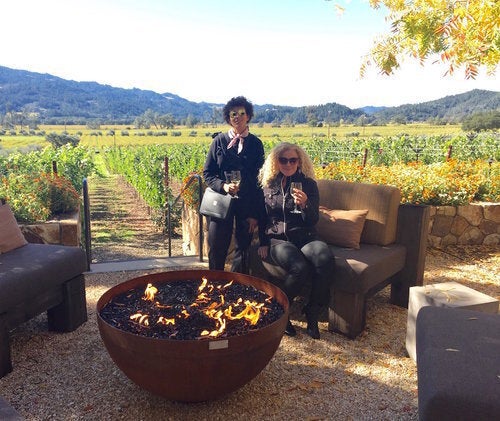 Just over an hour from San Francisco, Napa Valley is a small region with a big rep and home to 400+ wineries. Stop in any or all of the towns along Highway 29 including:
Yountville, the culinary capital of Napa, and home to several accolade-loaded restaurants including Chef Thomas Keller's Michelin-star bestowed The French Laundry, and Bouchon.
St. Helena, the perfect stop 'n shop billed as Napa Valley's Main Street thanks to its boutique-lined downtown.
STAY: Calistoga Ranch in Calistoga, a peace-meets-posh resort nestled in a secluded canyon with gorgeous guest lodges and a stellar spa.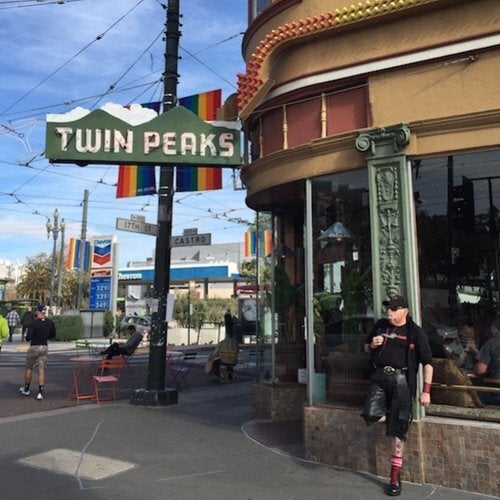 Rolling hills, staggering views, eclectic architecture. In one of the most walkable cities in North America, not surprisingly, guided walking tours abound.
Wild SF Walking Tours: Castro + Mission, for insights into the history and hopes of the gay rights movement
Avital Tours: Union Square Craft Cocktail Experience for a taste of the exploding SF cocktail scene
Local Tastes of the City Tours: Chinatown, for a tasting spree through the oldest Chinatown on the continent
Other great ways to get around:
GoCar Tours, which saw Sam and I hunkered into a rented tiny GPS-guided storytelling car driving about town in real traffic
SF Muni, the city's public transit system, which includes cable cars, America's only historical landmark that moves.
Blue & Gold Fleet and other boat tours will get you out on SF Bay, passing by iconic landmarks such as Golden Gate Bridge and Alcatraz.
STAY: InterContinental Mark Hopkins drips history and modern splendor from the grand lobby to every corner of your suite. Unwind at its rooftop bar, Top of the Mark, a celeb-sighting hotspot with panoramic views.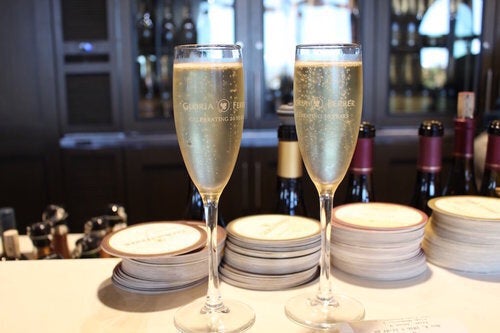 Known for its diversity of wines, farm-to-table fare and laid-back culture, Sonoma Valley lies within the sprawling Sonoma County.
Sonoma Plaza, in the city Sonoma, features more than 100 shops, dozens of tasting rooms and restaurants including The Girl and the Fig, renowned for its rustic French cuisine.
Gloria Ferrer, the first sparkling wine house of Sonoma, Carneros, offers tours, tastings and a stunning view of the vineyards
Chateau St. Jean, a 1920s chateau on a 270-acre lush property and vineyard with winemaker Margo Van Staaveren at the helm
STAY: Fairmont Sonoma Mission Inn & Spa where after being greeted with a glass of bubbly you can check into your beautifully appointed room, and then check out its acclaimed Willow Stream Spa. Wine tastings held daily in the main lobby.
Follow HuffPost Canada Blogs on Facebook