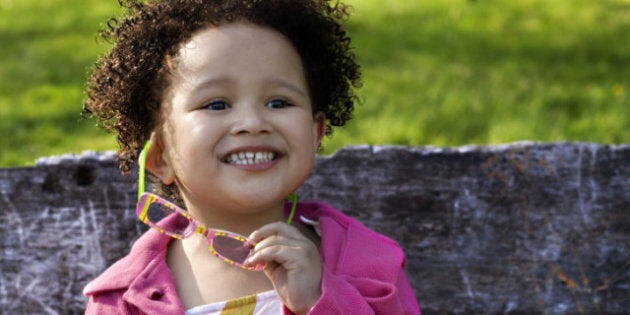 Kids enter the world oblivious to our harsh standards of beauty. When baby girls take their first steps, they know nothing about supermodels, airbrushing and being a size 0. They say their first "mama," and they're totally ignorant of Botox, Bowflex, Britney or Beyonce.
Then all of a sudden your four-, five- or six-year-old daughter comes home and says sadly, "Mommy, I'm not as pretty as Madison/Melissa/another classmate." You feel crushed -- and indignant. How could this wonderful child think she's not the most beautiful thing in the world?
It's an unfortunate rite of passage for girls in this image-focused society -- at some point almost every girl will wonder if she's pretty enough (no thanks to the ubiquity of perfect Disney princesses). And while some children may be confident enough to shrug it off, others may feel the sting of rejection, even if they don't really understand why it is they're being rejected.
"We don't want them to think beauty is the only thing that matters, but to pretend it doesn't exist in our society doesn't come across as real," she says. "You could talk about how everybody is unique and different and beautiful in their own way and point out the cover isn't the whole book or some analogy they would understand."
If your daughter has been told by a classmate she isn't as pretty as someone else in the class, it might help to point out how everyone has different preferences. "Maybe you like red cars and I like blue cars and you explain that's what makes the world so special, -- everybody has different ideas about what's beautiful, what's fun, what tastes good," says Douglas. "Tell her it would be really boring if we thought we had to like what everyone else likes. It's much more interesting to have your own opinions and ideas."
When your daughter talks about a book, TV or movie character she admires, find out what she likes about that character. If she talks about Rapunzel's long, blonde hair and pretty dress, point out the character's other positive attributes, like how clever, brave and talented she is.
But could we be contributing to the problem by constantly telling our kids how cute or pretty or beautiful they are (as many parents and grandparents do)? Douglas says there's nothing wrong with telling your child she's beautiful, as long as you're letting her know she's also strong, funny, smart -- emphasize all of her positive attributes so she can be proud of her inside as well as her outside.
Another parenting expert, Judy Arnall agrees you can help young children value their inner beauty, while still helping them feel beautiful. "You could say, "You're pretty and you have a good heart and a good head,"" she says.
"As a parent, you want to emphasize compassion, empathy and intelligence. Let [your child] know those traits are every bit -- if not more important -- than physical beauty," says Arnall. "Sometimes, it helps to acknowledge a child's feelings by saying, "You feel sad because you think you're not as pretty as Madison? I think you're pretty and smart and compassionate, too.'"