They call him the "Gitchhiker."
Or, at least that's what they called Mark McIntyre up until a few days ago. The 43 year-old Torontonian had set off on a cross-Canada trek clad only in his undies, travelling from British Columbia to Nova Scotia fuelled by the kindness of strangers — and their various modes of transport.
Which obviously begs the question: Why?
For McIntyre, the real journey began five years ago when he was diagnosed with testicular cancer. "I was an exception at 38," he told The Huffington Post Canada. Testicular cancer commonly occurs in men aged 15 to 29, so McIntyre was considered "old" when he was diagnosed. Luckily, he was diagnosed early enough that his treatment was swift and successful, if psychologically taxing.
Full text continues below. See photos of the Gitchhiker on the road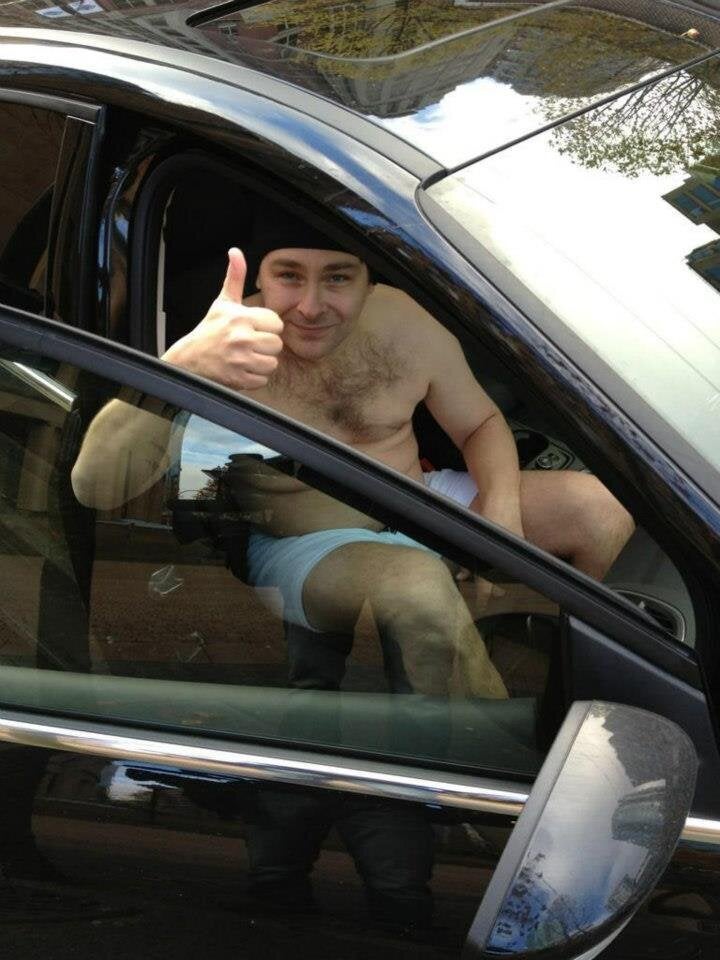 Meet Mark McIntyre, 'Gitchhiker'
"Testicular cancer, if it's isolated to the testicle, what they do is they just take your testicle, because you only need one," McIntyre says. Although he says the aftermath of the surgery was "difficult at times, for sure," his now-clean bill of health and acting experience (he's a front-of-house manager for The Second City playhouse in Toronto) made him an ideal match for Stanfield's Gitchhiker fundraising and awareness campaign for testicular cancer.
"I got the gig because I had one ball," McIntyre said.
The Canadian underwear maker pledged to donate $20,000 to the Canadian Cancer society if McIntyre made it all the way from Vancouver to the company's factory in Truro, Nova Scotia. So on Nov. 14, he put on his gitch, stuck out his thumb, and off he went.
Obviously soliciting rides from strangers in only your boxer briefs (or boxers, or long johns, or a onesie) puts one in a vulnerable position, so McIntyre didn't travel completely solo — he had cameramen documenting his journey every paved shoulder of the way and a 'gitchmobile' following close behind his rides. And he had lots of friendly support via a Facebook page where people could sign up to give him a lift, or send him gifts such as a coat or a meal.
Sometimes, passers-by just wanted to give him a hug. And sometimes they just drove on by. Especially when he was wearing balaclava. "Doesn't work for hitchhiking, by the way," he says.
McIntyre got to travel in some unusual rides, such as the time he was picked up by a Saskatchewan Correctional Services van. He also had the chance to go off-road and do some luging and bob sled in Calgary, ride the subway in Toronto, and do an improv set at the Second City.
But his ultimate destination was the underwear factory, and McIntyre landed there on Dec. 4 to great fanfare. Stanfield's donated $27,000 in total, and overall, McIntyre raised $32,398 for his cause.
"Never in my life have I ever experienced anything like this," McIntyre said after he arrived. "So many people came out to support me."