The celebrity TV personality, 38, spoke to The Huffington Post Canada in a telephone interview from New York City about motherhood, making marriage a priority, and the media's fascination with her weight.
This is your first Mother's Day. What were some other memorable firsts this year with your son?
Duke getting his first tooth was so cute, but the teething wasn't cute, and the pain that he was going through, but when his two little bottom teeth popped out around the same time, it was adorable, and when he smiles he's got these two little teeth at the bottom... Also when he reached out for me the first time, that was really special, someone was holding him and he reached out for his mommy and that was really nice.
You've referred to your husband as a "baby hog." Who's getting more me-time with the Duke these days?
He really is, that's just not stopped. We're in New York this week and Bill likes to push the stroller in the city and he likes to always hold him and I just look like the lazy wife who doesn't want to do anything. I just walk alongside Bill and the baby kind of going "OK if anyone needs me, I'll be over here." But yes, he's definitely a baby hog. But you could call your husband worse things than a baby hog. At the end of the day, ultimately, it's a blessing and it's great that Bill is so nurturing and loving and wants to be with the baby all the time. In the end, it equals out because Bill travels a lot for work, so when he's here and at home he wants to make sure that he spends as much time (with the baby as possible) and I respect that and I want him to be with the baby as much as possible.
Interview continues below slideshow: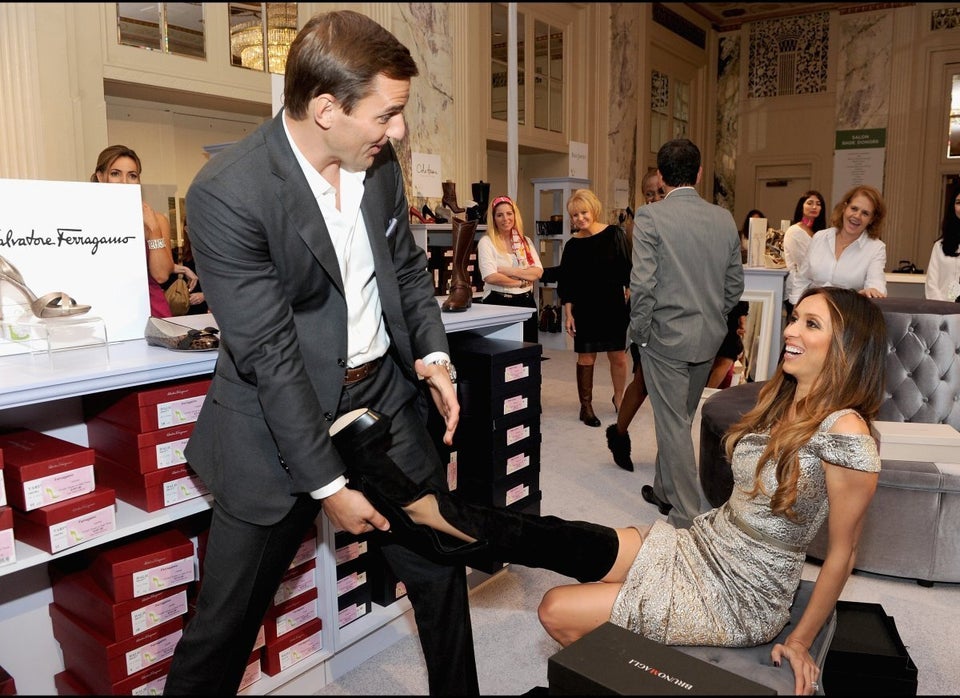 Giuliana and Bill Rancic
Our relationship is the first relationship that Duke is exposed to in his life, and if he can see us loving each other and hugging and dancing and laughing and speaking to each other with respect and compassion and love, that can only benefit him in his life...
We use kids as an excuse to say "I'm too tired," "I don't want to do this," "I can't do a date night," "I don't have time for you because I'm home with the kid all day," or "We're so busy with our kids" and you really have to make sure that once your baby goes to bed you don't fall victim to that, that instead you can say "OK, we've put the baby to bed, now let's hang out." Bill and I did that last night. We work super-long days, I was up very early (Monday) morning, worked all day long, worked the Met Gala (on Monday) night in a red-carpet gown and then I left there, changed into leggings and a puffy jacket and we walked around New York for an hour, had a romantic dinner at a cute little spot (The Smith) ... we had wine, and dessert, and had a great date night. It could have been so easy for me to go "You know what I'm tired after the Met Gala, I'm going to bed" but instead I know that it's important to hold hands and stroll through the city and have a glass of wine together.
But lots of people say date nights are overhyped.
Well, they're redefined. I think you have to redefine it and take the pressure out of date night and realize that a date night doesn't have to mean getting dressed up and doing your hair, that it could just mean throwing on sweat pants and getting carry-out or just going to a hole in the wall in your neighborhood, just for 45 minutes and having a glass of wine and an appetizer.
The media scrutinizes your weight a lot, recently voicing "worry" about how thin you are. Does that get to you?
No, it doesn't bother me, honestly, it really doesn't. It's kind of like how I do "Fashion Police" with the fashion. That would be like that bothering a celebrity, whether we put them on the best-dressed list or worst-dressed list, it's the entertainment industry. You know, headlines sell and that's fine. I totally get it, being on both sides of the business I get it, so honestly none of that stuff bothers me at all because I know the real story, I know who I am. I think it's actually rather amusing.
What does your current diet and fitness routine consist of?
It's been a lot less lately, having a baby now. We actually put a little home gym in our house, nothing fancy, a treadmill and some weights, so I've been spending some more time working out at home but I used to work out like five days a week and now I'm kind of down to two. Just because it's a busy time right now and that hour in the morning that I used to spend working out, I'd rather just be at home with the baby and so I've been missing a lot of workouts... (I eat) honestly everything. Like last night I had a pretty reasonable dinner, salmon and vegetables. But then we had two desserts. We had a hot fudge sundae and a sticky toffee pudding, it was amazing. And then the guy gave us cookies to go and we ate the cookies on the way home. So no, I wish I could say I'm so healthy, I never eat junk food... I wish I could say everything in moderation, but there's no moderation about it, I've just got to be honest, it's just what I feel and some days are definitely healthier than others. I have to eat constantly all day though just because I'm always on the go, so I'm always snacking. Like right now, I'm eating a bar, and I'm always snacking and almonds on nuts and stuff like that.
You're around Joan Rivers all day for Fashion Police and she's a pretty crazy mom. Has she shared any wisdom on motherhood with you?
Oh God, everything she says is a joke, but she has in a sense that she and (daughter) Melissa are so close. Joan and Melissa don't do anything apart and I love that, they have an incredible bond. I've just learned by observing the two of them in their relationship and Melissa is an executive producer on "Fashion Police" and she's on set every week and she's right there behind the cameras with her headset and she's running the show there on the floor, on stage. And it's funny to see anything Melissa says Joan trusts and it's incredible, and that's obviously a bond that Joan doesn't have with anyone. It's really nice to see them and their relationship. It's a great example of how anyone would hope to have a relationship with their child.
What advice do you have for other women who are struggling to have a baby? Would you recommend IVF or surrogacy, or adoption?
I think the most important thing is you can't give up hope. When you're going through something like that, you're going through infertility issues, you feel like "It's never going to happen for me, it's never going to happen, I've done IVF and they're not working," but it's a numbers game, that's what I was told. Your number eventually will come up. If you roll the die enough times, the numbers will come up, so that's what I always hung onto and thought about, and then the number came up eventually which was fantastic news, so I'd say … do the research, do what's right for you, and for us the path we took was the right path for us and we're so happy it all worked out.
You were also really open about your double mastectomy and inspiring to other women with your positive attitude about it. What did you learn about yourself through that experience?
I think the thing I've learned most about myself is how strong I really was. I don't think I ever realized I was that strong. If you told me this was going to happen to you next year, I would think "No, I could never survive that, I'm not strong enough." So finding out how strong I was was a good thing and it's helped me in everything post-diagnosis, which is great. My advice to anyone going through it is to stay strong. It gets better and time does heal all wounds.