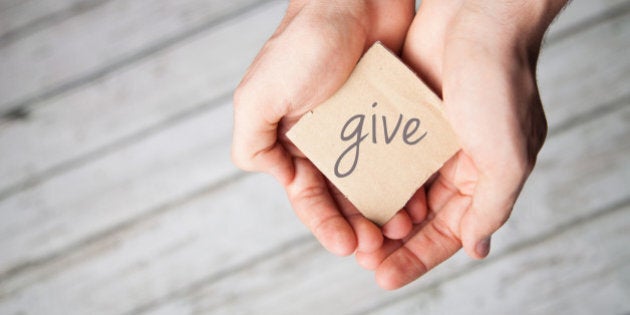 As donations on GivingTuesday continue to grow each year, so seemingly do the number of skeptics who advise charities to not participate in this international day of giving.
"Social media posts don't help raise money"... "It's impossible to break through the clutter with hundreds of charities participating"... "It's not worth a small charity's time and resources."
By now, I've heard just about everything, and frankly, it all misses the point. While GivingTuesday will absolutely benefit the charities that participate, it's not about raising awareness for any one individual charity or cause. It's about raising awareness for 'giving' itself in order to inspire empathy and generosity in the millions of people who are currently not giving to their capacity.
According to Statistics Canada, 35 per cent of Canadian donors were aged 55 and over in 2013 -- up from 29 per cent in 2004. In the same time frame, the proportion of the total amount of charitable donations contributed by older Canadians also increased from 39 to 47 per cent.
Given that donations have grown relatively flat across the country in recent years, with a growing share of total donations coming from a small group of older donors, it's clear we need to do everything we can to inspire a new generation of givers.
And that's the beauty of GivingTuesday. The movement connects with every Canadian because it's not discussing any one cause. It's also a day that lets us all be a little more conspicuous with our giving. In a world where we share everything from adorable dog pics to what we're eating for dinner on social media, why shouldn't we let our friends and family know what issues are closest to our heart.
GivingTuesday is a day where we can all stand up and say, giving back matters. It's a day for starting conversations and growing a collective consciousness. A day where everyone can ask themselves -- what are the things I care about, and am I really doing enough to make a difference?
Last year, more than 4,700 charities and businesses participated in this global movement for giving and volunteering, and millions of Canadians donated their time, money, food and even blood. With the 4th annual Giving Tuesday (November 29, 2016) expected to inspire even more generosity across the country this year, I encourage all charitable organizations to ignore the skeptics and take part. If you're not convinced yet, here are three quick facts about the big day that every charity should know:
1. Charities that participate in GivingTuesday benefit the most. In the three years since GivingTuesday started in Canada, donations through CanadaHelps (participating and non-participating charities) have grown 302 per cent. Even better, for those charities who actively take part, revenues on the day were 555 per cent higher in 2015 than they were in 2012.
2. There's literally no downside in taking part. There's absolutely no evidence that the massive increase in donations on GivingTuesday in anyway dilutes or curbs giving during the holiday season or year round. In fact, the day acts as a great year-end reminder for Canadians, who make over a third (35.2%) of all donations in December.
3. It doesn't cost a lot to participate. Four out of every five Canadian charities are small, with $500,000 or less in annual revenue. However, since GivingTuesday is a grassroots social media movement, there is no barrier to participation. Rather than the usual expensive ad buys that are required to reach a large audience, smaller charities can get involved simply by using a little bit of creativity on their social channels to recognize donors, volunteers, staff and supporters, while engaging new donors (especially Millennials) who might be sympathetic to their cause.
Follow HuffPost Canada Blogs on Facebook
Popular in the Community