A few months ago when Emma Watson introduced the #HeForShe campaign asking men to get involved in making positive changes in women's lives, many celebrity men jumped on board to support the initiative. The media has covered this topic well and the conversation still continues. Many men continue to pledge to do more to support women in their lives.
Having been involved with hEr VOLUTION for the last two years, I know firsthand that there are many men who support women in the STEM sector, whether they are recognized for it or not. HeForShe campaign had made it possible for others to see the benefits of campaigns such as this. DevTO is a great example of a men run tech social monthly meetup who, since 2011 has worked hard to bring the Toronto Tech community together to learn from each other's experiences and provide a platform to discuss technology and elevate each other. With that countless efforts had been made to shed a light on deserving women in tech from purposefully making it a mandate to include women in tech speakers all the way to raising funds for coding classes for girls. These are just a few examples of how some great men support women led initiatives in the tech fields and they aren't stopping here either.
"Over the past four years we have built a strong platform and with that comes a responsibility to raise awareness about issues we see in our industry. It is no longer true that women developers are 'unicorns' and with events like these we hope to see a rise of more events that will show case more women in STEM fields " says Nael El Shawwa.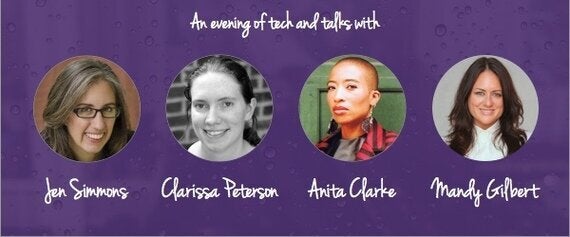 Women in STEM, or lack thereof, is a Global issue and the conversation needs to be held continuously not only by women but also, and most importantly, by men who support such initiatives. By bringing together leading minds in the STEM fields from around the world to share ideas, challenges and opportunities to the forefront, DevTO is showing their support to positive change and inclusion to diversity, which is much needed today. In Canada, and perhaps around the world, this opportunity is the first of its kind where men led tech social events are producing a conference with the scope of celebrating women in STEM fields focusing on dialogue and engaging the tech community from a global perspective.
"We recognized that our Women in STEM meetup and the 'No Country for Old Programmers' panel event was by far one of our most engaging events in 2014 and came to the unanimous decision that we should hold a special evening of talks to celebrate the past and present accomplishments of Women in Tech for International Women's Day 2015" says Henri-Robert Brisard.
There is a lot more to be done in this area however, the upcoming International Women's Day Talks #IWDTO conference is a great start to a conversation that needs to take place. To continue with this, and to ensure that we progress with revolutionizing the much needed change in the tech sector it will be crucial to have more of our male counterparts get involved by supporting initiatives such as the International Women's Day Talks produced by DevTO. On behalf of an organization which is focusing on inspiring more girls and young women to get involved in the STEM fields, we strongly encourage men and women alike to attend events such as these. Furthermore continuing the conversation and applying the change in the workplace is a great way to start the change as well.
The speakers that will be included at this event will be New York based web developer Jen Simmons, UX & Responsive design specialist Clarissa Peterson, Editor In chief of a popular Toronto fashion blog and certified software test engineer Anita Clarke, and the CEO of a Toronto-based staffing, recruitment and executive search firm Mandy Gilbert.