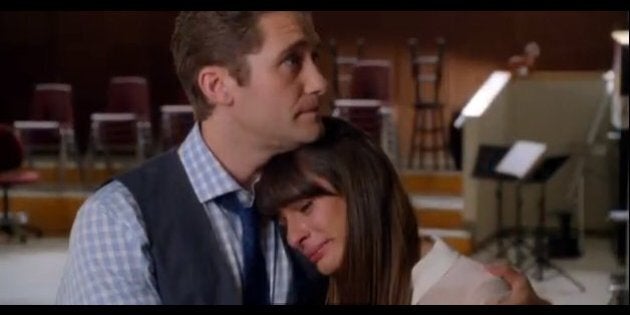 On the night of Thursday, October 10 at 9 p.m. ET on Global TV/Fox, be ready to break out the tissues.
That's the night that "Glee" will be airing its Cory Monteith tribute, and saying goodbye to his much-beloved Finn Hudson character.
Amber Riley and Mark Salling will take on "I'll Stand By You."
The cast will perform "Seasons Of Love" from "Rent."
Kevin McHale and Chord Overstreet will sing "Fire & Rain."
Salling will also perform "No Surrender."
Naya Rivera will cover "If I Die Young."
Series co-creator Ryan Murphy said he struggled working on the episode. "[B]ecause what you're seeing is what they felt about not just Finn, but Cory, so I think it's amazing performances across the board, and everybody went into it with a lot of love. What I loved about it is, you know when you write something like that, there's no right way to do it, so we wrote it and we put people who were under contract to the show in it, and a lot of the actors contacted me and said, 'I just love him so much -- can I please be a part of it?' So we put those people in. Iqbal [Theba], for example, who plays the principal and is now the janitor, was not written into that episode, but personally called up Brad and I and said, 'For him, I want to be in it,'" Murphy said.
Check out the promo for the episode below.
"Glee" airs Thursdays at 9 p.m. ET on Fox.
With files from Chris Harnick