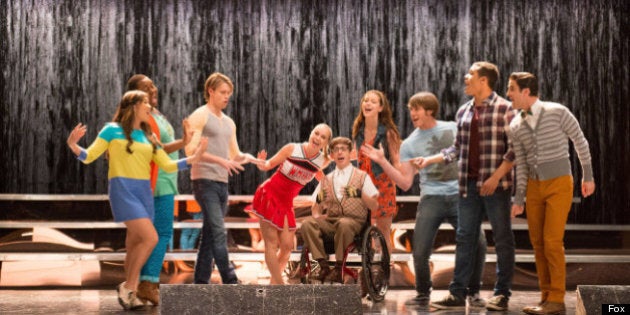 People are surprised when they hear I still watch Glee. That's right, I'm a loyal Gleek. I think if glee clubs were a thing when I was in school, I would have been breaking into show tunes in the halls, getting Slushee-ed in the face. Of course, I like to think that I would have drop-kicked the first dude to do it, but I digress.
My love of the song-and-dance shenanigans as well as my abhorrence for anything to do with bullying may explain my fondness for Ryan Murphy's show. Even as the seasons go by and the storylines have changed so much that I can no longer watch with my kid, and I no longer download the songs, I still can't not record it. I don't mind the direction the show has taken -- or the new batch of students we're focusing on -- while we see the graduates do grown-up things. Sure, it's not as great as it once was (I absolutely hated guilty pleasures week), but I refuse to take it off my schedule. Not yet. I'm too invested.
As I am with the other TV musical on the air right now. I'm actually typing this on Saturday night as Smash plays on the television (and, no, not from my parents' basement), singing its way closer and closer to cancellation.
Smash's ratings on Tuesdays were low, admittedly, but considering how much NBC spends on it a week, it could have tested to see how it would do following The Voice. Instead, the network gave it two piddly weeks. And its punishment for disappointing ratings? A move to Saturdays, so it could burn off the remaining episodes and be able to say they aired it. I mean, honestly, it didn't even warrant a Friday night spot? It must have felt good when Smash's replacement, Ready for Love, was cancelled, but the reality show's successor, Grimm (which premiered in the Tuesday at 10 slot last week), won the hour, so the gloating was short-lived.
Sadly, the latest episodes of both Glee and Smash, "Wonder-ful" and "The Phenomenon," respectively, were, well, wonderful. As far as I'm concerned, any time Mike O'Malley (Burt Hummel) shows up on Glee (as one of television's most likable, sweet yet gruff characters -- and easily the best on-screen dad), the hour is guaranteed to be moving, heart-wrenching and tear-filled. In other words, awesome. And the most recent episode of the Broadway-filled musical-drama was its most touching of the season, though it showed how ridiculous Karen (Katharine McPhee) and Derek (Jack Davenport) would be together, and how Derek and Ivy (Megan Hilty) truly sizzle, even as friends.
Smash may be the show everyone loves to hate-watch, but I genuinely like it, maybe even more than Glee. As an aside, I don't know if hate-watching is even a thing; perhaps we just like crap TV and don't want to admit it. (Shhh, I won't tell if you won't.) I mean, I like The Good Wife and Mad Men as much as the next critic, but I also never miss Dancing With the Stars or Grey's Anatomy, so take my humble opinion for what it's worth. And if there were any shows to hate-watch, it's The Following or Revolution or 2 Broke Girls, the first which annoys and frustrates to the point of exasperation, while the latter two, well, I really do despise and stopped watching completely.
While Glee has been guaranteed two more seasons, Smash's future remains unknown -- but May 26 will probably be the last time we hear from Debra Messing, McPhee, Hilty, Davenport, Christian Borle, Jeremy Jordan and Anjelica Huston. And that sucks. But I suppose cancelling a show just as it's getting good (again) is nothing new. Better shows that have had fewer chances and more viewers have been cancelled for less so in some ways, it makes sense that unimpressive ratings should lead to a pink slip for Smash. I guess I just wish the network would stand by it or show some sort of devotion. Its numbers may have improved had it gotten more time in a post-Voice world but coulda, woulda, shoulda. Smash might not be a fantastic performer, but to pull it from its prime spot only to toss it in the crapper known as Saturday nights is a damn shame. At least let it go down fighting, and not kick it when it's already down.
(FYI, just to mess with the few viewers it has left, Smash's last Saturday episode airs on May 11, then it's off for a week, and it's two-hour finale airs the following Sunday. Got all that? No? Basically, at press time, it's still the season finale, not series finale, but this messed-up scheduling is basically the writing on the wall.)
Glee's Season 4 finale airs Thursday, May 9 at 9 p.m. ET on Global and Fox.
Smash's two-hour season/series finale airs Sunday, May 26 at 9 p.m. ET on CTV Two and NBC.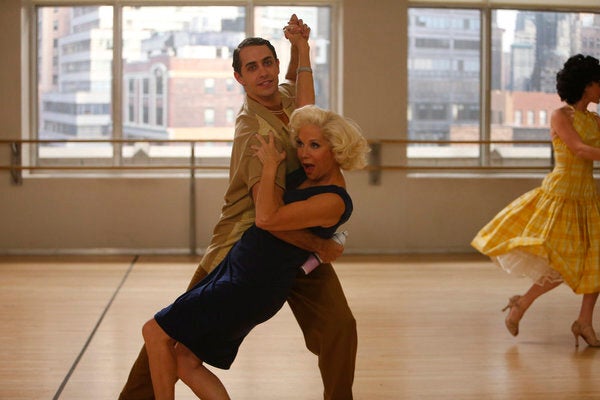 Smash Season 2