Cutting corners here and there to create something in time for that darn potluck. It looks OK. And it smells ... well, maybe no one will notice.
Leslie Horton's colleagues noticed. And they did it on live TV.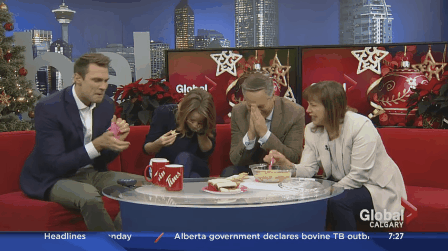 After Horton's Global Calgary co-hosts had been sharing their favourite holiday dishes all week, the morning show traffic reporter brought in her version of artichoke dip.
"Something went terribly wrong," Horton admits after handing out samples to see what her co-workers think. Watch their reactions in the YouTube video above.
"It burns," gasps co-anchor Amber Schinkel, while meteorologist Jordan Witzel can't find a napkin fast enough to spit out the concoction.
No one can figure out why it reeked of vinegar, when Horton swears she didn't add any. Turns out she mistakenly used marinated artichokes instead of plain ones.