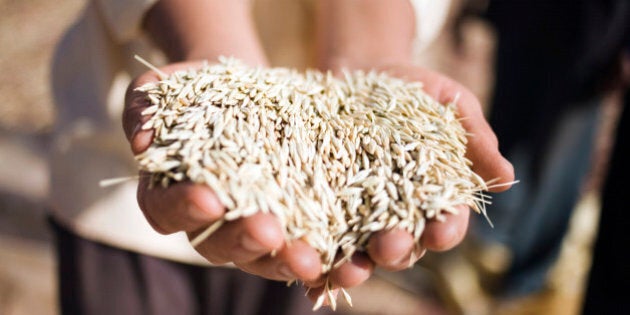 Steep jumps in food prices in recent months should remind us in Canada of the imperative to ensure people's right to adequate food around the world -- something the new Liberal government can help do by refreshing Canada's 2009 Food Security Strategy.
The University of Guelph's Food Institute estimates the average Canadian household paid $325 more at the grocery checkout last year and projects that food bills will grow by another $345 in 2016.
Climate change will only multiply current vulnerabilities.
The deflated loonie and a marathon drought in California are mostly to blame for the jump in food prices here in Canada. Meanwhile the same forces -- economic and climate instability -- threaten to keep an estimated 795 million people hungry around the world.
The Food and Agriculture Organization estimates that the agricultural sector absorbs about 25 per cent of all damages caused by climate-related disasters such as drought and flooding. Climate change will only multiply current vulnerabilities.
Less than a decade ago, the world was gripped by a major food price crisis. Soaring oil prices, which quadrupled between 2003 and 2008, were partly to blame as the price of maize and wheat doubled and that of rice nearly tripled. Weather shocks intensified by climate change's effects offer a credible explanation for the poor harvests. The Economist declared the situation a "silent tsunami" on its front page in April 2008.
The crisis was a clear call for the international community to recognize the inadequacies of our global food system and became a catalyst for action and policy change.
Under the Harper government, Canada responded by transforming how it sources food aid -- food destined for humanitarian crises would no longer come from Canadian farmers, but from closer to the affected region.
The former Canadian International Development Agency (CIDA) followed up with its first-ever Food Security Strategy in 2009.
The strategy took a more comprehensive approach to food aid than ever before by focusing not just on immediate humanitarian relief but looking for medium and long term solutions to hunger.
But the 2009 strategy didn't go far enough.
The new Liberal government has a great opportunity to buttress our international leadership position by refreshing the strategy with a new focus on the links between food security, climate change adaptation, environmental sustainability and human rights.
Using the United Nation's newly-minted Sustainable Development Goals (SDGs) as a roadmap, Canada's food security policy should support a multiplicity of environmentally sustainable agricultural systems at the local, regional and global level, and build the resilience of people's livelihoods and food systems to threats and crises.
Progress has already been made. Despite significant population growth, the number of hungry people around the world shrunk by 216 million between 1990 and 2015. Yet the global level of hunger and malnutrition still remain unacceptably high.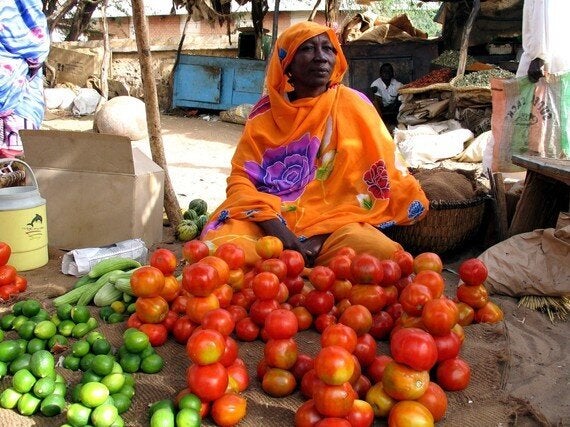 In South Asia, sub-Saharan Africa and the Middle East, progress in reducing hunger has been slow, and in some cases gains have been reversed by protracted crises. These same regions also have a high prevalence of hidden hunger -- the lack of micronutrients.
To truly do more than just provide short-term relief during humanitarian crises, the government is in a great position to make climate-smart agriculture and other sustainable agricultural practices, gender equality, and pro-poor development policies in fragile and low income food deficit countries part of Canada's food security agenda.
The SDGs have put hunger high on the global development agenda for the next 15 years. Goal 2 calls for an end to hunger, achieving food security and improved nutrient and promoting sustainable agriculture. These are calls Canada must answer with strong commitments and bold initiatives in a revamped Food Security Strategy.
The right to adequate food is a basic human right. Few would disagree that global food security and nutrition is an important moral and international policy issue for Canada.
And as climate change and economic instability increasingly threaten people's ability to put food on the table the world over, we need to build more resilient food systems.
As we work toward the 2030 Agenda, the imperative to "leave no one behind" and the Brundtland Report's notion of "sustainability" must inform our shared vision of a common future, by ensuring that this generation's right to food does not jeopardize the right to food of future generations -- a future of zero hunger.
Kai-Hsin Hung researched the policy agenda-setting process that led to Canada's Food Security Strategy and 2009 AFSI commitments as part of his master's degree in Public and International Affairs at the University of Ottawa. You can read his full paper here.
Follow HuffPost Canada Blogs on Facebook