Montreal weather reporter Jessica Laventure likely didn't forecast a wipeout when she dressed up as an aloof snowman character from "Frozen."
So of course that's exactly what happened when she went live to air on Thursday.
A clip of her morning segment uploaded by Global News shows the reporter wearing an adult Olaf costume letting out a high-pitched "Eee!" before tumbling to the ground.
Laventure sprung back up, snowman costume intact, to finish the segment about the city's upcoming KidCon convention.
"OK, so not meant for the tiny plastic chairs," said Laventure, laughing. "I'm just going to kneel."
She had been interviewing children at 6:30 a.m. in what appears to be the aisle of a toy store when the tiny chair she was seated on gave way.
But she's had some practice letting these kinds of embarrassing live TV moments go.
Laventure laughed off another live TV blooper after realizing halfway through her weather forecast that she forgot to clip a price tag hanging out from her top.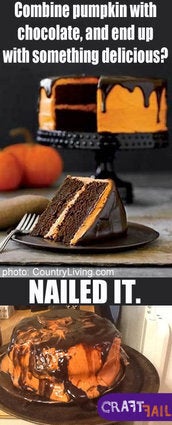 Spooktacular Halloween Pinterest Fails