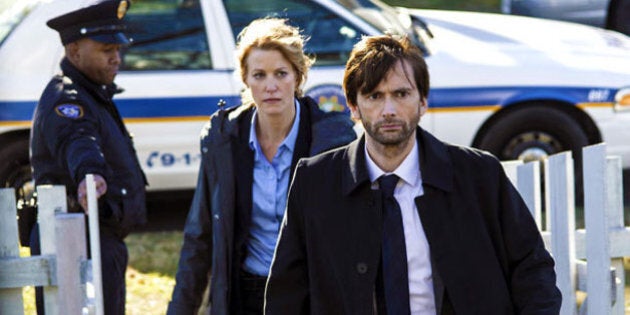 With City opting out of the 10 p.m. game, there was a veritable bounty of shows that rival stations Global and CTV could get their hands on. Shaw Media (Global, Showcase) saw the opportunity and pounced.
"I tend to look at things as 'What is our opportunity?'," Barbara Williams, senior vice-president of content at Shaw Media, told media at Wednesday's press conference. "So for us, we ended up building 10 [p.m.], we have big shows coming in at 10 and tend to put another in with 'Stalker' and push 'Elementary' one step further. I think we're smart enough to take advantage of an opportunity when we see one."
Shaw unveiled its primetime lineup for the 2014-15 season and it's a doozy. It has acquired loads of U.S programming with virtually no Canadian series until midseason -- when "Remedy" returns with its second season, and "Big Brother Canada" comes back for its third. "BBCan 3" is also moving from Slice to Global. That's right, "BBCan" has outgrown its roots and is becoming more accessible to viewers on its mother channel.
"We very purposely put 'Big Brother Canada' on Slice in order to give Slice a real kick, to bring a new audience to discover Slice," said Williams. "Those two seasons of huge numbers put Slice on the map in a big way that it hadn't been before. Then ultimately there's a business decision here. 'Big Brother Canada' is a very expensive show to make and specialty platforms can only generate so much revenue, that's just the way our business works. A bigger platform generates a bigger revenue, even if the audiences are relatively similar. So we really believe by moving it to Global, not only will we grow that audience one step further but we have an opportunity to monetize it quite differently on the bigger platform as well."
But the decision wasn't made lightly, Williams insisted. In a move similar to Rogers' (though not really) and losing five hours of precious programming, Shaw had to forego three hours to fit "BBCan" into its already-hefty lineup and make a groundbreaking move.
"We had to be ready to give up three primetime hours of Global's schedule to a Canadian show for a 10-week run. And that, I will say, as a decision, is a huge commitment to Canadian content on Global," added Williams. "We will have it on the air at the same time as we'll have 'Remedy' back for Season 2 so there will be four hours of Canadian in the heart of primetime of Global's schedule. I could be wrong but I think that's the most any conventional network's ever done in Canada."
Global's new acquisitions include "Stalker," which contains all kinds of creepiness and hotness thanks to stars Maggie Q and Dylan McDermott; Fox's fantastic, not-to-be-missed "Gracepoint" (the "Broadchurch" remake), which stars extraordinary talents David Tennant, Anna Gunn, Jacki Weaver and Nick Nolte; the latest addition to the "NCIS" family, "NCIS: New Orleans," starring Scott Bakula; "Constantine," based on the DC comic series Hellblazer and starring Welsh charmer Matt Ryan; and sitcom "Bad Judge" starring Kate Walsh.
Fall also marks the return of two actresses: Téa Leoni, as the newly appointed U.S. Secretary of State (hence the title, "Madam Secretary"); and Katherine Heigl, who not only stars but also executive-produces and helped develop "State of Affairs" (disregard the blah name; based on the trailer, this one looks like a goodie. And there is no drama on the set, according to co-star Leslie Odom Jr., who insists there is "no dirt" and calls her "awesome" and "wonderful" and describes her performance as "fantastic.")
Some jigging with the schedule had to be done to cram all the shows in, particularly with the returning ones. "Parenthood" fans unanimously breathed a sigh of relief when it was renewed for its final season and it's good to see it premiere in the fall in its Thursday-at-10:00 timeslot. But it's shortlived. Once "Elementary" returns (CBS is airing NFL games for the first six weeks), the Bravermans move to Saturdays. Buh. "NCIS: LA" moves to Mondays and gives "New Orleans" its Tuesday timeslot. "Chicago PD" will now air an hour before NBC's offering on Wednesday nights, and "About a Boy" returns but on Friday nights, paired with new comedy "Marry Me" (which stars Casey Wilson and Ken Marino).
The biggest change for longtime viewers might be Sundays. New sitcom "Mulaney" (airing a couple hours earlier than Fox) kicks off the night at 7 p.m., followed by underrated gem "Bob's Burgers." Thanks to the one-two punch of female-led dramas "Madam Secretary" and "The Good Wife," "The Simpsons" and "Family Guy" have been pushed to 10:00 and 10:30, respectively. It seems like an odd move at first blush, but think about it for a minute and it all makes sense: while sports fans are watching hockey between 8:00 - 10:00, the heavy dramas are on, and when the hockey game is over, it's vulgar animated comedy time. It's an ingenious way to capture two separate audiences.
Additionally, Shaw is launching two new channels. Sort of. FYI, a rebrand of Twist, launches in the fall with what is being described as a "contemporary take on lifestyle programming." The format should appeal to a younger, upscale audience.
And as of December 2014, what was formerly Mystery will be known as Crime + Investigation, exploring the world of true crime and justice. Crime-solving viewers can hone their skills during the real-life thrill ride CI offers.
As far as Shaw's specialty channels go, they continue to kill it time and time again. New shows to look forward to include "Outlander" on Showcase. Starring Caitriona Balfe and Sam Heughan and adapted from Diana Galbaldon's best-selling books, the show follows a married combat nurse from 1945 who mysteriously winds up in 1743, begins a passionate affair with a Scottish warrior and is torn between two men in two times.
History's next big thing is "Texas Rising," which has almost as many big names as the aforementioned "Gracepoint." Starring Bill Paxton, Thomas Jane, Brendan Fraser, Ray Liotta, Olivier Martinez, Jeremy Davies, Robert Knepper, Jeffrey Dean Morgan and Kris Kristofferson (among many, many others), the event series chronicles the Texas revolution against Mexico and the rise of the Texas Rangers. Yippee-ki-yay.
Shaw's offerings run the gamut but one show that stood out is airing on Lifetime. "Un-Real" is a scripted drama/comedy about life behind-the-scenes of a reality dating show. It seems a little been there, done that (a demanding executive producer diva type, with her meek, obedient young employee always trying to please her) but with stars like Megyn Price and Shiri Appleby along with relative newcomers Freddie Stroma and Josh Kelly, this one looks like a winner.
Here's the fall lineup (all in ET):
7 p.m. "Entertainment Tonight"
10 p.m. "The Blacklist"/"State of Affairs" (new in November)
7 p.m. "Entertainment Tonight"
9 p.m. "NCIS: New Orleans"
7 p.m. "Entertainment Tonight"
7 p.m. "Entertainment Tonight"
10 p.m. "Parenthood"/"Elementary" (returns in October)
7 p.m. "Entertainment Tonight"
10 p.m. "Border Security"/"Constantine" (new in October)
7:30 p.m. "Bob's Burgers"
Popular in the Community